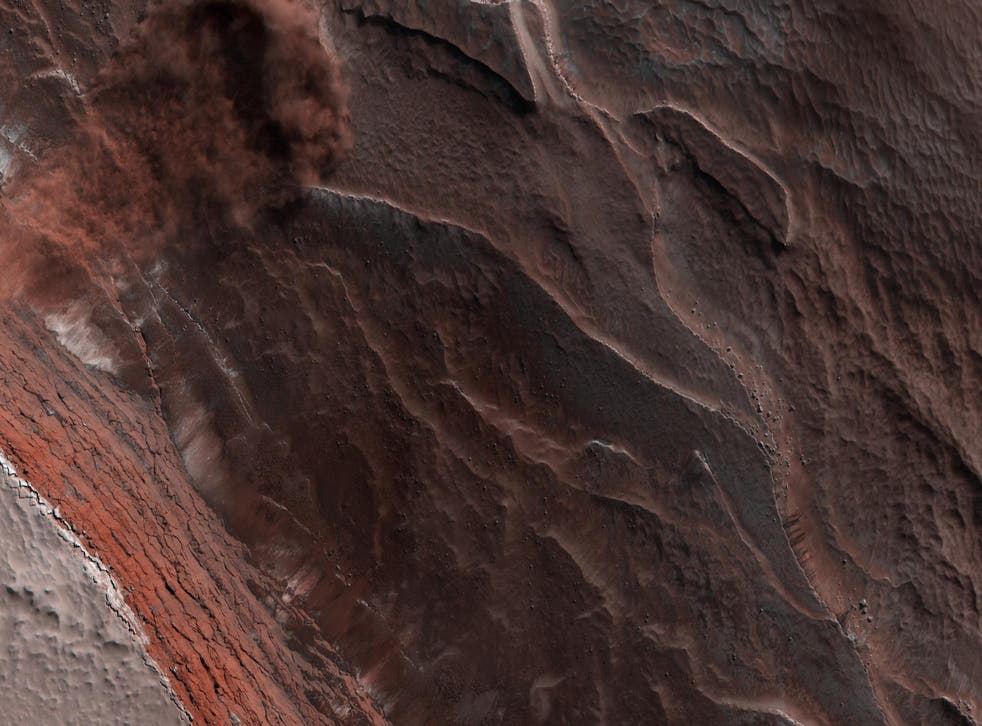 Nasa reveals spectacular photo of avalanche on Mars
Dramatic effect can happen every spring
Andrew Griffin
Monday 09 September 2019 20:44 Comments
Nasa has revealed stunning pictures of the aftermath of a huge avalance on Mars.
The event was seen near the red planet's north pole, where it was spotted by Nasa's HiRISE instrument.
That camera – which has the full name High Resolution Imaging Science Experiment – is mounted on board the Mars Reconnaissance Orbiter that is floating above the planet, taking images of the surface.
As it did so, it spotted the aftermath of the avalanche, spilt in red and white across the surface.
Avalanches happen on the planet when it goes through its spring. As the sun shines on the icy layers at Mars's north pole, it gets heated up. The layered piles then become destabilised and blocks can fall off.
Best Nasa pictures of the month - August 2019

Show all 10
They will then tumble down the cliff face, kicking up dust when they hit the bottom. Those different colours and textures that can be seen in the photo depend on how much dust has mixed with the ice, wrote planetary scientist Candy Hansen, who works on the seasonal behaviours of other planets.
Though Nasa published the picture this week, it was actually taken back in May.
Register for free to continue reading
Registration is a free and easy way to support our truly independent journalism
By registering, you will also enjoy limited access to Premium articles, exclusive newsletters, commenting, and virtual events with our leading journalists
Already have an account? sign in
Join our new commenting forum
Join thought-provoking conversations, follow other Independent readers and see their replies