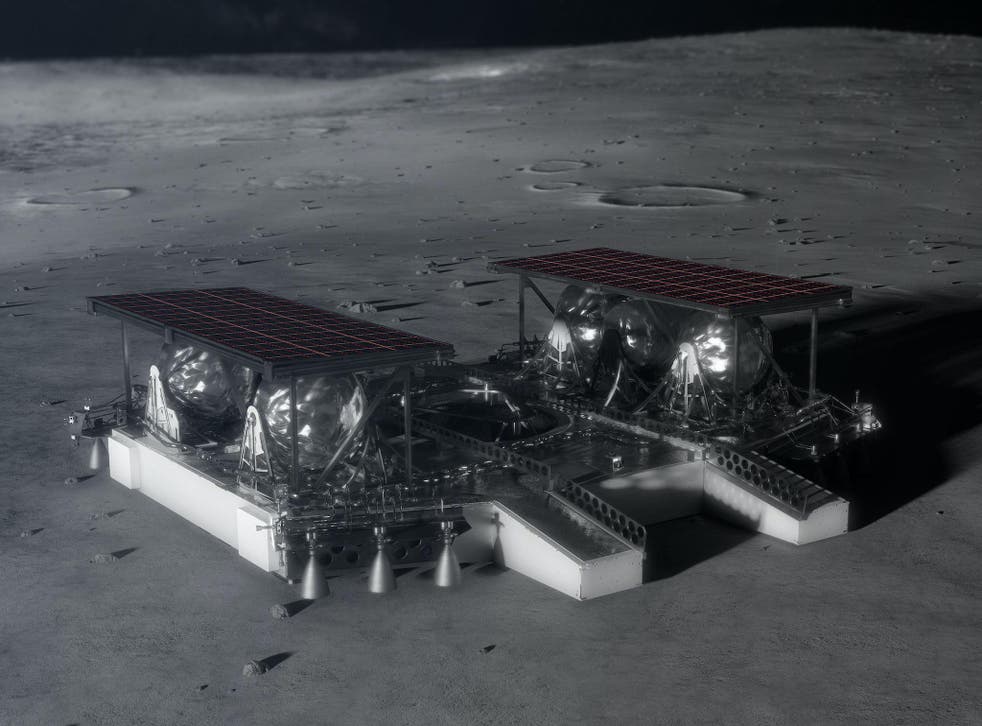 Nasa reveals possible Moon lander as it prepares to head back to lunar surface
Lander would be carried on board a much larger spacecraft
Andrew Griffin
Tuesday 26 November 2019 16:07 Comments
Nasa has revealed a version of the lunar lander that could one day help get astronauts to the Moon.
The space agency hopes to send its first people back to the Moon in decades – and the first woman ever – in 2024.
The newly-unveiled concept spacecraft, which it said is a "pallet lander concept" could carry a 300km rover and other payload that would allow it to explore the Moon's polar regions.
In a technical paper explaining its work, Nasa says the mid-sized lander was designed to be simple and affordable - though it admits that the lander is not intended to survive the lunar night.
It would travel aboard a commercial launch vehicle in order to reach the moon.
Best Nasa pictures of the month

Show all 10
"This lander was designed with simplicity in mind to deliver a 300 kilogram rover to a lunar pole," said Logan Kennedy, the project's lead systems engineer.
"We used single string systems, minimal mechanisms and existing technology to reduce complexity, though advancements in precision landing were planned to avoid hazards and to benefit rover operations.
"We keep the rover alive through transit and landing so it can go do its job.
"As robotic lunar landers grow to accommodate larger payloads, simple but high-performing landers with a contiguous payload volume will be needed.
"This concept was developed by a diverse team of people over many years and meets that need.
"We hope that other lander designers can benefit from our work."
The move comes as the space agency races to meet an accelerated return to the moon, which US president Donald Trump's administration has set for 2024.
Nasa wants to establish a "sustainable human presence on the moon by 2028" in a bid to discover new scientific discoveries and demonstrate new technological advancements, with the help of private companies to build a lunar economy.
Additional reporting by agencies
Register for free to continue reading
Registration is a free and easy way to support our truly independent journalism
By registering, you will also enjoy limited access to Premium articles, exclusive newsletters, commenting, and virtual events with our leading journalists
Already have an account? sign in
Join our new commenting forum
Join thought-provoking conversations, follow other Independent readers and see their replies