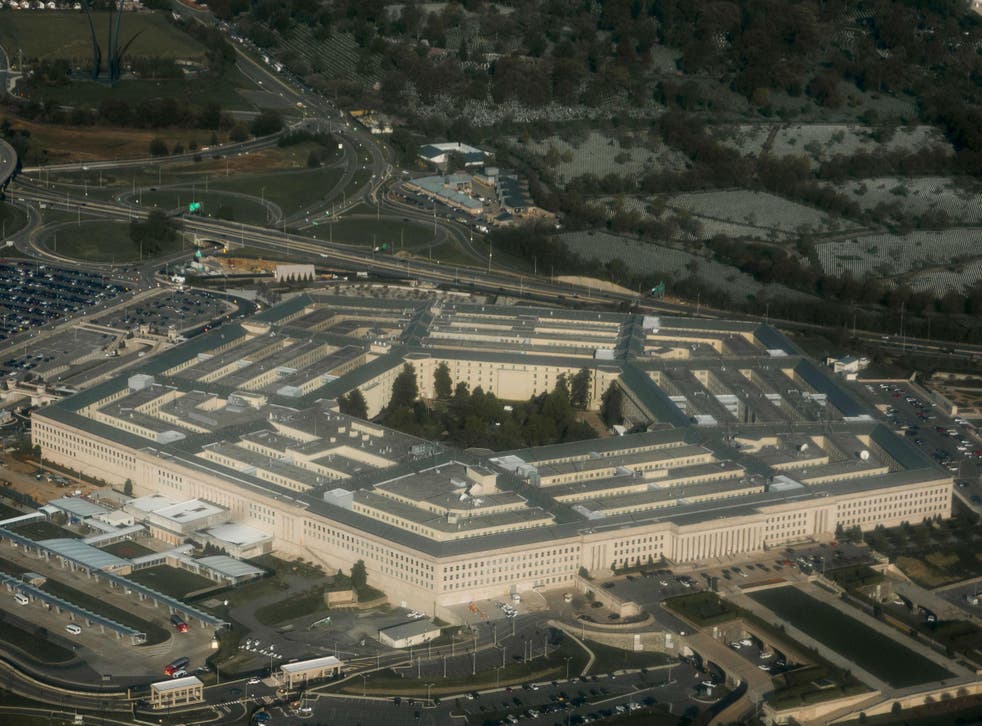 Pentagon war cloud: Judge clears way for Amazon versus Microsoft showdown over $10bn military contract
Project to last at least 10 years
Andrew Buncombe
Seattle
Friday 12 July 2019 19:56 Comments
A judge has cleared the way for a showdown between tech giants Amazon and Microsoft to provide a $10bn computing contract that has been called the "Pentagon war cloud".
The two companies, both based in Seattle, were among several major companies that bid to provide the US military with cloud computing and artificial intelligence on the battlefield as part of the Pentagon's Joint Enterprise Defence Infrastructure plan, or JEDI.
Oracle and IBM were had been cut from the competition at a previous stage, but Oracle had filed a legal challenge, alleging a conflict of interest and claiming the Pentagon had shown bias towards Amazon.
On Friday, a federal judge in Washington DC, dismissed Oracle's claim, clearing the way the US military to now choose between Amazon and Microsoft to provide a system it believes will give it technological advantage over rivals.
"We conclude…the contracting officer's findings that an organisational conflict of interest does not exist and that individual conflicts of interest did not impact the procurement were not arbitrary, capricious, an abuse of discretion, or otherwise not in accordance with law," wrote Eric Bruggink, of the court of federal claims. "Plaintiff's motion for judgment on the administrative record is therefore denied."
Inside the Amazon Fulfilment Centres

Show all 15
In its lawsuit, Oracle alleged the Pentagon was biased towards Amazon because Deap Ubhi, an official who worked on for Pentagon's defence digital services wing that was overseeing the contract, had previously worked for Jeff Bezos's Amazon. It also referred to a former Navy official who joined Amazon cloud services (AWS) – issues that are reportedly under investigation by the Pentagon.
It said these were part of a "a web of lies, ethics violations, and misconduct", by Amazon. Amazon responded by saying Oracle's complaint was "replete with mischaracterisations and over-exaggerations of the roles that these two individuals played in the JEDI Cloud procurement".
While both many of the major tech firms were enthusiastic to secure the military contract, some voices warned of caution. While Google had initially expressed interest in bidding for the JEDI project, it announced last year it was dropping out.
"We are not bidding on the JEDI contract because first, we couldn't be assured that it would align with our AI principles. And second, we determined that there were portions of the contract that were out of scope with our current government certifications," it said.
The battle to win the JEDI contract comes as many in the tech industry have expressed concern about major corporations such as Amazon and Microsoft proving technology such as facial recognition systems to government agencies and police departments.
Animal welfare protester interrupts Jeff Bezos at Amazon event
Earlier this week, activists launched a campaign calling for a ban on government use of such systems amid concerns over privacy, and following revelations agents from the FBI and ICE had mined state driver license databases to obtain millions of Americans' photographs without their knowledge or consent.
Many of those expressing concern have been employees of major tech firms. Last summer, more than 100 workers at Microsoft posted a letter to chief executive Satya Nadella following reports the technology was being being used by ICE agents involved in the separation of migrant children from their families.
Elsewhere, activist shareholders tried to persuade Amazon not to sell its facial recognition technology to government customers.
Mary Beth Gallagher, executive director of the Tri-State Coalition for Responsible Investment, a group which seeks to pressure companies to adopt ethical standards in their projects, told The Independent it was important Amazon and Microsoft considered the human rights implications of bidding for the Pentagon contract.
"Have they done the due diligence on this," she said. "If their work results in the military's increased lethality and is involved in a civilian death, would Amazon or Microsoft be responsible for that?"
Amazon has long sought to portray Oracle's accusation as being without merit. The company did not immediately respond to to questions on the human rights implications of the bid
In a statement, it said: "AWS, along with our partner community, stands ready to support and serve what's most important – the DoD's mission of protecting the security of our country."
Microsoft also issued a statement. "We believe our over 40-year partnership with the DoD, in conjunction with our unique and differentiated enterprise cloud capabilities from the homefront to the tactical edge, best supports the DoD in advancing its mission and accelerating the speed in which they achieve the return on their cloud investments."
Oracle directed media enquiries to an article written by Oracle executive Kenneth Glueck that criticised the JEDI project. He wrote: "JEDI, as structured, will harm our military readiness because there is no one solution for cloud IT any more than there is one single platform for air superiority."
The Pentagon said the JEDI contract was worth a guaranteed minimum of $1m with a ceiling of $10bn.
Elissa Smith, a spokesperson for the department of defence, said: "From the beginning, the enterprise cloud initiative has been open, transparent and full. As with any other acquisition, a team of department experts developed the requirements and solicitation, and members of that team were screened for conflicts of interest and advised on compliance with applicable procurement and ethics laws."
She said Mr Ubhi was employed by the department from August 2016 to November 2017.
Register for free to continue reading
Registration is a free and easy way to support our truly independent journalism
By registering, you will also enjoy limited access to Premium articles, exclusive newsletters, commenting, and virtual events with our leading journalists
Already have an account? sign in
Join our new commenting forum
Join thought-provoking conversations, follow other Independent readers and see their replies