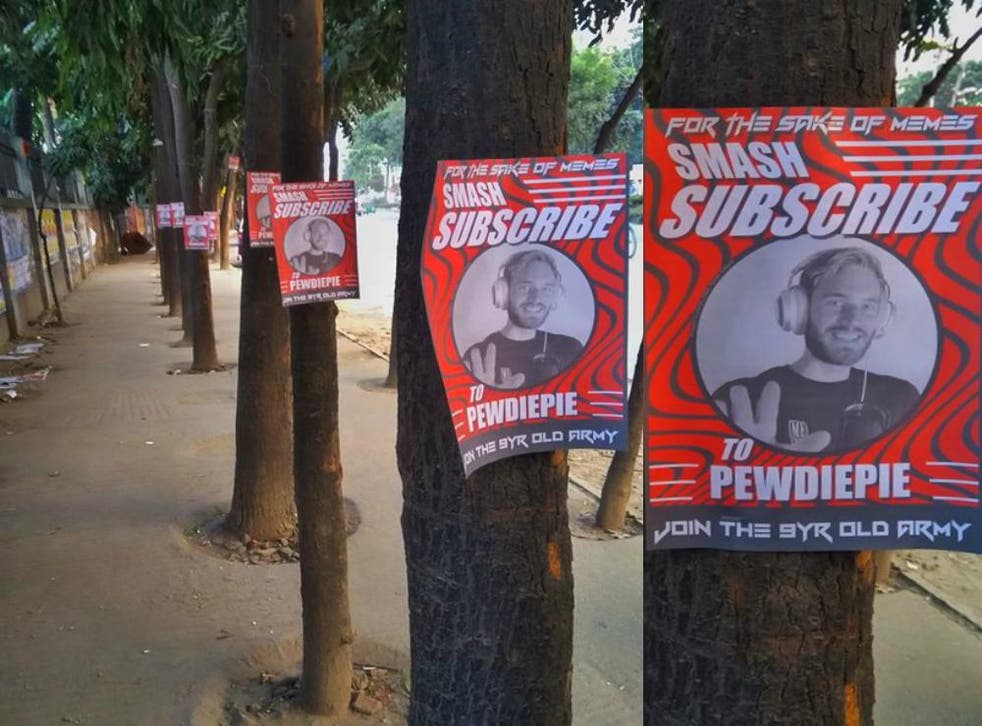 Bangladesh backs PewDiePie in YouTube battle with T-Series, despite him not realising it's a country
'Hey @pewdiepie Bangladesh is an actual country. And that was really rude for us that you thought we were Indians,' one Bangladeshi wrote
Anthony Cuthbertson
Thursday 08 November 2018 15:19 Comments
Fans of PewDiePie in Bangladesh have joined a campaign to help him maintain his position as the most popular channel on YouTube, despite him mistaking their country for an area of India.
The Swedish YouTuber, whose real name is Felix Kjellberg, has been the most-subscribed-to channel on YouTube since 2013, however in recent months the Indian channel T-Series has been growing at a much faster rate.
The Indian record label and film production firm was predicted to overtake PewDiePie in October, however a surge of support has seen him hold onto the top spot.
11 YouTube features you didn't know existed

Show all 11
T-Series' popularity has proved controversial among some YouTubers, who object to a major corporate brand overtaking a so-called indy creator.
PewDiePie fans in the US have previously paid for advertising campaigns to help him remain the top channel, and now people in Bangladesh have begun distributing posters asking people to subscribe to PewDiePie.
"So we were distributing the pewds posters today in public and we met two adult guys and gave them the posters telling them to subscribe... the second guy was a bit clueless but the coolest thing was that he actually then handed us his own phone and told us to go to YouTube and subscribe to pewds from his phone," Rokonujjaman Konok wrote across various social media platforms, including Facebook and Reddit.
"Really this is working. We are doing our part and you should too. Remember YOU INDIA, YOU LOSE."
PewDiePie acknowledged the efforts in a video posted to his YouTube channel, though he appeared to mistake Bangladesh for an area of India rather than a country in its own right.
"Thank you, we have people working from the inside," PewDiePie said. "This is perfect, I've never been more proud of Indian bros... this is what we need to do, we need more people working from the inside."
Text overlaid on the video acknowledged his error, stating: "Felix does not realise that Bangladesh is a completely different country to India. His geography knowledge is non existant [sic]. Save this man by subbing."
Some Bangladeshis took to Twitter to admonish PewDiePie, with one user writing: "Hey @pewdiepie Bangladesh is an actual country. And that was really rude for us that you thought we were Indians."
Another was more forgiving, tweeting: "Hey, Felix... Bangladesh isn't a part of India. It's a country itself... But we are doing our part to beat T-series, bro... Bro fist. Love and support from Bangladesh."
In his battle to retain the top spot on YouTube, PewDiePie also released a bizarre rap video addressing the popular Indian channel.
The song, titled 'B*tch Lasagna', included the lyrics: "You've got a population of 1.32 billion but most your videos can't seem to hit even a million," and "B*tch Lasagna, b*tch Lasagna, T-Series ain't nothing but a b*tch lasagne."
Register for free to continue reading
Registration is a free and easy way to support our truly independent journalism
By registering, you will also enjoy limited access to Premium articles, exclusive newsletters, commenting, and virtual events with our leading journalists
Already have an account? sign in
Join our new commenting forum
Join thought-provoking conversations, follow other Independent readers and see their replies