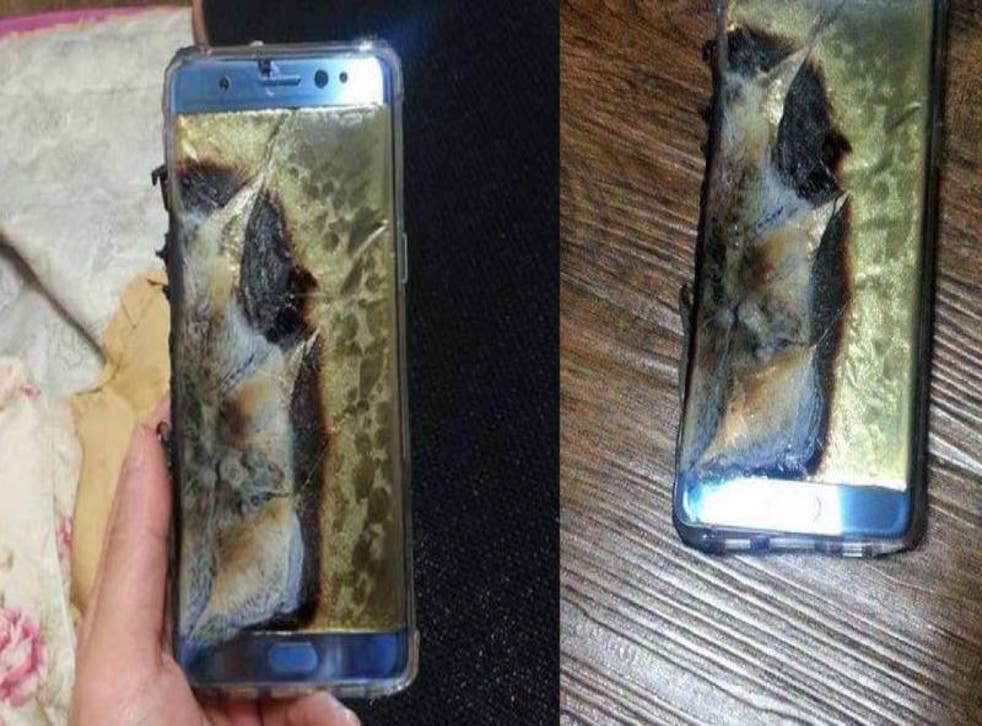 Samsung Galaxy Note 7: Flagship phone that spontaneously explodes to be globally recalled, reports say
The phone had been Samsung's big plan for taking on the iPhone 7, but now appears to have been completely derailed by an entirely unprecedented problem
Samsung is about to take the entirely unprecedented step of recalling all of its flagship phones, just after they went on sale, according to reports.
Reports that the Galaxy Note 7 are exploding as they are charged mean that the company is about to issue a global recall of the phone as soon as this weekend, according to local reports.
Investigations into numerous incidences of the phones blowing up while they charged have shown that the batteries were at fault, South Korea's Yonhap News reported.
Exploded Samsung Galaxy Note 7 - in pictures

Show all 7
Shipments of the phone have already been delayed, in part to allow them to undergo extra quality control testing.
The Galaxy Note 7 was launched just two weeks ago as Samsung's new flagship phone. The company had hoped that it would take on the iPhone 7 aud its Plus version, both of which are set to be launched next week.
Samsung Galaxy Note7: Official TVC
Citing an unnamed official, Yonhap said that Samsung's investigation had found that the faulty batteries led to the phones catching on fire.
Numerous social media reports have shown the phones exploding while they were plugged in, and pictures and videos of severely damaged phones are being shared online. There haven't been any confirmed injuries from the problems.
Samsung hasn't commented on the report. But it said that it was working with its partners to inspect the parts and that it would publicise the findings when it is completed.
"We will share the findings as soon as possible," a representative said. "Samsung is fully committed to providing the highest quality products to our consumers."
The problem is limited to "less than 0.01 per cent" of the phones on the market, according to the Yonhap report. It is looking into how it can resolve the issue with its network partners, the report claimed.
Despite the ongoing investigation and reports of the recall, Samsung launched the new phone in China this week. It didn't say whether those phones were safe from the problem and whether they are different from the ones being sold in South Korea, where the explosions have been reported.
The new phone had been hoped to continue the recovery of Samsung's phone business, which has faced difficulties in recent years. It came as the company seemed to be recovering, reporting stellar earnings this quarter and bringing its share price to a record high – before it came tumbling back down on the new reports.
The phone had already run into problems since the release, as supplies were failing to keep up with the higher-than-expected demand for the phone.
The Note 7 is Samsung's top of the line phone, serving as its flagship and demonstrating its most significant technologies. The headline feature of the new phone had been an iris scanner, which lets people unlock the phone with their eyes.
Join our new commenting forum
Join thought-provoking conversations, follow other Independent readers and see their replies