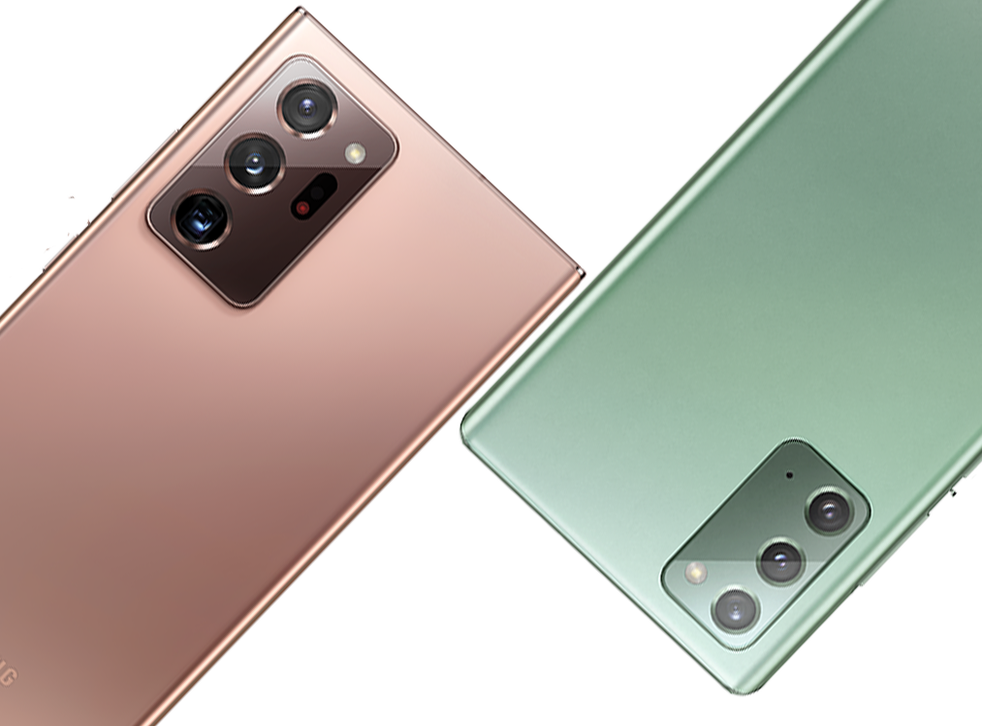 Samsung launches Note 20 and Note 20 Ultra flagship phones with S-Pen upgrades, new cameras, and 5G
Smartphone giant's most expensive (non-folding) phone gets a major makeover
Samsung has launched its new flagship phones, the Galaxy Note 20 and the Galaxy Note 20 Ultra.
The Note 20 Ultra, the company's most expensive (non-folding) phone starting at £1,179, launches with a 6.9-inch, 3,088 x 1,440, 120Hz screen. At the top of the device is a 10MP holepunch notch for selfies and face-unlock.
On the back is a multiple-camera array, comprised of a 108MP f/1.8 main camera lens, a 12MP f/3.0 telephoto lens, and a 12MP f.2.2 ultra-wide. It also has a new sensor, a "laser autofocus", which will hopefully avoid the autofocus issues of the Samsung S20 Ultra.
Inside, the Note 20 Ultra comes in two varieties: 12GB of RAM with 256GB of storage – enough for 60,000 downloaded songs – or a higher model with 512GB of storage. Both models have a 4,500mAh battery and wireless charging.
Its processor is the Exynos990, linked with the 5123 modem for 5G support, which allows the Note 20 Ultra to have its high refresh rate and high camera resolution.
The standard Note 20, meanwhile, starts at £849 for the 4G version and £949 for the 5G version. It has similar – but chopped-down – versions of the Ultra's specifications.
It has a slightly smaller, 6.7-inch screen with only a 60Hz screen, meaning that it will not scroll as smoothly as the 120Hz rate display on the more expensive model.
While its selfie camera is the same as that on the Ultra, on the back the standard Note 20 has a 64MP f/2.0 main camera, backed up by a 12MP f/1.8 wide angle camera and another 12MP f/2.2 ultra-wide lens.
Its processor remains the same as the Note 20 Ultra, but it only has one configuration: 8GB of RAM and 256GB of storage. It also has a slightly smaller battery, at 4300mAh.
The iconic element of the Note smartphone models is Samsung's S-Pen, and the company has made the new generation of stylus more sensitive and with a greater range of controls.
The S-Pen can now be used to navigate your device, such as moving backwards or to the home screen, and Samsung has a new Note Sync feature with artificial intelligence that will scan your handwriting and turn it into text or simply align it to the lines on the page.
Samsung also updated its DeX software – which allows the phone to act as a laptop when connected to displays – so that it works wirelessly rather than through the USB-C charging cable.
The Note 20 will come in mystic green, mystic gray, and mystic bronze, while the Note 20 Ultra can be coloured mystic bronze, mystic black, and mystic white.
Both devices are available to pre-order now, and will hit shops 21 August.
As well as these new smartphones, Samsung is set to launch new generations of its folding phone the Samsung Z Fold 2, as well as a new pair of in-ear wireless headphones called the Galaxy Buds, a new smartwatch, and a pair of Android tablets.
Join our new commenting forum
Join thought-provoking conversations, follow other Independent readers and see their replies