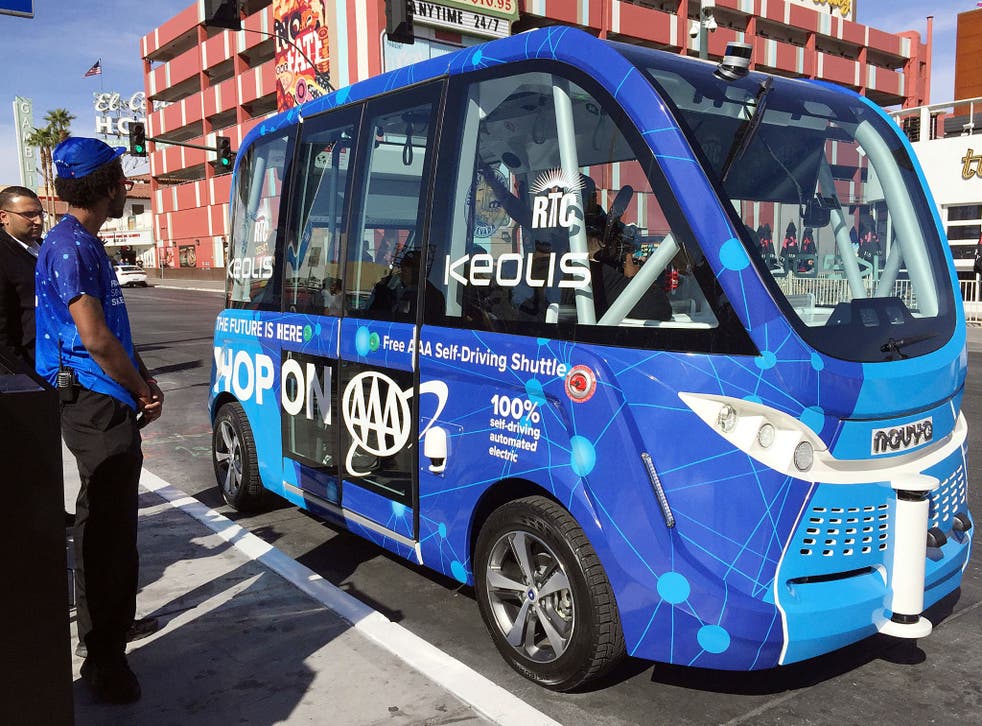 Self-driving bus crashes on very first day at work
New Las Vegas shuttle has an inauspicious start
A new self-driving shuttle crashed on its first day of service in Las Vegas.
The driverless shuttle had just begun setting off on half-mile loops around the Nevada tourist haven, part of a joint project of insurance giant AAA (American Automobile Association), transportation company Kelois and French tech firm Nayva.
Hours into the vehicle's inaugural journey, a delivery truck emerged from an alley and clipped its front bumper, city spokesman Jace Radke said. No one was injured and the truck driver was cited.
"The shuttle did its job in that the sensors hit on the truck, knew the truck was coming and stopped as it was supposed to do. The problem was the truck didn't stop," Mr Radke said, adding that the collision served the larger goal of seeing how autonomous cars navigate.
"That's the whole point of doing this, is to test it in traffic, see what happens when it's introduced with moving cars and all those variables out there," Mr Radke said.
Still, it wasn't the best outcome for a public launch as the drive for autonomous vehicles has consumed the world of transportation.
Technology companies and auto manufacturers are under pressure to prove self-driving cars are safe and reliable. Advocates argue that self-driving cars will drastically reduce traffic accidents by removing human error.
Robot Car UK set to rival Google's driverless-car project

Show all 2
"Autonomous technology has the potential to save lives and improve traffic safety," AAA Northern California, Nevada & Utah president Tim Condon said in a press release touting the new shuttle.
But the technology is still being perfected. Data compiled by California show engineers disengage driverless cars hundreds of times a year during road tests, a measure of the vehicles' ability to function without human intervention, though those numbers are declining.
The Independent tries Bosch's "driverless" cars in Germany
At a technology conference in Lisbon, Portugal this week, Waymo – the self-driving car unit of Google parent company Alphabet – announced that, for the first time, its fleet of driverless cars would jettison human passengers who acted as safety monitors.
Not to be outdone, Uber – which is also invested heavily in deploying self-driving cars – revealed that it was partnering with Nasa to develop traffic signals for flying cars, which Uber hopes to launch commercially before 2028.
Join our new commenting forum
Join thought-provoking conversations, follow other Independent readers and see their replies