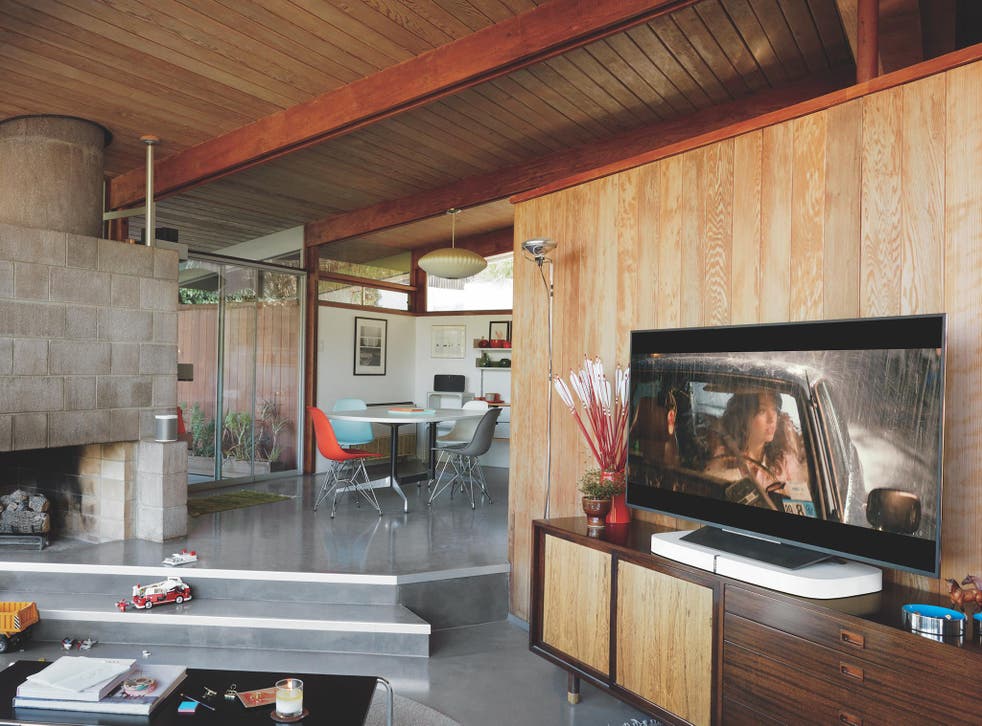 Sonos Playbase: Company launches big, flat version of its Playbar for home cinemas
The speaker is intended to give the wide, big sound Sonos is known for, but in a new shape
Sonos has unveiled its Playbase – a huge, smart speaker that TVs can sit on.
The new speaker is similar to its existing Playbar, which is a long flat set of speakers that sits under the TV and throws out wide and loud sound for films or music. But it is built into a body that can have a television sit on top of it – which Sonos says is perfect for people who don't have the space or the setup for a soundbar.
The new speaker will go on sale in April in black and white and cost £699. Customers can sign up to be notified when the new speaker goes on sale.
Like the rest of Sonos' speakers, the Playbase can connect to the internet and pull down music from a wide variety of streaming services. And it can connect to other speakers on the network too, meaning that it can be used in a full surround system with two of Sonos' smaller Play:1 boxes, for instance, or get better base with its larger Sub.
Later this year, it will gain the ability to be controlled by Amazon's Alexa assistant, along with the rest of Sonos' line. The company's is proud of its ability to update its speakers with such features over the internet – the Playbar, for instance, will be updated with new settings that use information gained while making the Playbase.
All of those features are currently available in the Playbar. But the Playbase adds a new speaker setup and is meant to be used by the roughly 70 per cent of people who watch their TV on a stand rather than having it mounted on a wall.
Gadget and tech news: In pictures

Show all 25
The long, flat shape of the Playbar is meant to assist with that, sitting underneath the TV screen and on top of the stand itself.
"When we think about what product we'll invent next, we think first about the home, and the role each of our products play in the home. What we realized is that PLAYBAR only met the need of the small percentage of homes where people mount their televisions on the wall," said Sonos CEO Patrick Spence. "We saw a tremendous opportunity to deliver great sound in great style for the majority of homes where the TV sits on a piece of furniture. It was a huge challenge where we pushed the boundaries of design, acoustics, materials, wireless and software, and we can't wait for people to bring it home."
The company said that it had also built the Playbase to be extra-thin, so that it wouldn't take up too much space when on a stand.
"We have built a product that can not only handle the complexities of home theater – delivering open and natural sound, clear dialogue, and immersive bass that fills the room – but also fits perfectly in any home environment," said Giles Martin, a record producer who works with Sonos on its sound design.
"The challenge with PLAYBASE was upholding the desire for it to be beautiful from all angles without compromising any of our design, acoustics or engineering principles. We were obsessive in our approach and decisions, resisting every urge to pack anything in here that wasn't needed, and custom built everything else to find the perfect fit - it's our thinnest, most beautiful speaker yet."
Join our new commenting forum
Join thought-provoking conversations, follow other Independent readers and see their replies