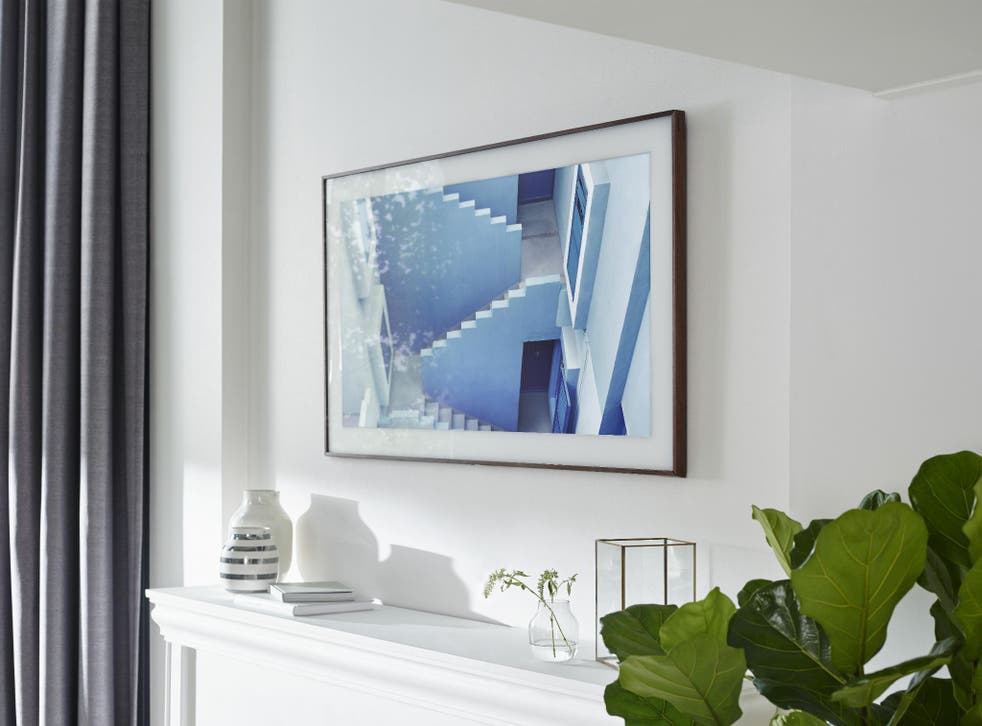 The Frame: Samsung's new 4K TV transforms into wall art
There are more than 100 works to choose from, supplied free with the set, and more are coming
David Phelan
Wednesday 15 March 2017 11:31 Comments
In Paris this week, designer Yves Behar unveiled Samsung The Frame, a concept LED TV styled to look like a picture on the wall.
It's designed to address the fact that when a TV is turned off, especially the gargantuan flat screens ubiquitous now, the living room is dominated by a large black oblong. Behar explained, "We wanted TV to come into your home in a way that's not destructive of your social life."
Samsung The Frame is a regular 55in or 65in UHD TV with a wooden frame (choose from oak or walnut wood pieces, for instance) which attaches magnetically to the screen.
Yves Behar said that the frames were chosen after visiting picture framers, whom he described as true artisans.
The frame is reasonably thin, and the Samsung logo is discreetly out of sight, only found on the edge of the TV.
The illusion of this being a regular picture is achieved because it sits flat to the wall, thanks to a thin wall mount matched by a recessed area on the back of the TV. That's partly possible because there's no HDMI or other connectors on the back of the screen, only a thin power cable and a bespoke connector to a thin optical cable, which Samsung describes as 'invisible'. Obviously it isn't – you'd never find it in the box if it was – but it is remarkably thin.
This links the TV to a box where the regular cable connections are found.
In use, it offers the same advanced picture capabilities as other Samsung UHD screens. Turn it to standby though, and instead of fading to black, The Frame blends in with other pictures, showing a piece of art. Thanks to a light sensor in the screen, the image is discreet and dim, genuinely appearing like a regular piece of art as though it were, as Samsung called it, "an analogue picture frame". Or, as we might say, a picture frame.
You can even set it to appear as though there's a white or grey card frame around the artwork at the centre. This is so convincingly done that I had to be close enough to touch it to be sure of whether it was real or not.
There are more than 100 pieces of art to choose from, supplied free with the TV, with more coming. They range from landscape art to drawings, street art, architecture and photography.
"We can see ourselves collaborating with museums and galleries to offer more art in the future," Behar said.
"We designed it so it looks like the art is printed on paper, so it's not at full brightness," he went on. "And a motion sensor in the screen means that if there's nobody in the room then the picture turns off altogether." Even with the art image on, Samsung says the power draw is no more than a set-top box in standby and that screen burn should not be an issue.
The screens genuinely looked like a painting or photo, with no difference discernible. Actually, there's one way to tell the difference. The Frame had none of the distracting reflections from the glass found on the artwork hung beside it.
At a time when the focus of TVs is relentlessly on technology, brightness capabilities and resolution levels, it's refreshing to see the market leader focusing on a different way to innovate.
The TVs are due within months and though they have no prices yet, they are highly promising.
Register for free to continue reading
Registration is a free and easy way to support our truly independent journalism
By registering, you will also enjoy limited access to Premium articles, exclusive newsletters, commenting, and virtual events with our leading journalists
Already have an account? sign in
Join our new commenting forum
Join thought-provoking conversations, follow other Independent readers and see their replies