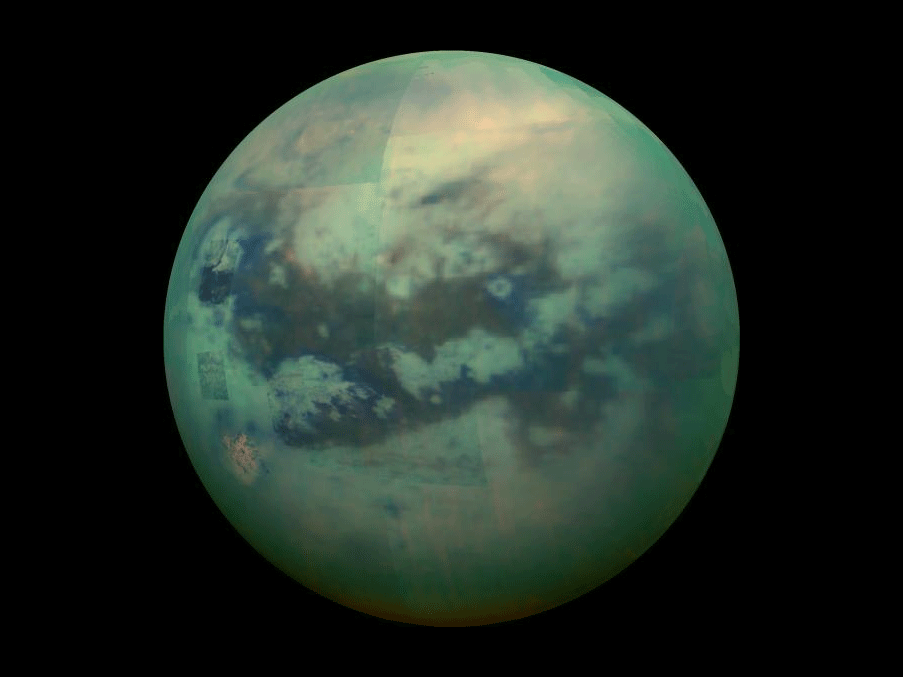 Nasa Cassini probe captures Earth-like image of Saturn's biggest moon Titan in distant flyby
The Cassini probe's infrared camera manage to penetrate the moon's hazy atmosphere
Doug Bolton
Thursday 10 December 2015 18:53 Comments
A new image of Titan released by Nasa shows Saturn's larget moon can bear a striking resemblance to Earth.
The image was taken by Nasa's Cassini probe, which used an infrared camera to observe Titan's surface through its hazy atmosphere.
Typically images of Titan make it appear orange due to the thick haze, but this image manages to capture the lunar surface, which is pitted with lakes of liquid ethane, methane and propane.
During the flyby, the Cassini probe came within 6,200 miles of Titan, much higher than the usualy distance of around 750 miles. This high altitude allowed the spacecraft to capture an image of such a wide area.
The image shows a "late northern spring view", as Nasa puts it, with the sun high in the sky, explaining the lighter surface in Titan's northern hemisphere.
Cassini arrived at Saturn in 2004, after a long journey following its launch in 1997.
It's conducted a number of studies of Saturn and its moons, and was responsible for delivering the lander Huygens on the surface of Titan in 2005 - which remains the most distant landing of any man-made spacecraft in history.
Register for free to continue reading
Registration is a free and easy way to support our truly independent journalism
By registering, you will also enjoy limited access to Premium articles, exclusive newsletters, commenting, and virtual events with our leading journalists
Already have an account? sign in
Join our new commenting forum
Join thought-provoking conversations, follow other Independent readers and see their replies