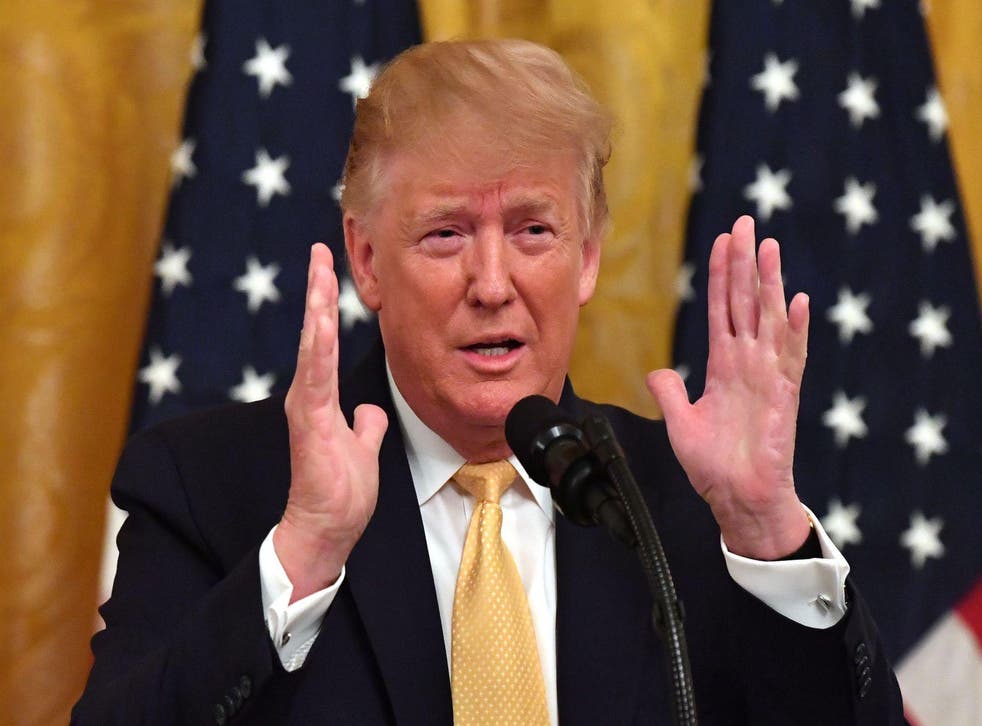 Trump Facebook and Twitter posts deleted: Why social networks removed 'harmful' coronavirus posts – but might not launch broader crackdown
Decision is in keeping with longstanding policies that see Covid-19 misinformation as particularly harmful
Andrew Griffin
Thursday 06 August 2020 09:06 Comments
Twitter, YouTube and Facebook posts by Donald Trump have been removed, in a decision that could further escalate tensions between the president and social media sites. But rather than indicating an increased willingness to sanction Mr Trump for misleading posts, the decision to remove them may in fact be in keeping with a longstanding position taken by all of the major social media companies on coronavirus misinformation.
Posts on each of the platform were removed for promoting coronavirus misinformation by suggesting that children are "almost immune" to Covid-19. The claims came from an interview the president conducted with Fox News, in which he made the claims, and included clips of that discussion which were then shared onto Mr Trump's official pages.
The decision has brought claims of "flagrant bias" from the Trump campaign, which argued that the president was simply stating a fact. "Social media companies are not the arbiters of truth," said Courtney Parella, a spokeswoman with the campaign.
It has also led to suggestions from onlookers that Facebook and Twitter could be launching a more proactive approach towards the president's posts, especially with the election growing near, and the Trump campaign expected to rely heavily on social media to mobilise its supporters.
Facebook particularly has received sustained criticism from lawmakers and even its own employees for the relatively lax approach it has to Mr Trump's posts, even when they are judged particularly inflammatory or misleading. That the newly removed posts appear to be the first time that Facebook has removed Mr Trump's posts in line with its misinformation policies led some to claim that Facebook might be making an effort to respond to that criticism, and do more to censure and limit the president's posts.
But the sites appear to actually be acting within relatively long-standing rules that were established soon after the coronavirus outbreak spread widely across much of the world. The deletions are in line with rules on both sites that specifically prohibit the sharing of coronavirus misinformation, for fear that it could cause real-world harm.
Facebook, Twitter and YouTube each referenced such rules when announcing the removal.
"This video includes false claims that a group of people is immune from COVID-19, which is a violation of our policies around harmful COVID misinformation," a Facebook spokesperson said. Twitter and YouTube gave similar statements, referencing public rules that ban misinformation about the disease.
All of the social media sites have made explicit that they see misinformation about coronavirus as belonging to a specific category of post, which will attract more strict censure than other posts that break its rules, even those that propagate falsehoods about other issues. As such, the decision by all three sites to remove the recent remarks by Mr Trump may simply be a result of those specific policies.
Both sites have in the past appeared to give the president extra leeway within their rules, because of his high-profile and the newsworthy nature of his posts. As such, they may have been expected to take a similar tactic with coronavirus posts, but some of the sites have already indicated that they will treat Mr Trump's posts on the issue more critically than they might with other topics.
Protests at Trump visit to Mount Rushmore

Show all 19
Twitter has already been swift in removing other posts by Mr Trump containing misinformation about coronavirus – such as when he pointed to a misleading post about the disease and masks – and made reference to those policies at the same time.
Twitter and Facebook have however left some of Mr Trump's controversial coronavirus posts online. When the president posted about using light or disinfectant to clean coronavirus from patients, drawing ire from experts, Twitter left those posts live because it said they represented a wish for a way to treat the disease, rather than a literal call to action or outright misinformation.
Register for free to continue reading
Registration is a free and easy way to support our truly independent journalism
By registering, you will also enjoy limited access to Premium articles, exclusive newsletters, commenting, and virtual events with our leading journalists
Already have an account? sign in
Join our new commenting forum
Join thought-provoking conversations, follow other Independent readers and see their replies