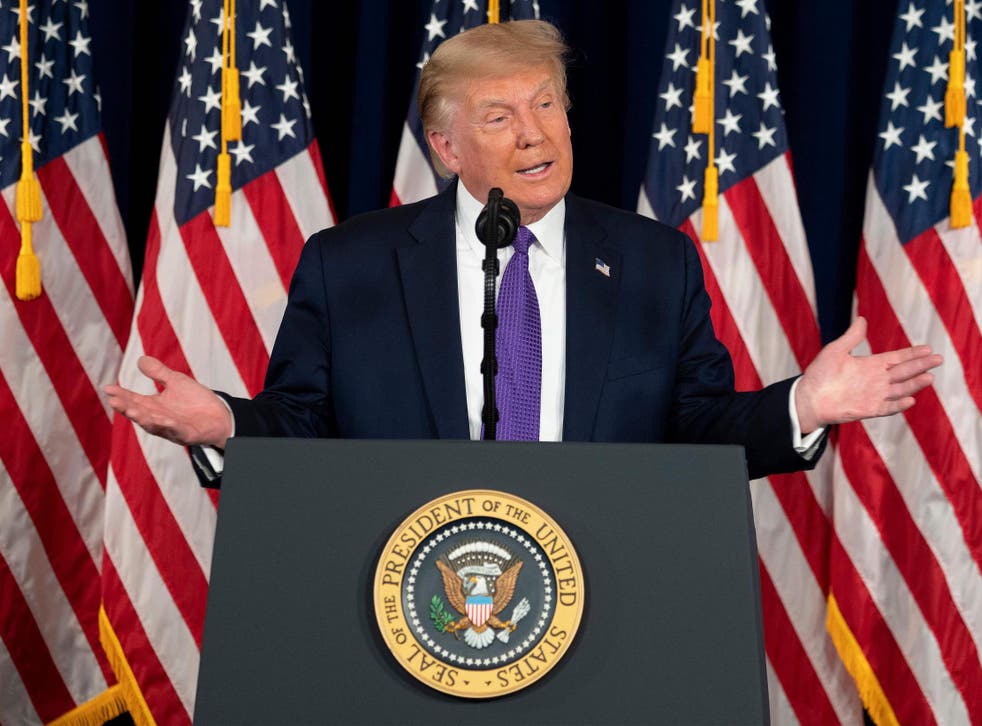 Trump joins TikTok rival Triller with video boasting he's 'a professional at technology'
The move comes as TikTok faces a ban in the US, or a sale to Microsoft or Twitter
President Donald Trump has joined TikTok competitor Triller, months before TikTok is expected to be banned in the United States.
Triller is a shortform video app that tries to set itself apart by an auto-editing algorithm which sets videos to music from the app's library or that users upload themselves.
The account for the president (@donaldjtrump) currently has 104,000 followers, and has uploaded four videos. It also features a small blue verification tick, similar to that on Twitter and many other social media sites.
The first Triller video Mr Trump uploaded - and his most popular one with 4.8m views at time of writing - features audio and video of the president saying "I'm a professional at technology," and "nobody can do it like me."
Other videos include Mr. Trump claiming that the Democratic presidential candidate Joe Biden "has no clue", and one mocking a gaffe Biden made in a previous interview.
Triller has recently surged in popularity following the executive order president Trump signed against TikTok, banning it from the United States unless it was purchased by a US company.
Microsoft and Twitter are reportedly interested in the acquisition, although Microsoft founder Bill Gates has described TikTok as a "poisoned chalice".
Such a decision – which has been pushed by the president – is being made over alleged national security concerns due to TikTok's parent company Bytedance and its relationship to the Chinese government with regards to the transfer of data.
TikTok has denied any such allegations, and has claimed that Mr Trump's executive order is illegal.
Recently, TikTok has been the subject of a lawsuit from Triller due to the similarity of its features.
"Triller alleges that ByteDance and TikTok directly and indirectly infringe the Asserted Patent by making, using, offering for sale, selling and importing the popular iOS and Android software application known as 'TikTok,'" the lawsuit states.
The suit came as TikTok accused Facebook of copying it when the social media giant launched Reels, a feature of Facebook-owned Instagram that is a near-clone of the Chinese app which was recently debuted in the UK.
Join our new commenting forum
Join thought-provoking conversations, follow other Independent readers and see their replies