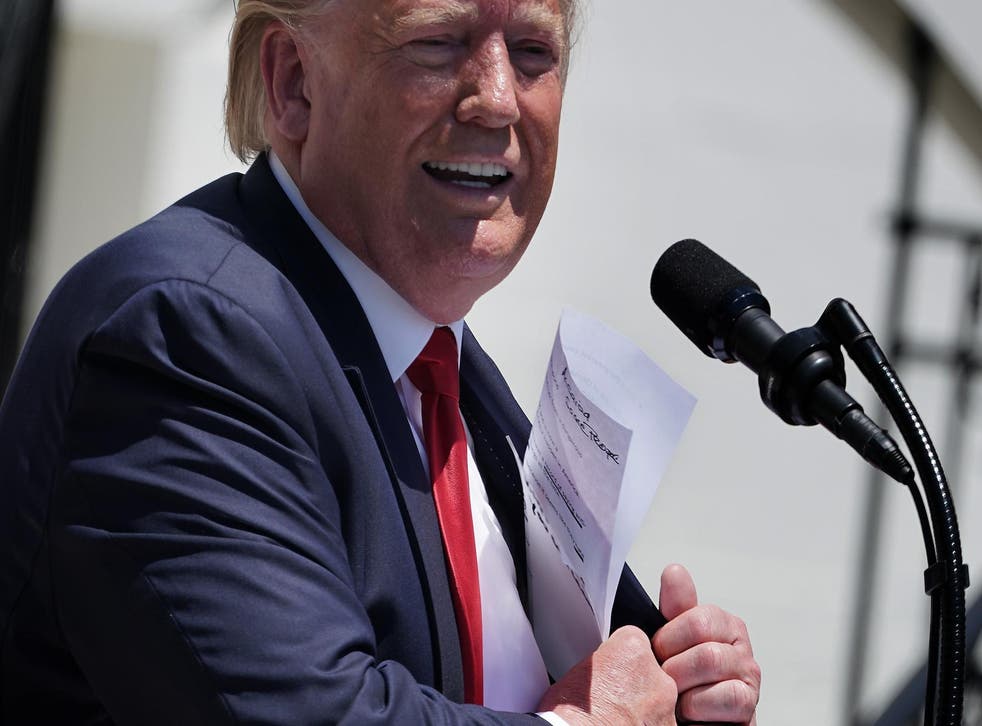 Trump's racist tweets do not break our rules and will stay visible to everyone, Twitter says
Company refuses to explain why tweet will remain visible
Donald Trump's racist tweets are not against its rules, Twitter has said.
The posts – in which attacked four Democratic congresswomen of colour, telling them to get out of the US – have been widely decried as racist, and appear to break the site's rules against hateful content.
But Twitter says they will stay up and visible to the site's users.
Twitter didn't explain why it decided the tweets didn't break its rules, or why it wouldn't hide the tweet. It introduced a feature specifically for punishing posts of this kind last month, but that will not be used, it has said.
Twitter's policy bans "targeting individuals with repeated slurs, tropes or other content that intends to dehumanize, degrade or reinforce negative or harmful stereotypes about a protected category".
Gadget and tech news: In pictures

Show all 25
Just a couple of weeks ago, Twitter revealed a new feature that would allow it to limit the post of tweets that broke its rules, but were decided to still be in the public interest and which as a result it did not want to take down. It said it would apply a new rule to such posts, greying them out and displaying a message that indicated it had broke the rules but should remain available, and giving people the option to view it if they wished.
Though Twitter did not reveal the kinds of tweets it expected the feature to apply to, it was widely thought to have been unveiled in part in response to Mr Trump's Twitter account.
Mr Trump stuck by the tweets in the face of criticism in a press conference held as the storm over his rhetoric grew.
"It doesn't concern me because many people agree with me," Trump said at the White House. "A lot of people love it, by the way."
The episode served notice that Trump is willing to again rely on incendiary rhetoric on issues of race and immigration to preserve his political base in the leadup to the 2020 election.
There was near unanimous condemnation from Democrats for Trump's comments and a rumble of discontent from a subset of Republicans — but notably not from the party's congressional leaders.
Republican Sen. Mitt Romney of Utah, the GOP White House nominee in 2012 and now one of the president's most vocal GOP critics, said Trump's comments were "destructive, demeaning, and disunifying."
Far from backing down, Trump on Monday dug in on comments he had initially made a day earlier on Twitter that if lawmakers "hate our country," they can go back to their "broken and crime-infested" countries. His remarks were directed at four congresswomen: Reps. Ilhan Omar of Minnesota, Alexandria Ocasio-Cortez of New York, Ayanna Pressley of Massachusetts and Rashida Tlaib of Michigan. All are American citizens and three of the four were born in the U.S.
"If you're not happy in the U.S., if you're complaining all the time, you can leave, you can leave right now," he said.
The president's words, which evoked the trope of telling black people to go back to Africa, may have been partly meant to widen the divides within the House Democratic caucus, which has been riven by internal debate over how best to oppose his policies. And while Trump's attacks brought Democrats together in defense of their colleagues, his allies noted he was also having some success in making the controversial progressive lawmakers the face of their party.
The president questioned whether Democrats should "want to wrap" themselves around this group of four people as he recited a list of the quartet's most controversial statements.
The four themselves fired back late Monday, condemning what they called "xenophobic bigoted remarks" from the president and renewing calls for their party to begin impeachment proceedings.
Trump "does not know how to defend his policies and so what he does is attack us personally," said Ocasio-Cortez.
Additional reporting by agencies
Join our new commenting forum
Join thought-provoking conversations, follow other Independent readers and see their replies