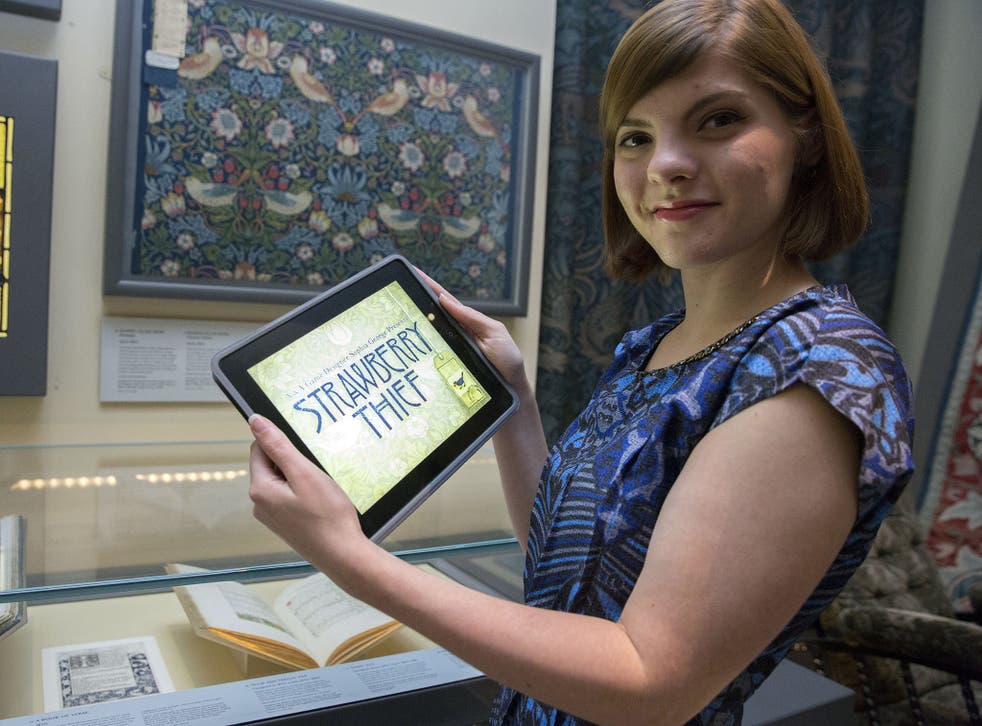 V&A's game designer in residence releases game based on William Morris' Strawberry Thief
Award-winning designer Sophia George behind new iPad app
If William Morris were alive today, would the arts and crafts pioneer be designing computer games? The V&A thinks so after launching an iPad game inspired by Morris's work, which has been produced by the institution's first ever game designer in residence.
Sophia George, a Bafta-winning game designer, was invited by the Victoria & Albert museum to select a design classic from its collection and adapt if for a digital challenge.
George, 24, who has a professional masters in games development at Abertay University in Dundee, spent months researching the V&A's objects before choosing a game inspired by the work of William Morris, the 19th century textile designer and poet.
Morris' 1883 Strawberry Thief pattern, inspired by a bird stealing fruit in his garden, has become a popular design across curtains, wallpaper and even Dr Martens boots.
In George's free iPad game, the fabric, housed in the V&A's Britain 1500-1900 galleries, becomes the backdrop for a challenge which enables the user to sketch and colour the famous pattern by flying a bird – the strawberry thief itself – across their iPad screen.
As the player drags their finger across the screen, it leaves a trail for the bird to follow. Each section of the pattern it flies over then transforms from a pencil sketch to the coloured pattern.
Animations and soaring music from the Royal Scottish National Orchestra (RSNO) gradually bring Morris' pattern to life.
George, who has been headhunted by a number of games companies after winning a Bafta Ones to Watch Award in 2012 for her first game, Tick Tock Toys, developed the Morris game with colleagues at Abertay University.
George, who took up her V&A role a year ago, said: "It's been an incredible opportunity to have access to the V&A collections, and to the game design experts at Abertay.
"With Strawberry Thief I wanted to show that games are an incredibly artistic, creative medium that can excite, inspire and even relax the player, quite unlike the stereotype of games just involving fast-paced violence."
George hopes that more women will see games design as a potential career. She said: "It's very important to me that families play games together, that games are designed for older people to engage with technology, and that girls and young women see game art, design and programming as real career options for them."
George's next project will be to introduce game design to primary school pupils in Dundee, taking inspiration from her V&A research into the works of Margaret Macdonald, the wife of Charles Rennie Mackintosh, and her sister Frances.
Philip Long, director of V&A Dundee, partners in the residency, said: "It's wonderful to see the way in which Sophia has responded to the V&A's historic design holdings in creating her Strawberry Thief game. Taking inspiration from design of the past to produce new innovative design is at the heart the V&A, so we are delighted to be working with such a rising star as Sophia George."
Strawberry Thief is available free from the App Store on iPad or at www.AppStore.com/StrawberryThief
Join our new commenting forum
Join thought-provoking conversations, follow other Independent readers and see their replies