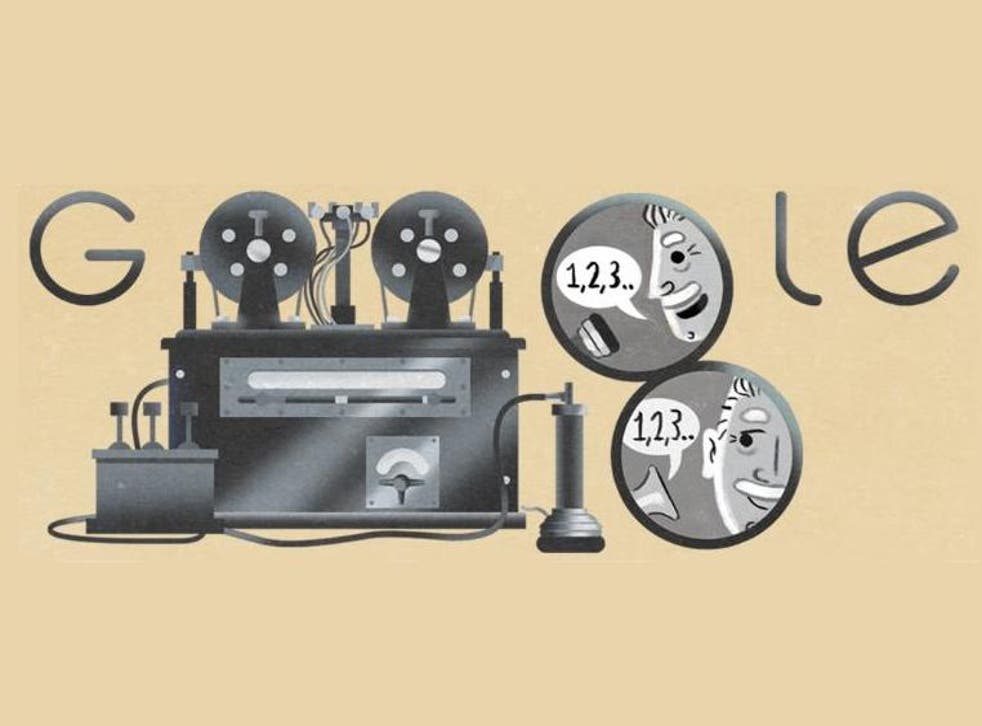 Valdemar Poulsen: Google Doodle honours Dane who pioneered sound recording
Inventor paved the way for magnetic tape recording with simple innovation
Early recording pioneer Valdemar Poulsen was born on this day in Copenhagen, Denmark, in 1869.
Poulsen - celebrated in today's Google Doodle - is responsible for developing the first magnetic wire recorder in 1898, a device known as the telegraphone, establishing a principle that would provide the basis for much of the pre-digital electronic tech still in use until the turn of this century, from answering machines to cassettes, VHS tapes and floppy discs.
The son of a Supreme Court judge and formerly a medical student who changed careers to work for the Copenhagen Telephone Company, Poulsen experienced his eureka moment when he strung a steel piano wire between two walls, able to record sound using a microphone when he slid an electromagnet down its course. This could then be replayed through a telephone's earpiece.
The best Google Doodles

Show all 50
The principle was incorporated into a cylindrical electromagnetic phonograph capable of recording up to 30 minutes of speech.
Poulsen and his assistant Peder Oluf Pedersen quickly obtained a patent, their innovation the precursor to all magnetic tape recorders that would follow.
In 1900 Poulsen attended the Exposition Universelle in Paris, where he demonstrated his device by recording the voice of Austrian emperor Franz Josef - our earliest surviving magnetic recording - taking home the Grand Prix for his trouble.
He followed this breakthrough with the invention of the first continuous wave transmitter in 1903, dubbed the Poulsen Arc, which would be used in the earliest radio broadcasting stations and enabled communication between Lyngby in the Copehagen suburbs and Newcastle in the UK, effectively bridging the North Sea with the aid of 100-foot masts.
Support free-thinking journalism and attend Independent events
The Valdemar Poulsen Gold Medal is awarded each year in his honour by the Danish Academy of Technical Sciences for outstanding research carried out in the field of radio.
Join our new commenting forum
Join thought-provoking conversations, follow other Independent readers and see their replies