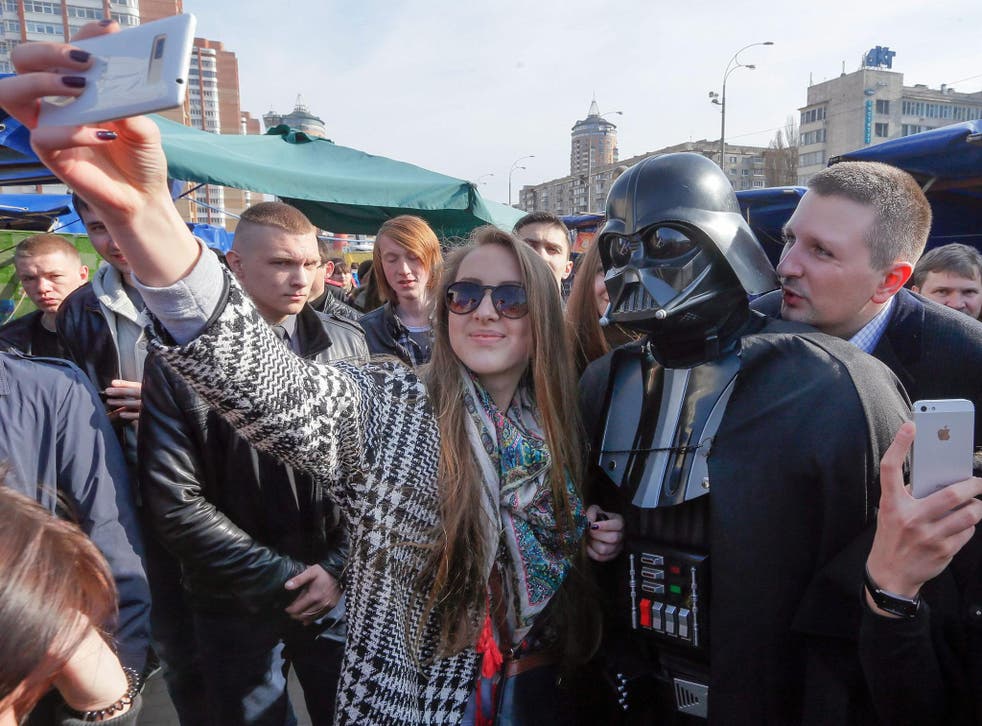 'Obsessive selfie-taking classified as a mental disorder': What we can learn from a hoax
Fake story taps into our often-hypocritical dislike of social media
James Vincent
Monday 07 April 2014 16:05 Comments
The nation's dislike of selfies seems to have reached yet another peak (or nadir) with a hoax article claiming that obsessive selfie-taking had been classified as a mental order making the usual rounds on social media as a real story.
Although the origin of the article should have tipped off readers (it first appeared on a site whose owners admit that "when writing [...] we spice it up with figments of our imagination") it was soon repackaged as a serious report by other outlets including –via a syndicated publication – Yahoo News.
The original article claimed that the American Psychiatric Association (a real body) had classified "selfitis" as "the obsessive compulsive desire to take photos of one's self and post them on social media", further defining three strands of 'selfitis': 'borderline', 'acute' and 'chronic' - depending on the frequency with which individuals' indulged.
However, like most hoaxes (including one we debunked last week claiming that British scientists had 'successfully cloned a dinosaur') there was some substance to this story, playing upon our contemporary fears about technology while exploiting our natural prejudices.
Two weeks ago the British press reported the case of Danny Bowman, a teenager who tried to kill himself after falling into a downward spiral of depression characterised by Body Dysmorphic Disorder and compulsive selfie-taking.
"It becomes a mission to get approval and it can destroy anyone," said Bowman, who would pose for up to 200 selfies in a day. "It's a real problem like drugs, alcohol or gambling. I don't want anyone to go through what I've been through."
The psychiatrist who treated Bowman, Dr David Veal, said that cases like Bowman's weren't about vanity, but about technology and social trends enabling individuals' latent mental problems.
Academic studies of the effects of social media have reached similar conclusions, with one paper published by Birmingham Business School concluding that excessive photos sharing online can lead to "a decrease in intimacy" and damaged personal relationships.
While social media and selfie-taking might not cause issues like these, they're more than capable of exacerbating them. The story about 'selfitis' might have got re-tweeted because people wanted to laugh at the apparent narcissism of strangers - but it's equally likely that others recognized something a little more serious.
Register for free to continue reading
Registration is a free and easy way to support our truly independent journalism
By registering, you will also enjoy limited access to Premium articles, exclusive newsletters, commenting, and virtual events with our leading journalists
Already have an account? sign in
Join our new commenting forum
Join thought-provoking conversations, follow other Independent readers and see their replies