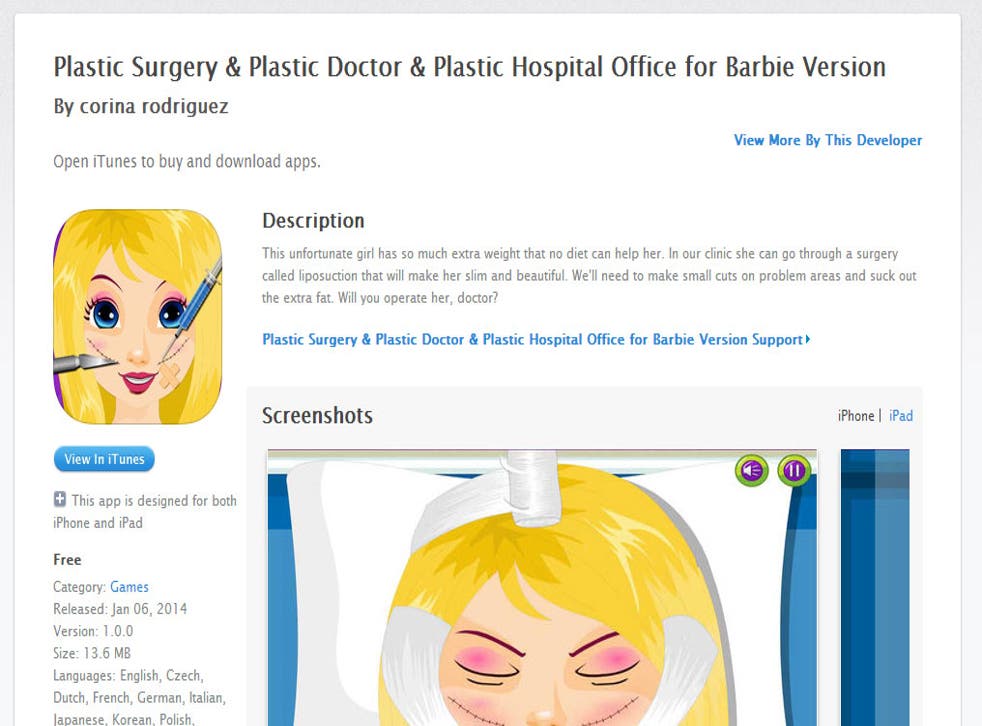 Plastic surgery app for nine-year-olds sparks outrage online
'This unfortunate girl has so much extra weight that no diet can help her. In our clinic she can go through a surgery that will make her slim and beautiful'
Sophie Murray-Morris
Tuesday 14 January 2014 14:14 Comments
Two plastic surgery apps marketed at children as young as nine have created a storm on Twitter.
The Everyday Sexism Project posted a screenshot on their Twitter account, instructing their followers to "Tweet @itunes if you think they should reconsider marketing this crap to players aged 9+".
The app is called "Plastic Surgery & Plastic Doctor & Plastic Hospital Office for Barbie version" on iTunes.
The description reads: "This unfortunate girl has so much extra weight that no diet can help her. In our clinic she can go through a surgery called liposuction that will make her slim and beautiful. We'll need to make small cuts on problem areas and suck out the extra fat. Will you operate her, doctor?"
The app was released in early January by the developers Corina Game. The app is marketing at users aged 9 and above due to "infrequent/mild realistic violence".
After Everyday Sexism tweeted the screenshot today, many responded to the app with outrage.
"This is disgusting. Can't believe young kids are given this tripe", tweeted one user.
Another person added: "This is shocking and should be removed. What kind of message is it sending to young girls?"
In one hour alone the tweet had been re-tweeted nearly 500 times.
After one user pointed out that another plastic surgery app was also available on Google Play, Everyday Sexism tweeted: "And @GooglePlay can you explain why this app is available to all ages on your platform?".
The app, listed as being from a different developer called Natalya Staritsyna, on the Google Play store, is called "Plastic Surgery".
The app is available for all ages and the description says: "Barbara likes to eat a lot of burgers and chocolates and once she found that she looks ugly. She can't make it up with situation any additional second. And today plastic surgeon is going to make operation on her body and face in order to return cute Barbara's look. She is afraid of all of this."
The app description on Google Play suggests that it has been installed between 500,000 and 1 million times.
A Google spokesman said: "We don't comment on individual apps, but will remove apps that breach our guidelines."
Register for free to continue reading
Registration is a free and easy way to support our truly independent journalism
By registering, you will also enjoy limited access to Premium articles, exclusive newsletters, commenting, and virtual events with our leading journalists
Already have an account? sign in
Join our new commenting forum
Join thought-provoking conversations, follow other Independent readers and see their replies