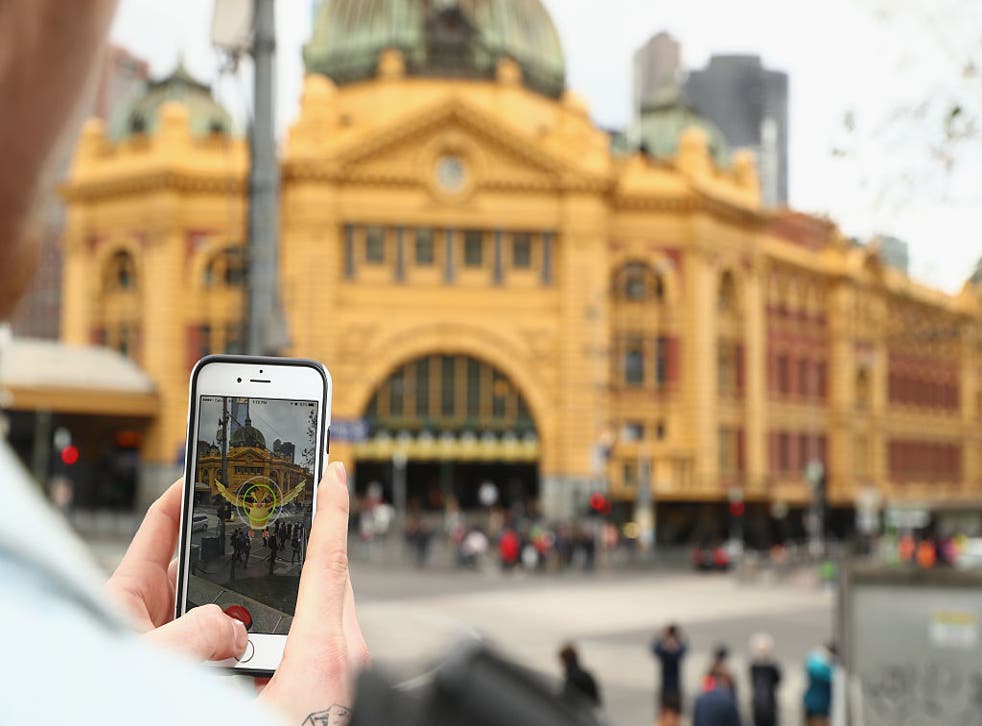 Pokemon Go: Why it could be the most important game ever made
The game allows people to indulge in the two simplest and most profound joys of life: getting lost and finding things
Pokemon Go might be the newest big app to find its way onto people's phones. But it has done so because of one of the most ancient urges that humans have.
The game has very quickly moved from being a silly app to being a source of solace for people with mental health problems and a genuine way to help children explore the outdoors. It might even be enough to entirely change our relationship with our landscape.
Playing the game simply means walking around outside, heading to specific areas to pick up Pokémon, and then marvelling at improving them. For now, there are few ways of actually battling other people and so the game doesn't even have the only vaguely aggressive dynamics of battles or trading.
Much of the near-moral panic that has ensued has been largely about a fear that people are actually ending up outside, after years spent berating children for never leaving the house. There have been stories of dead bodies discovered while looking for Pokémon and of people being robbed by being tricked into trying to catch them in rough places – but those are really just the consequences of going outside.
The flip side of those horror stories is a huge number of people talking about how Pokémon Go has improved their mental and physical health, encouraging them to go outside and meet with people in the real world. It might be a shame that it requires a virtual world to do that; but it would be even more of a shame if people stayed indoors.
Pokemon was once the thing that kept children inside, and they were told to stop and go out; now it's the thing that is keeping those same people – now adults – outside of the house, and people want them to come back in.
And in the same way as Pokemon cards might have facilitated many children's first interactions with others, that experience outside of the house will now serve as an important way of becoming acquainted with the outdoors. At a time of such peril for our environment – under threat not just from climate change but from an increasing lack of engagement with it – that can only be a good thing.
The best of Pokémon Go on social media

Show all 10
The ways that Pokémon Go gets people to go outside are far more strange – and far less simple – than the apparently obvious game of asking people to go to a place to pick up a virtual Pokémon.
In MR James's A View from a Hill, two men look out over a "lovely English landscape". Except when one of them puts up binoculars to look further, he sees hanged men and other horrors.
It later emerges that those binoculars were filled with the boiled bones of dead men. But it's oddly similar to the process of playing Pokemon Go: being bewitched by peering through a looking glass at a more complicated and eerie version of the environment than we have ever seen before.
Robert Macfarlane has written that James remains with us because of his understanding of landscape "as constituted by uncanny forces, part-buried sufferings and contested ownerships".
"Landscape, in James, is never a smooth surface or simple stage-set, there to offer picturesque consolations," he wrote in the Guardian earlier this year. "Rather it is a realm that snags, bites and troubles."
Pokémon Go turns man's house into a gym, causes huge problems
That kind of roughening of the environment isn't new. William Gilpin wrote in 1792 that the defining nature of the picturesque is that it is not smooth, like the beautiful: it is "broken", "rugged", "rough".
China Miéville's recent work on the "pictureskew" has said that a central part of the countryside and our thinking about it is how strange, previously unseen things can find their way into it. In Beatrix Potter, he says, there is horror because the apparently picturesque nature that she depicts can bring with it "the irruption of something more vast and alien and weird".
In the most pretentious terms, Pokemon Go might offer a kind of artificial or virtual rewilding: an act of conjuring back into being a world of wild animals and large predators. Rewilding was defined in an important paper published in the late 90s as emphasising "the restoration and protection of big wilderness and wide-ranging, large animals – particularly carnivores".
Pokemon Go doesn't, of course, offer any real vision of rewilding – some Pokemon appear to be carnivores within the game's world, but even if they wanted to there's no way that they could actually eat us. But it is an important virtual version of it that could lead to the real thing.
In that same paper – Rewilding and Biodiversity, published in 1998 – authors Michael Soulé and Reed Noss wrote that the "greatest impediment to rewilding is an unwillingness to imagine it". That is the meaningful thing that Pokemon Go gives us: a real and helpful way of envisioning a world that surprises, scares and delights us, and one in which we don't feel a need to kill.
Join our new commenting forum
Join thought-provoking conversations, follow other Independent readers and see their replies