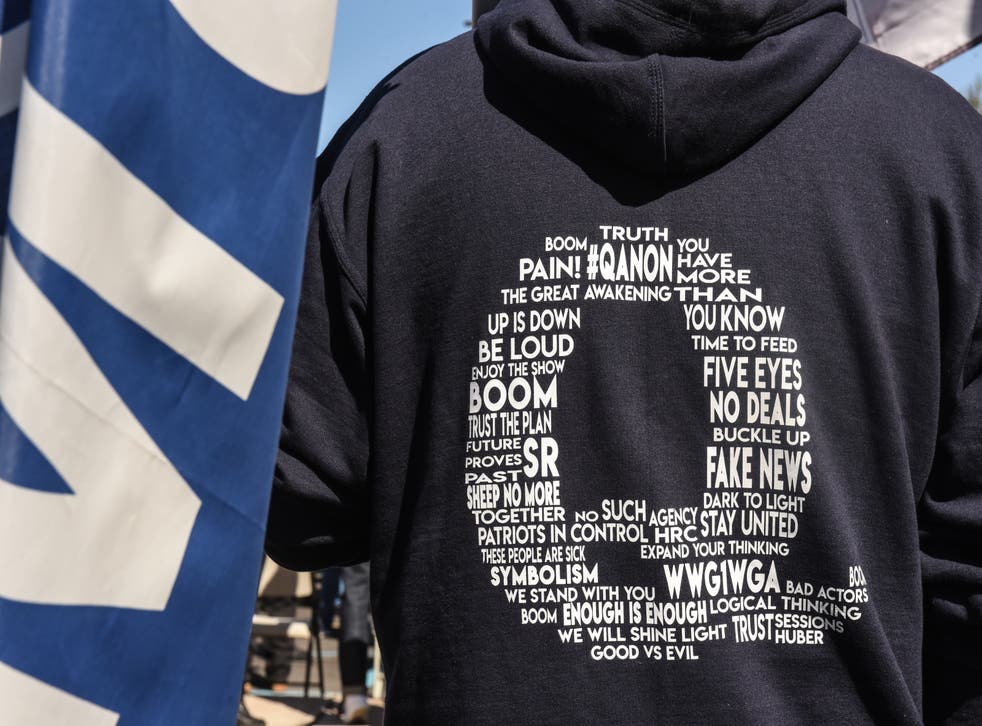 Qanon products including neck warmers and earrings available on eBay as conspiracy theory spreads
Other shopping sites like Etsy and Facebook Marketplace have banned merchandise related to the conspiracy theory
Online auction website eBay is currently hosting a range of products related to the QAnon conspiracy theory.
The individuals believe the baseless conspiracy argue that an unidentified individual called Q is posting secret codes to inform people that president Donald Trump is a waging a secret war against paedophiles and Satanists, who are harvesting children's blood to become immortal.
It borrows from numerous other false conspiracy theories, including Pizzagate, the Freemasons and the Illuminati, and has become embroiled with anti-mask activists. 
Searching for "QAnon" on eBay returns over 7000 results. Numerous products included are clothes, furniture, collectables, books, and more.
It comes at a time when other online shopping sites are removing such items from their platform.
It is not known how many searches eBay users make for QAnon items, or the processes by which it curates content.
eBay recently instigated a complete ban on all sales of face masks, hand sanitiser, and disinfectant wipes to tackle price gouging on its site.
"We will continue to monitor the evolving situation and quickly remove any listing that mentions COVID-19, coronavirus, 2019nCoV (except books) in the title or description," it said.
The site also removed products from its marketplace with "stand back" and "stand by" phrases, which have been related to the right-wing hate group the Proud Boys since Mr Trump uttered them in relation to the group during his debate with Joe Biden.
"Our Trust teams are reviewing these items across our marketplaces & taking the appropriate action. These items are not permitted per our policies. Thank you", the company tweeted at the time.
It is unclear if eBay is monitoring QAnon content in the same way as it is monitoring coronavirus and far-right content.
"eBay has long-standing policies to manage the marketplace and prohibits offensive materials that promote or glorify hatred, violence or racial, religious or gender intolerance — we take a hard line against any listing attempting to spread hate and discrimination," the company said in a statement at the time. 
QAnon had previously been named by the FBI as a domestic terrorist threat that could drive "individual extremists to carry out criminal or violent acts".
Facebook recently took action against QAnon content, banning it from its platforms including its Facebook Marketplace storefront.
Shopping site Etsy also said this month that it is also banning QAnon merchandise.
As well as eBay, Amazon has not yet said whether it is curating QAnon products on its site, with products readily available in both the US and Canada.
eBay charges a fee to the seller for the use of its platform. This fee is 10 per cent of the final transaction value, including postage, capped at £250, the company explains. 
It will also charge extra for various upgrades, such as scheduling features or listing an item in two categories.
In addition to that, many products are marked 'sponsored', by which the seller is charged a percentage of the item's sale price by eBay to promote it in its search listings.
As such, it is likely that eBay has profited financially if QAnon products have sold through its platform.
"You choose how much you want to pay for your promoted listings – we call this the ad rate. The Promoted Listings system chooses which listings to show and where, based on the listing's ad rate, relevancy to buyer search, and quality of the listing", a help page on eBay's site reads.
The fees are chosen by the seller between one and 100 per cent of an item's sale price. The higher the ad rate, the higher the likelihood that eBay will place the item further up its search results, increasing the chance of the item being sold.
"You will only be charged when a buyer clicks on one of your ads and then buys that item within 30 days."
Promoted items appear when searching for a range of QAnon-related phrases, including "WWG1WGA", which stands for the QAnon motto "Where We Go One, We Go All", and "red pill", a term associated with the belief that the world is being "feminised" and one that has been woven into the QAnon ideology.
eBay's page for sellers – where users upload their products to the storefront - also automatically suggests specifications for QAnon-related products, such as t-shirts, stickers, hoodies, and more.
Sellers of QAnon content vary between dedicated sellers with multiple items related to the conspiracy theory to logo-generating companies with few QAnon-related items looking to profit from believers.
It is not clear how much eBay could have made from the sale of QAnon related products on its platform or how long the site has been hosting such products.
The Independent has reached out to eBay for comment.
Join our new commenting forum
Join thought-provoking conversations, follow other Independent readers and see their replies