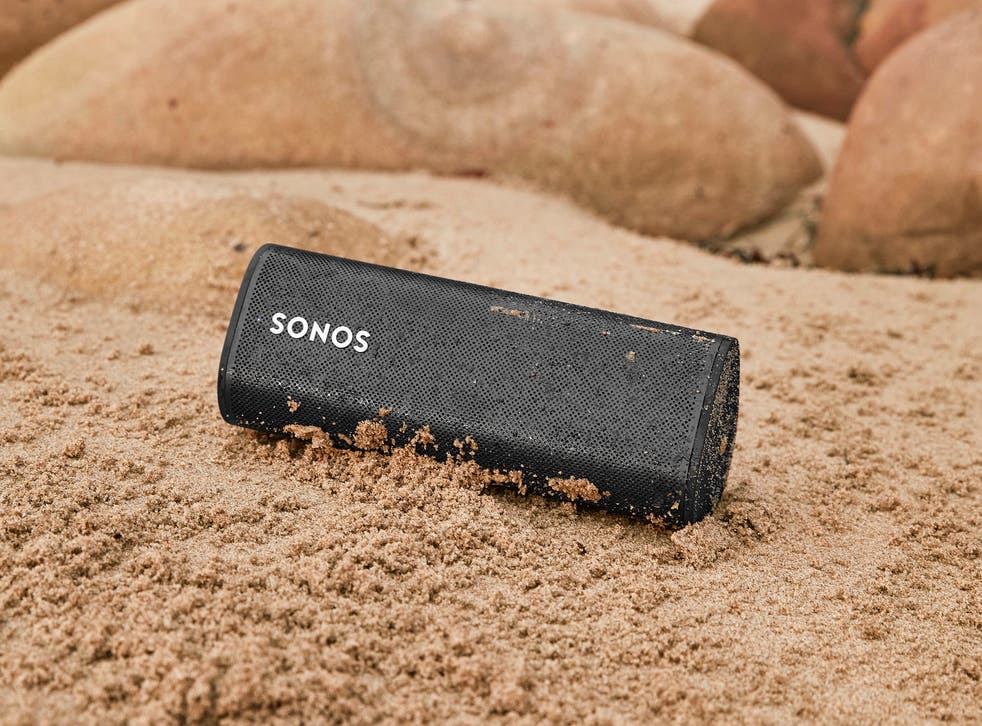 Sonos Roam review: A small speaker with very big ideas
The Sonos Roam is a pioneering product for Sonos: it is, at once, its smallest and cheapest product, and includes a host of technologies that have not been seen in the company's smart speakers before. It's also meant for blazing new ground yourself, as the first of its line-up specifically made for leaving the house.
As such, there are a lot of expectations riding on it. And it manages to satisfy just about every one.
The Sonos Roam is probably the best portable speaker you can buy – though you have to pay up for it. Sonos makes up for that extra price by heaping on a load of features that mean it could actually be good value, given that it is not only destined to live in your house, too.
When you start using it, the first thing you'll notice is that the Roam is very, very small and light. It's almost surprising quite how small: Sonos described its size as being akin to a water bottle, which is true, but it is best to picture a small mineral water rather than a larger refillable one.
But the sound is not small at all, by any measure. And neither are the variety of new technologies that Sonos has packed in – so many that you might not even find yourself using many of them.
Read more:
If anything, it is occasionally a little chunky, despite the size; it emphasises the bass, rather than high notes, which can end up a little muddied. While that seems unusual given the size, it probably suits its usage, given you probably want it to sit thudding away as a soundtrack to working out or relaxing with friends, and searing or soaring high vocals could be a bit of an intrusion.
The small size does mean that the sound is a little muffled, and it sometimes seems to be struggling with particularly busy tracks. But these are all nitpicking rather than criticising; it sounds great for such a small speaker, but it's unlikely to trick you into thinking it's anything but that.
The various technologies included are similarly impressive. Chief among them is sound swap, which allows you to "throw" the music from your Roam to the nearest non-portable speaker; it does that by sending inaudible tones out of your house speakers, so that the Roam can use those to find out which is closest, an incredibly clever trick that you're unlikely to even be aware of happening.
(It's perhaps debatable how much many people will use this feature, clever though it is; in testing, it was rare to come through the door with music playing out of the speaker. Where it does make a lot of sense is in a pair of headphones – and Sonos is widely rumoured to be planning some of those.)
It also brings Sonos's Auto TruePlay feature to the outdoors, meaning that the speaker can use its own built-in microphones to try and sense how sound is bouncing around in its environment . It's hard to know how well that works, given that even the most tuned version of the outdoors is only likely to go from terrible to bad, but it is good to know that it is trying.
When the Roam is in the house, and connected to WiFi, it functions like any other of Sonos's speakers; controllable through the app, able to play anything and link up with the rest of the ecosystem for multi-room audio, with the addition of voice assistants too. This is where one of the really impressive tricks of the Roam becomes clear: really, this is not like other portable speakers such as those made by UE, and you can consider it as much a small speaker that you can take out of the house as a portable speaker you might sometimes listen to inside of it.
The Roam is also sturdier than its small size might suggest. It can survive dust, drops, and being submerged in three feet of water for half an hour; in testing, it took spills of all kinds without any complaint.
You are unlikely to drop it, however, since the Roam sits so neatly in the hand, and anywhere else too. That water bottle comparison is once again apt: it nestles in your palm in the same way, and can slot into small pockets in bags or holders on bikes just as easily.
The Sonos Roam follows the Sonos Move, which was released in 2019 as the company's first foray into both portable speakers and Bluetooth. But despite the fact that it worked with a battery, and could be taken around, its large size meant that it wasn't ever really meant to be carried very far; it was always meant for barbecues in the garden, rather than picnics in the park.
The Roam is a big departure from that philosophy, and while it leans on the strides made with the Move it very much builds on them, too. That said, the sound is not even all that different – and certainly not worth the more than £200 extra you have to pay for the upgrade.
Like the Sonos Move, the speaker's low price and battery power mean that it could actually be a great option even if you never intend to take it out of the house: the portability means that it can easily go between rooms, as well as out of the house. As such, it might even be the best way to get into the Sonos ecosystem: rather than paying the potentially thousands of pounds it might cost to fit out your whole house, you can just bring the speaker with you.
And at the end of the day, the speaker can be charged up using the built-in USB-C port – or any other Qi wireless charging pad. The latter can be slow, but its very neat, and it means that you can think of the speaker almost as similar to a phone, easy to put down and charge up whenever is necessary.
All of those smart and portable features added together – as well as the more than decent sound – mean that the Roam is really two speakers for the (high) price of one: you can consider this your picnic speaker, but also your bathroom one, or anywhere else you might want to carry a portable speaker too. Anywhere you can go, so can it; but if there are a lot of you, it might struggle.
It's very much accurate to say the Roam is among the best portable speakers on offer. But it's also a little wrong; it's just as good when it's standing still, too.
The Sonos Roam costs £159 and is available to pre-order now.
Join our new commenting forum
Join thought-provoking conversations, follow other Independent readers and see their replies