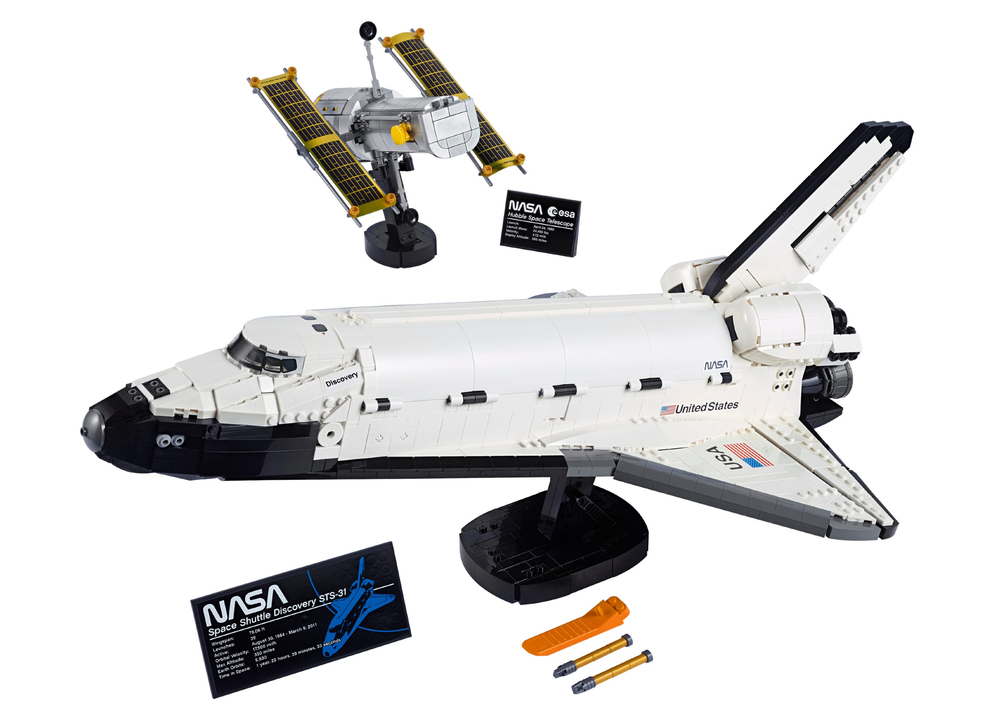 Lego and Nasa launch detailed Space Shuttle Discovery kit – that costs $200 and is aimed at adults
Nasa and Lego have created a detailed replica of the Space Shuttle Discovery and the Hubble Space Telescope that it helped launched.
The kit is just the latest in a number of tie-ups and collaborations launched by the space agency.
It was also designed in collaboration with Kathryn Sullivan, the first American woman to complete a spacewalk and part of the Space Shuttle team that launched Hubble.
The kit is aimed at adults, and is immense both in its complexity and its price. It costs $200 and is made up of 2,354 pieces.
It includes a detailed recreation of parts of the mission including the payload bay, which opens up in the same way it did when Hubble was launched out into space.
Read more:
Building such a long hollow section in the kit was a trouble for the designers, Lego's Milan Madge told Space. It was eventually successful by strengthening the middle of the spacecraft so that its front and back would not fall off, an innovation that also allowed for functioning and moveable landing gear to be mounted on the bottom.
The Space Shuttle and the Hubble Space Telescope kits are intended to be displayed as much as played with: when built, it is 56cm long, and comes with stands that hold it up as well as plaques that can be placed in front of the various parts, explaining what they are and facts about their missions.
The large size was chosen in part so that the designers could ensure the model reflected detailed parts of the real Space Shuttle, Mr Madge said.
Members of Lego's VIP scheme will also be able to buy the Ulysses space probe, which was also launched from the Space Shuttle on a mission that saw it study the Sun.
While most of Lego's space-themed kits are focused on fictional or imagined craft – many of which are from the Star Wars universe – the company has made replicas of real equipment before. They include the Atlas V rocket that carried humanity to the Moon, as well as the International Space Station.
Join our new commenting forum
Join thought-provoking conversations, follow other Independent readers and see their replies