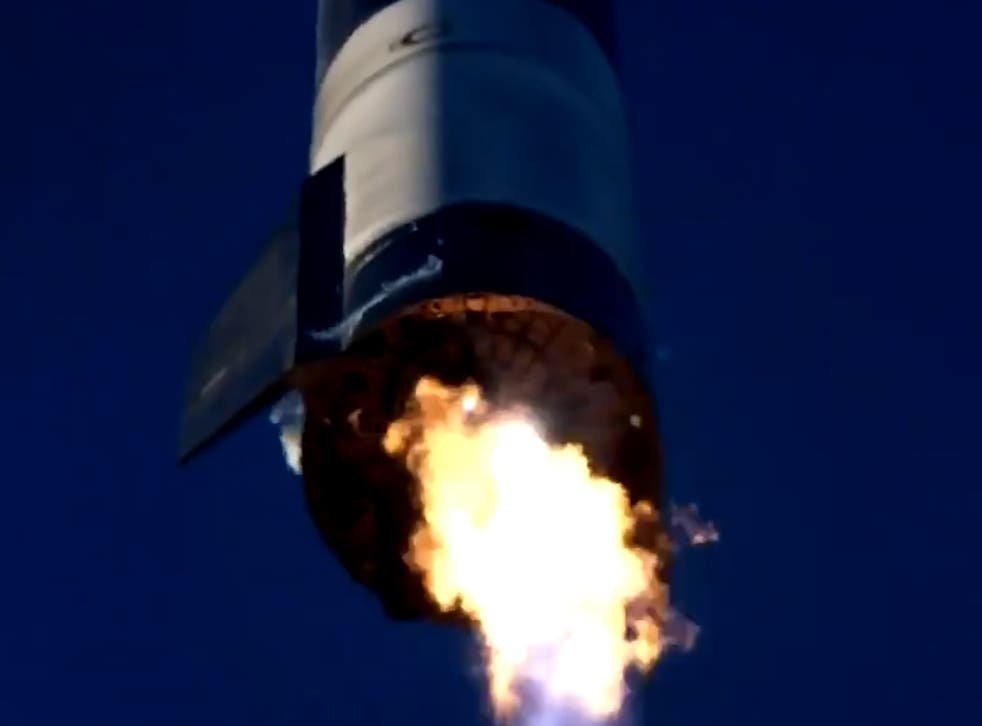 SpaceX reveals close-up of Starship 'landing flip manoeuvre' before explosion
Elon Musk explains what happened in 'epic' flight test
SpaceX has shared close-up footage of its Starship spacecraft performing a complicated landing manoeuvre, just moments before it crash landed in a ball of flames.
The landing flip manoeuvre took place at the end of the first major flight test of the Starship SN8 prototype, which took place on Wednesday at SpaceX's Boca Chica facility in Texas.
The test lasted for around 6 minutes and 40 seconds, allowing SpaceX to assess how Starship's three Raptor engines would function simultaneously, as well as try manoeuvring the craft using its body flaps on descent.
One of the most complicated parts of the flight test was the landing flip, which marked the first time a craft of its size had ever performed one.
After climbing to 12.5km, the 50m prototype entered a state of freefall, adjusting its flaps to essentially bellyflop back down to Earth.
Before reaching the ground, Starship SN8 reignited its engines in an attempt to right itself and land back on the launchpad.
It managed to return upright but crumpled into a fiery explosion after landing heavily.
SpaceX CEO Elon Musk hailed the test as a success, and explained what went wrong at the end of the flight.
"Fuel header tank pressure was low during landing burn, causing touchdown velocity to be high and RUD, but we got all the data we needed!" he tweeted.
"SN8 did great! Even reaching apogee would've been great, so controlling all way to putting the crater in the right spot was epic."
Join our new commenting forum
Join thought-provoking conversations, follow other Independent readers and see their replies