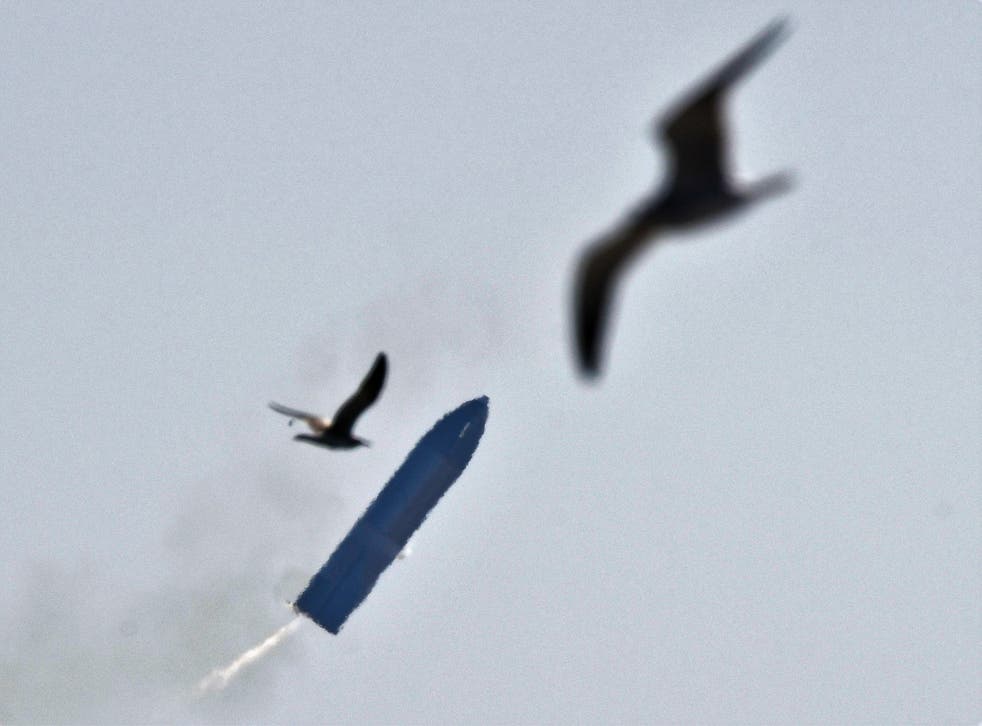 SpaceX Starship SN10 launch this week has '60% chance of landing', says Elon Musk
Latest test designed to 'help humanity return to the moon, and travel to Mars and beyond'
SpaceX will perform a major flight test of its latest Starship prototype this week after the previous two ended in fiery explosions.
The Starship SN10 will launch from SpaceX's facility in Boca Chica, Texas, after improvements were made to its landing abilities.
SpaceX CEO Elon Musk said these upgrades would give Starship a 60 per cent chance of landing successfully.
High-altitude tests of the SN8 and SN9 Starship prototypes were largely successful, despite their catastrophic conclusion.
They each demonstrated SpaceX's ability to launch the craft to over 10km, before reorienting it to perform a controlled aerodynamic descent. Both initiated the complex landing-flip manoeuvre but neither could complete it.
"These test flights are all about improving our understanding and development of a fully reusable transportation system designed to carry both crew and cargo on long-duration, interplanetary flights and help humanity return to the moon, and travel to Mars and beyond," SpaceX said following the Starship SN9 test.
The latest test comes just two weeks after the Starship SN9 test, and less than 10 weeks after the SN8 test.
The rapid test rate comes after Mr Musk told SpaceX employees to prioritise development of the Mars-bound craft ahead of other missions like Starlink.
The technology billionaire hopes to send the first humans to Mars aboard Starship as early as 2024, with hopes of mass producing the craft to facilitate a reliable route between the two planets.
If the tests prove to be successful, and funding is no issue, then SpaceX could manufacture "100 Starships per year" over the next decade to create a 1,000-strong fleet of the next-generation rockets.
Mr Musk has frequently spoken of his ambition to travel to Mars himself in his lifetime, as well as establish a colony on the red planet in order to ensure humanity's future survival.
SpaceX is yet to announce the exact time and date of the Starship SN10 flight test but previous launches have been beset by weather and FAA delays.
Road closures in Cameron County are yet to be put in place, as SpaceX first needs to complete a static fire test of the Raptor rocket engines.
Starship SN11 is already in development, as well as future prototypes up to at least SN18, according to Nasa Space Flight.
Join our new commenting forum
Join thought-provoking conversations, follow other Independent readers and see their replies