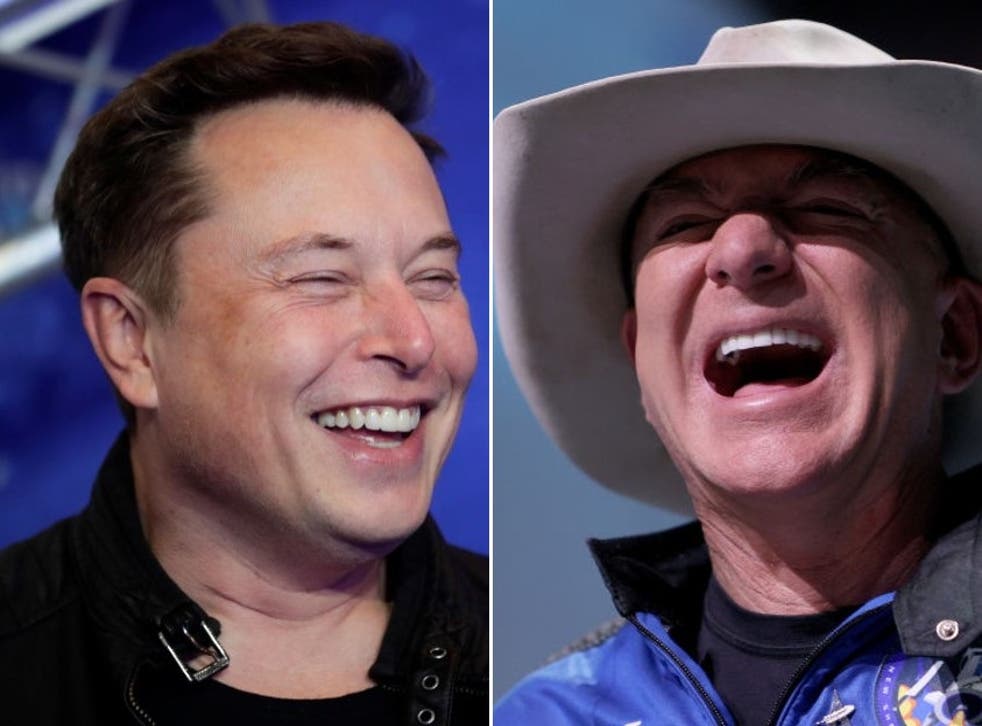 Elon Musk posts gloating message to Jeff Bezos as SpaceX beats Blue Origin in Nasa Moon case
'You have been judged,' billionaire writes
Anthony Cuthbertson
Thursday 11 November 2021 14:42 Comments
Leer en Español
Jeff Bezos' Blue Origin space company has lost a lawsuit against Nasa over a multi-billion dollar contract awarded to SpaceX, prompting Elon Musk to celebrate by posting a meme aimed at his billionaire rival.
The US Federal Court of Claims ruled that the bidding process for the $2.9 billion contract, which was awarded in April, was fair.
The ruling allows SpaceX to continue developing its Starship rocket for the Artemis mission, which aims to return humans to the Moon by 2024. In a statement shortly after the decision was announced, Nasa said it would resume working with SpaceX "as soon as possible".
Blue Origin had originally claimed that Nasa "disregarded key flight safety requirements" in awarding SpaceX the contract.
Mr Musk responded to the verdict on Twitter with a meme of the fictional character Judge Dredd, together with the text "You have been judged".
The lawsuit has delayed cooperation between Nasa and SpaceX, meaning the 2024 target may not be reached.
SpaceX's next-generation Starship space craft has already conducted successful flight tests and is aiming to carry out the first ever orbital test later this month.
Musk's ultimate ambition with Starship and SpaceX is to establish a colony on Mars in order to transform humanity into a multi-planetary civilisation, which he believes is necessary to ensure our long-term survival as a species.
By contrast, Bezos' work with Blue Origin has so far focussed on building a space tourism industry through trips to the edge of space with its New Shepard rocket. Last month he also announced plans for a "space business park" that will orbit the Earth and include a micro-gravity hotel.
Musk has previously mocked Bezos for appearing to copy the design of the Starship rocket with Blue Origin's latest New Glenn rocket.
The similarities between the rockets were noted by members of a SpaceX fan forum on Reddit, who posted "Hey Elon, can I copy your homework?"
Musk responded to the post with crying face laughing emojis.
Register for free to continue reading
Registration is a free and easy way to support our truly independent journalism
By registering, you will also enjoy limited access to Premium articles, exclusive newsletters, commenting, and virtual events with our leading journalists
Already have an account? sign in
Join our new commenting forum
Join thought-provoking conversations, follow other Independent readers and see their replies