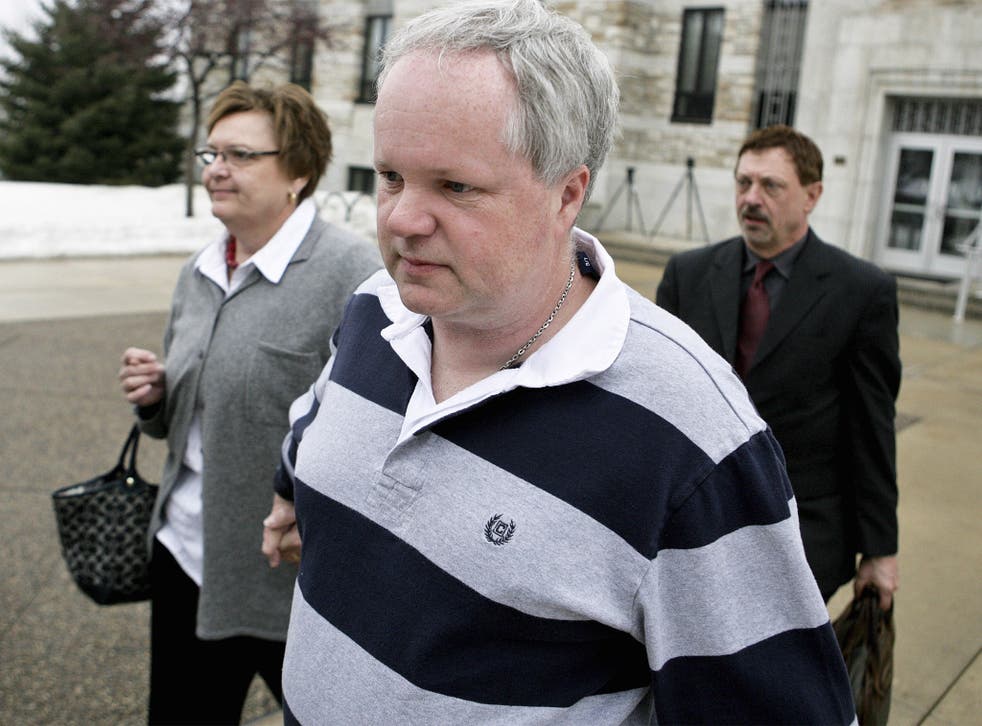 Suicide voyeur: Former nurse who persuaded online contacts to take their own lives while he watched via webcam is freed
360 day prison sentence overturned after Minnesota's Supreme Court finds that while 'assisting' suicide may be illegal, 'encouraging' it is not
Until he was caught, William Melchert-Dinkel, a 51-year-old former nurse from Minnesota, had a gruesome hobby.
He would seek out vulnerable, suicidal people online and then persuade them to take their own lives as he watched via webcam.
In 2011, he was convicted of aiding suicide and sentenced to 360 days in prison.
Today, however, his conviction was overturned by the state's Supreme Court, which found that while "assisting" suicide may be illegal, merely "encouraging" it is not.
In 2006, Celia Blay, a retired Berkshire schoolteacher, inadvertently clicked her way into an online suicide chatroom while researching local history. Shocked to find that such forums even existed, Ms Blay took it upon herself to counsel its members and to persuade them that death was not the answer. But she soon became aware of a more sinister force at work.
One of her correspondents, a South American teenager, emailed Ms Blay to say she had made a suicide pact with another chatroom user named Li Dao, who described herself as a depressed Chinese-American nurse in her 20s.
Ms Blay talked her friend out of taking her life and then set about tracking down Li Dao. After some online sleuthing, she learned the nurse's true identity: Mr Melchert-Dinkel, a middle-aged father of two from Minnesota.
He would disguise himself online as a young woman, going by several names, including Li Dao, "Falcon Girl" and "Cami-D". He would offer his victims to join him in a suicide pact, suggesting they take their lives together via webcam. At the appointed hour, he would claim his camera had stopped working and then watch as the other person went through with it.
By the time Ms Blay persuaded the US authorities to act, he had urged at least two people to kill themselves: 32-year-old Mark Dryborough, from Coventry, in 2005; and Nadia Kajouji, 18, from Ontario in Canada, in 2008. Mr Melchert-Dinkel was convicted on two counts of aiding suicide.
Yet according to court documents, he admitted having entered fake suicide pacts with as many as 10 people, five of whom he believed had taken their own lives.
He told police he did it for the "thrill of the chase". Though he was given a custodial sentence, he has remained free pending his appeal.
His lawyers maintain that Minnesota's assisted-suicide law is too broad. The legislation's wording criminalises anyone who "intentionally advises, encourages, or assists another in taking the other's own life," but Mr Melchert-Dinkel argued that this limited his right to free speech, as enshrined in the US First Amendment.
In Wednesday's ruling, the Minnesota Supreme Court found that while "assisting" suicide may be illegal, the section of the law that forbids "encouraging" suicide is indeed unconstitutional.
Mr Melchert-Dinkel's case has thus been sent back to a lower court to decide whether he, in fact, "assisted" his victims. He claims that he simply offered them support and that he had no sway over the actions of the pair.
Join our new commenting forum
Join thought-provoking conversations, follow other Independent readers and see their replies