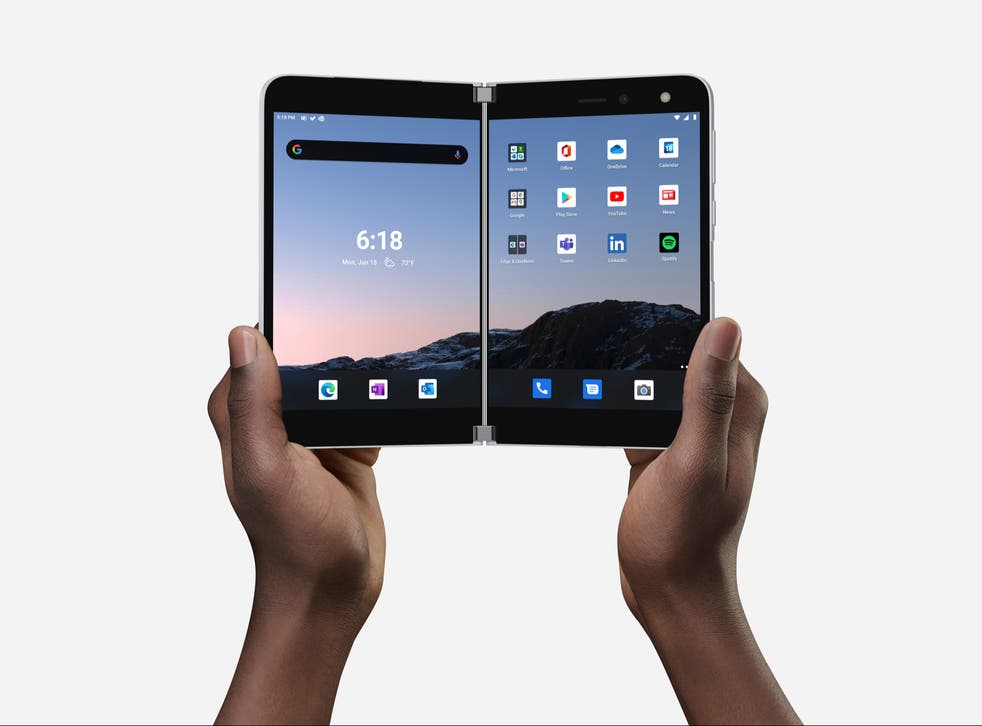 Surface Duo: Microsoft's folding dual-screen smartphone finally makes it to the UK
The device will be priced at £1,349 and available from 18 February
Microsoft has announced that the Surface Duo, it's dual-screen phone, is now available to purchase in the UK.
The device will be priced at £1,349 from Microsoft's own website or Currys PC World, starting from 18 February,
The Surface Duo was originally announced in October 2019, competing with other foldable devices like the Huawei Mate XS and the Samsung Galaxy Fold 2. Unlike these devices however, the Surface Duo closes like a book with two screens on the inside, rather than having one on the outside.
At the same time, Microsoft announced a new operating system called Windows 10X, designed specifically for dual-screen devices - but that does not feature on this device.
Instead, the Surface Duo runs Google's Android operating system to handle coordination of the phone's two 5.6in displays.
Other specs include a 3577mAh dual battery, an 11MP f/2.0 camera, Qualcomm's Snapdragon 855 processor, and 128GB or 256GB of internal storage with 16GB of RAM.
"This product brings together the absolute best of Microsoft, and we're partnering with Google to bring the absolute best of Android in one product," said Microsoft product chief Panos Panay said at the time. "This is industry-pushing technology."
Following the failure of Windows Phone, Microsoft reasoned that its next stage in mobile development could not run Windows. Instead it needed Android, with Google Maps and the Play Store - and access to the millions of apps users expect, an issue that specifically hindered Windows Phones, Protocol reported.
Since the phone has already debuted in the US, we have a general notion on how good it is: "This is still a first-gen phone for early adopters, specifically those with money to burn", Wired's Julian Chokkattu writes.
"I firmly believe multiscreen mobile devices are the future, and the Duo has cemented this notion. Having the extra screen makes me feel like I have room to breathe. I just wish the experience was far more polished than its current state."
TechCrunch praised the hardware "for a first generation device" but argued that the software needs refinement despite its obvious benefits.
"The company took great pains to ensure that two separate apps can open on each of the screens. And honestly, the gap is actually kind of a plus when multitasking with two apps open, creating a clear delineation between the two sides", Brian Heater argues.
"Certain productivity apps make good use of the dual screens when spanning both. Take Gmail, which offers a full inbox on one side and the open selected message on the other. Ditto for using the Amazon app to read a book."
The original devices were apparently "riddled with show-stopping bugs and crashes", according to The Verge's Dieter Bohn - an issue that hopefully this later rollout will have fixed - but complimented Microsoft's own apps for interacting well with the hardware in various modes (Microsoft calls them "postures").
"There's a tent mode for watching movies, a single screen mode with one of the screens flipped around, a mode with a big keyboard, and a full-screen mode. In full screen, most apps are oblivious to the existence of the gap between screens, and so content either looks goofily split or even gets cut off in that negative space between OLEDs", Bohn continues.
Join our new commenting forum
Join thought-provoking conversations, follow other Independent readers and see their replies