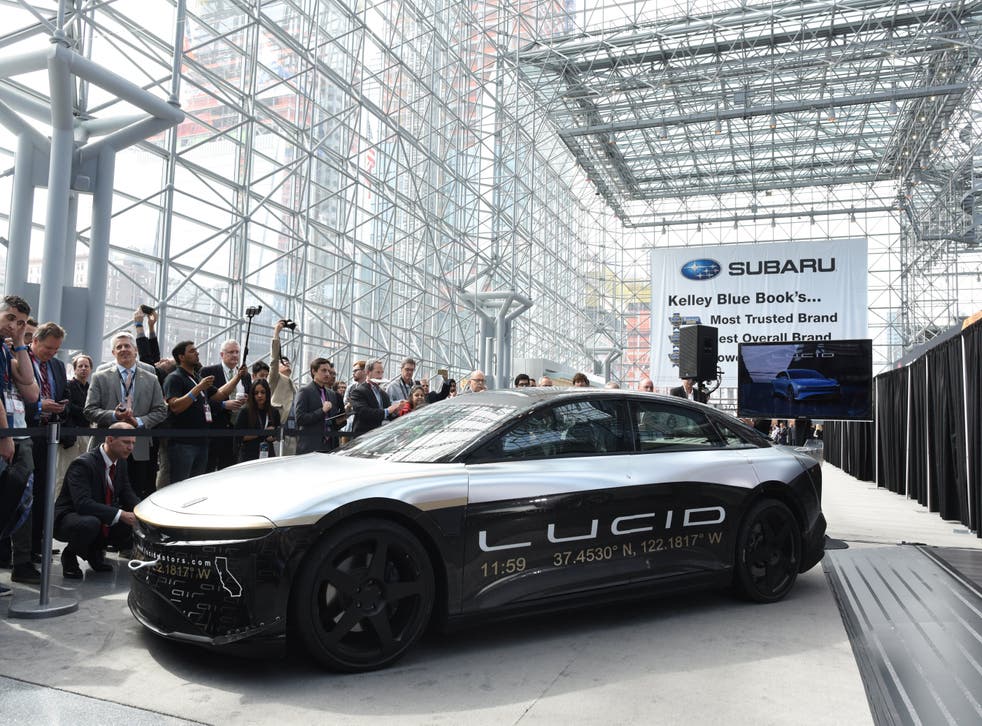 Lucid Air: Former Tesla engineer claims he's made a car better than Elon Musk's Model S
'The ambition of Lucid is to have a profound effect. We are not a minority play', Rawlinson said
Leer en Español
Peter Rawlinson, the chief executive of Lucid and former engineer for Tesla, has claimed the Lucid Air will be a breakthrough for the electric car market in the same way the Model S was.
"No one believed me with Model S . . . the hostility to it was shocking. I've found the same with (Air). No one believes it", the CEO told Forbes.
The new version of the Lucid Air, called the "Dream" edition, claims 517 miles per charge, faster recharging, and can go from start to 60 mph in little over two seconds.
At time of writing this is apparently class-leading, but Tesla is offering tough competition.
The new version of the Tesla Model S will reach the same speeds in under two seconds, and can reach 520 miles in a single charge, Tesla CEO Elon Musk claimed in January.
Rawlinson also claims that the Air's propulsion technology is the most efficient, and that it has the best electric power train efficiency. That reportedly clocks at 4.7 miles per kilowatt-hour of battery, apparently beating Tesla's Model S and Model 3.
"If you're a sprinter, what is your best time for the 100 meters? That's your metric. Usain Bolt, it's a 9.69," Rawlinson said. "You can almost do [the same]for an electric car company, and that is your EPA [Environmental Protection Agency] efficiency."
Both Rawlinson and Elon Musk are aiming for the same middle-market niche. Rawlinson hopes to sell hundreds of thousands of mid-$40,000 electric cars and $25,000mass-market EVs through other automakers by the middle of the decade.
He said that the idea it was making "an expensive car for wealthy people" is a misunderstanding. He told Forbes that he intends to be making a million cars each year, and that he wanted the company to have a "profound effect".
To this end, a new electric car crossover apparently called "Gravity" will be launched in 2023 to compete with the Model 3.
Rawlinson says he and Musk  "got on like a house on fire for most of the time I was there—not at the very end.
"We both obsessed about reaching for the stars with technology and engineering—and it just can't be good enough," he said.
Rawlinson and Mr Musk also have a different approach when it comes to marketing their vehicles, with Rawlinson saying that he does not want the same attention Mr Musk has.
"I'm not an autocrat. Lucid is a team effort," he says. "That is a big difference. The other thing is that I don't expect someone who buys a Lucid to know my name. I don't expect them to know who Peter Rawlinson is."
Join our new commenting forum
Join thought-provoking conversations, follow other Independent readers and see their replies