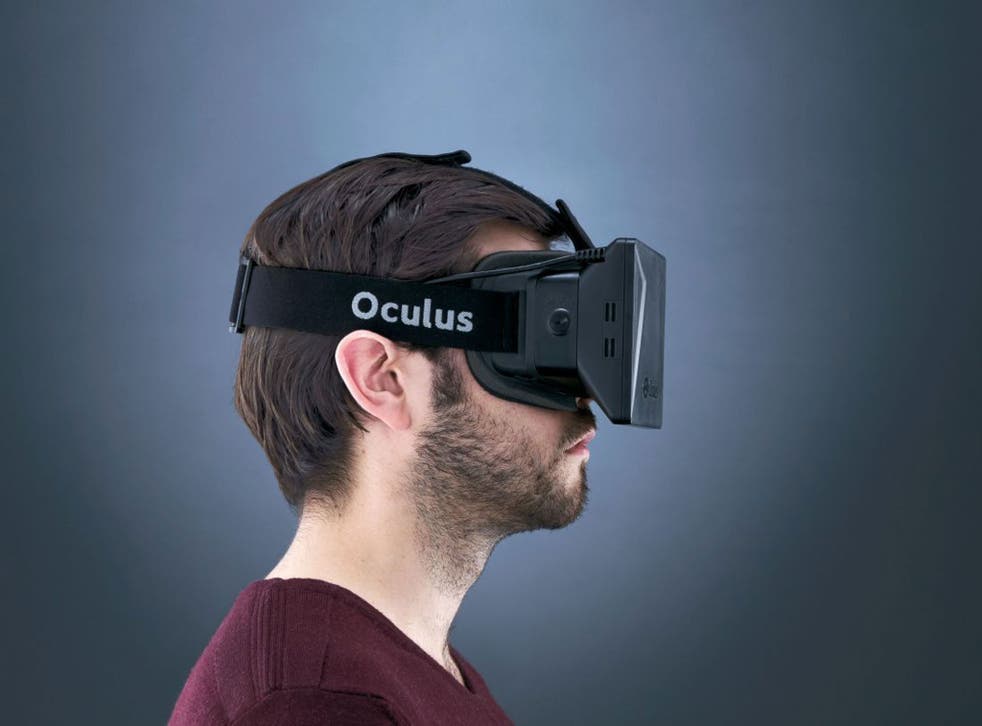 Oculus Rift bought by Facebook: The (virtual) world is not enough
The social network has paid $2bn for the company at the forefront of the virtual reality revolution
James Vincent
Wednesday 26 March 2014 10:26 Comments
Mark Zuckerberg has thrown his weight behind virtual reality as a "platform of tomorrow", announcing yesterday that Facebook has purchased Oculus VR, the company responsible for the Oculus Rift virtual reality gaming headset.
"This is just the start," said Zuckerberg in a blog post announcing the deal. "After games, we're going to make Oculus a platform for many other experiences. Imagine enjoying a court side seat at a game, studying in a classroom of students and teachers all over the world or consulting with a doctor face-to-face - just by putting on goggles in your home."
The $2 billion acquisition of Oculus VR has taken the tech world by surprise. Founded by 21-year-old college dropout Palmer Luckey, the company first came to mainstream attention in 2012 when it raised more than $2 million on crowdfunding site Kickstarter to start building its first headset.
The headset, which weighs about the same as a large hardback book, uses the same basic trick virtual reality has for decades. A HD screen is placed close to the users' eyes and sensors in the headset track the users' movements so as they look about the virtual world follows them.
This sounds like child's play to implement, but the success of the Oculus Rift has been hard fought and is down some fiddly engineering magic that gives the device incredibly low latency (meaning there's no delay between moving your head in real life and your vision moving in-game) and low persistence (meaning that that there's less motion blur as you look about).
The effect of all this is hard to explain in real terms, but if you want some idea of how convincing virtual reality can be you just need to look at peoples' reactions. Users scream at simulations of the guillotine, game developers have issued warnings for players not to lean on the virtual scenery (there were accidents), and one video of a 90-year-old grandmother's astonished reaction explains more about the technology than a dozen think-pieces could:
However, Facebook's involvement in the project has raised hackles all over the internet. For a start, the enthusiast individuals who funded the initial head-set will, of course, be getting nothing out of the deal, while the venture capitalists who swooped in later on (VC firm Andreessen Horowitz led an investment round three months ago for $75 million) will be making approximately eight times their money back.
The Oculus Rift also had a fantastic relationship with the online community of game developers, many of whom feel betrayed by the acquisition. Luckey, the creator of the Rift, took to Reddit to appease the community, saying that the partnership "accelerates our vision" and that "very little" will change for the company, but the fans are not convinced.
One user points out that "Facebook is known for it's intrusive tracking of users, not to mention it's extreme focus on advertisement, intrusive logins, and focus on linking to real-life data collection," adding that there are no guarantees that device will not incorporate some or all of these features in the future.
Marks Persson, the creator of the hit indie game Minecraft, said that news of the acquisition had so shocked him that he had completely backed out of his plans to bring his game to the platform. "We were in talks about maybe bringing a version of Minecraft to Oculus," wrote Persson. "I just cancelled that deal. Facebook creeps me out."
Other reactions have been more positive with some game developers poiinting out that Facebook's involvement will bring the technology into the mainstream faster than before, but Oculus Rift themselves say that the news really means that virtual reality will be bigger than just video games.
Oculus Rift: the best demos and games

Show all 6
"At first glance, it might not seem obvious why Oculus is partnering with Facebook, a company focused on connecting people," wrote the company in an official statement.
"But when you consider it more carefully, we're culturally aligned with a focus on innovating and hiring the best and brightest; we believe communication drives new platforms; we want to contribute to a more open, connected world; and we both see virtual reality as the next step."
The technology does certainly seem to be moving into the mainstream after so many years in the wilderness, with Sony recently unveiling a virtual reality headset of their own named Project Morpheus.
It's impossible really to say where this technology could lead us if it achieves widespread adoption. Could we be sleepwalking towards a dystopia in which teens and adults alike plug into a fantasy world and drop out of this one? Or could virtual reality's capacity as a tool for empathy and communication (you can literally experience someone else's world) be a boon for humanity?
It's likely that the future will have a little bit of both. "Virtual reality was once the dream of science fiction," writes Zuckerberg. "But the internet was also once a dream, and so were computers and smartphones. The future is coming and we have a chance to build it together."
Register for free to continue reading
Registration is a free and easy way to support our truly independent journalism
By registering, you will also enjoy limited access to Premium articles, exclusive newsletters, commenting, and virtual events with our leading journalists
Already have an account? sign in
Join our new commenting forum
Join thought-provoking conversations, follow other Independent readers and see their replies