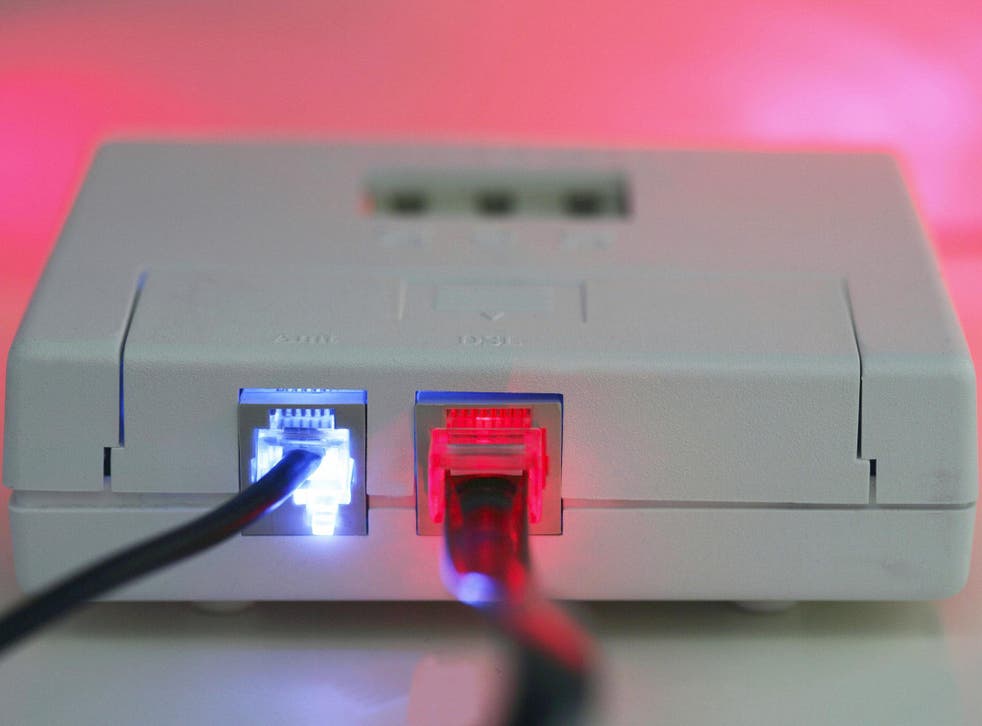 UK broadband speeds: The ten fastest and slowest streets revealed
One Kent street would need 19 hours to download a two-hour HD film
Heather Saul
Wednesday 11 March 2015 15:22 Comments
A street in Kent has been revealed as the slowest in the country for broadband, where the average download speed is so sluggish that downloading a two-hour film would take up to 19 hours.
Williamson Road, in Romney Marsh, Kent, has a "dire" average speed of 0.54Mbps, according to speed test data collected by uSwitch.com. This is 135 times slower than the average speed in Sandy Lane, in Cannock, Staffordshire, which was found to be the fastest in the UK.
More fortunate people living on Sandy Lane would need to wait just eight minutes for a two-hour HD film to download.
The uSwitch research is based on more than one million speed tests run by broadband users over six months.
It found that lucky residents in the North enjoy speeds up to twice as fast as those experienced by their southern counterparts, with Scotland home to six of the fastest streets and just two of the slowest.
In pictures: The ten slowest and fastest streets for broadband speed

Show all 20
Residents on a street branded the slowest on central London's superhighway for broadband say they are unable to stream content from sites such as Netflix, with one claiming it took days just to open Facebook.
Siobhan Davies, of Cowley Road in Brixton, told The Evening Standard: "Broadband around here is an absolute nightmare. I can't stream anything on my computer or iPad. I tried to load my husband's Facebook profile last week and it took three days to load. It's ridiculous."
Another resident, Julie Kelly, added: "When you open a webpage none of them load, you just get a circling turning around saying its loading.
"It can take hours to get a Facebook page to load and you can forget about streaming films on Netflix."
Ewan Taylor-Gibson, a broadband expert at uSwitch.com, said the difference between the fastest and slowest broadband speeds is stark. He said: "On the UK's slowest street broadband speeds are so sluggish you could fly to the Bahamas and back again in the time it takes to download a film."
Mr Taylor-Gibson said the most common causes for slow broadband include the user's distance from the nearest exchange or issues within the properties themselves.
"Wireless connections can be affected by the thickness of walls, for example, but your broadband provider can usually offer a solution if that's the case," he added.
"Superfast broadband is now available to more than three quarters of the UK, but nearly a third (31 per cent) don't realise they can get it. We looked at which of the 30 slowest streets had superfast availability and, interestingly, 37 per cent of them do, but residents have obviously chosen not to take up superfast services."
Register for free to continue reading
Registration is a free and easy way to support our truly independent journalism
By registering, you will also enjoy limited access to Premium articles, exclusive newsletters, commenting, and virtual events with our leading journalists
Already have an account? sign in
Join our new commenting forum
Join thought-provoking conversations, follow other Independent readers and see their replies