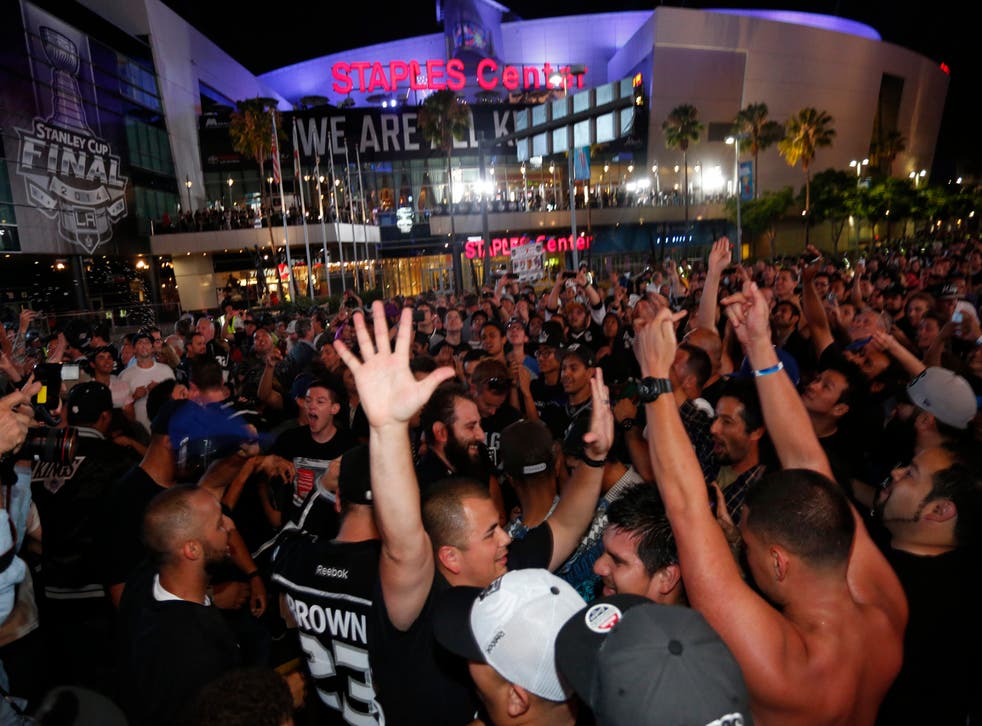 US hockey fans celebrate Stanley Cup win by knocking 'LAPD drone' out the sky (video)
The quadrocopter almost certainly belonged to a private individual - but the incident shows there's nothing less popular than a drone at a party
James Vincent
Tuesday 17 June 2014 09:13 Comments
Get used to seeing this in the future: a large crowd of excited men and women; a drone hovering above them; 'is it recording us?' someone asks, another person shouts 'take it down!' and a barrage of objects fly at the craft – knocking it to the ground where it's quickly dispatched.
This may sound a little over-dramatic, but it's pretty much the sequence of events that followed the final of the Stanley Cup – the biggest prize in American ice hockey – in Los Angeles last Friday.
In multiple clips posted to Facebook, YouTube and Instagram, fans of winning team the LA Kings can be seen throwing shoes and articles of clothing at a white quadrocopter hovering above them, knocking it out the air soon after (skip to 35 seconds in).
A follow-up clip shows a large crowd gathered – presumably - around the downed craft chanting "We got the drone! We got the drone!" while descriptions uploaded alongside these videos suggest that at least some of those present thought that the craft was being operated by the LAPD.
Although it's almost certain that the drone was not being used by law enforcement, it's worth nothing that we only reason we know this is because the LAPD have publicised the type of drone they own (Draganflyer X6s) while the craft in the video is readily identifiable as a DJI Phantom – a video-equipped model sold to the general public.
This casual proliferation of the technology - both for consumers and for the authorities - suggests that we'll see far more scenes like this in the future, as everyone from journalists to cops send out their drones to get a better view of large gatherings.
However, whether they're being used for surveillance or reportage - and whether they're operating legally or illegally (UK laws say 'no' to individuals filming large events) - there's a good chance that if there's a drone about, someone will throw something at it – even if they're not drunken sports fans.
Register for free to continue reading
Registration is a free and easy way to support our truly independent journalism
By registering, you will also enjoy limited access to Premium articles, exclusive newsletters, commenting, and virtual events with our leading journalists
Already have an account? sign in
Join our new commenting forum
Join thought-provoking conversations, follow other Independent readers and see their replies