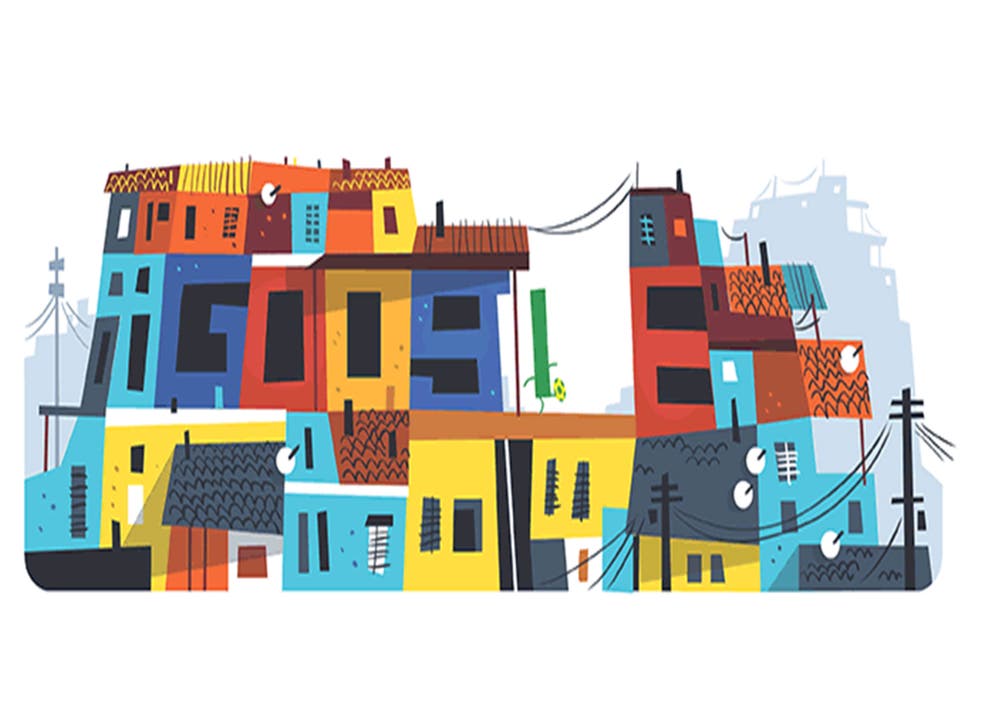 World Cup 2014: Forget the Spain vs Chile match, Google doodle wants you to remember the favelas
The search engine giant has taken inspiration 'straight from the streets of Rio'
Heather Saul
Wednesday 18 June 2014 08:28 Comments
Google has marked the seventh day of the 2014 Fifa World Cup with a doodle highlighting Brazil's favelas, perhaps one of the starkest signs of inequality within the country.
The search engine giant's 2014 World Cup it has taken "inspiration from the streets of Rio straight to the homepage" for this particular doodle, and has featured the original sketch by artist Matt Cruickshank in its archive.
Rio de Janeiro is home to Rocinha, the largest and most populous favela in Brazil, where thousands of homes are packed together across the sprawling neighbourhood.
The animated image shows the green 'l' in Google kicking a football against a stationary 'e' in the middle of the country's famous slums, which are shown in vivid blues, reds and yellows.
Brazil is one of the most economically unequal countries in the world, with a tenth of its citizens earning half of the national income. In 2010, six per cent of the population, or 11.4 million people, were registered as living in slums while 8.5 per cent of people in the country are believed to be living below the poverty line. To put that number in perspective, more people live in slums than the population of London, Birmingham and Manchester combined.
In Pictures: Rio's Favelas ahead of the World Cup

Show all 7
Despite the extreme poverty associated with favelas, they have developed their own dynamic culture, with music, art and graffiti playing a big role in life there. Favela life has become the subject of various pieces of art and photography, and has inspired works of art in many other parts of the world.
Wednesday's animation follows Google's Paul the Octopus inspired doodle highlighting Tuesday's match between Belgium and Algeria, where Belgium emerged victorious after beating Algeria 2-1.
Clicking on the image leads to match results, match previews and news about the 2014 World Cup.
Register for free to continue reading
Registration is a free and easy way to support our truly independent journalism
By registering, you will also enjoy limited access to Premium articles, exclusive newsletters, commenting, and virtual events with our leading journalists
Already have an account? sign in
Join our new commenting forum
Join thought-provoking conversations, follow other Independent readers and see their replies