LIFESTYLE FEATURES
GCSE results: Can you appeal your grades?
GCSEs are due on 20 August. GCSE student Qais Hussain looks at how exams are going to be marked this year and what students can expect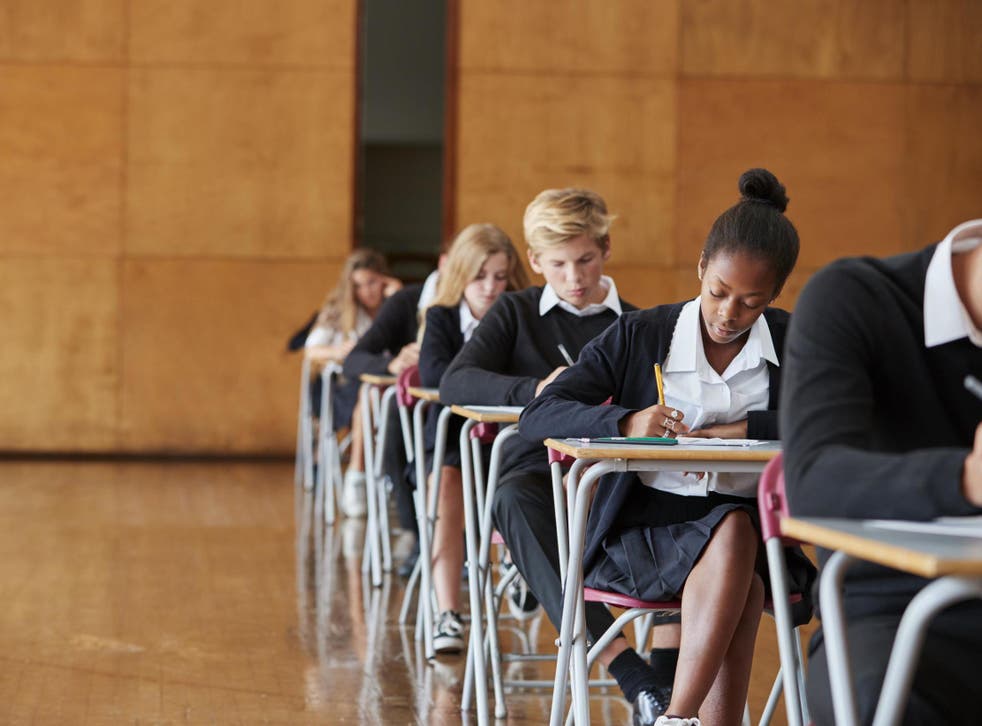 On 18 March, five days before the UK-wide lockdown, education secretary Gavin Williamson announced that all schools and colleges were to close and examinations, including A-Levels and GCSEs, would be cancelled due to the coronavirus pandemic.
More than half a million young people were due to sit their GCSEs and around 300,000 were meant to be taking A-level exams, leaving the government to come up with an alternative.
There was some speculation that students could sit the exams remotely and officials were discouraged from relying on predicted grades: Juliana Mohamad Noor, vice president for further education at the National Union of Students (NUS) warned that using the method would "rob" thousands of students who outperform their predictions.
The government confirmed on 27 March that students were going to be given speculative grades, rather than sit exams at home or elsewhere. Exam boards were to work with teachers to come up with a "calculated grade", to be given to students in the summer.
But on 11 August, 36 hours before A-Level results were due to be released, the government performed a U-turn allowing students in England to use grades from mock exams. This is following problems with grades in Scotland, which saw 120,000 students downgraded in the moderation process.
So how are exams now being graded this year? What do you do if you don't get the results you want? And what is the appeal process? Here is everything you need to know.
How will exams be graded this year?
The idea was that this year teachers would predict GCSE and A-level grades for their students, a process which would be externally monitored by the exam boards.
At the request of the government, all schools were asked by Ofqual (the office of qualifications and examinations regulation) to send exam boards two pieces of information for each subject, by 29 May.
This information included:
• The grade schools believe students would have most likely got if exams had happened as planned (these are referred to as CAGs or Centre Assessed Grades).
• A ranked list of all students within each grade for each subject. For example: If a school or college had 30 pupils for GCSE English Language with a centre assessment grade of 6, they should be ranked from 1 to 30, where 1 is the "most secure/highest attaining", 2 is the next most secure, and so on.
Every school was asked to consider a wide range of evidence, including classwork, non-exam assessment, mock exams, and previous results. Teachers were told to be "fair, objective, and carefully considered" when submitting the grades.
Silence for key workers who lost lives to coronavirus

Show all 30
The Department for Education said that exam boards will then "combine this information with other relevant data, including prior attainment, and use this information to produce a calculated grade for each student".
And if grading judgments in some schools or colleges appeared to have been more severe, or more generous than others across the board, then the exam boards will adjust grades accordingly, the regulator said.
But this process in Scotland lead to thousands of students having their results downgraded by the exam board - eventually meaning they were scrapped.
The students will now received the original results estimated by teachers.
This meant a policy shift in England - where students get their results later than Scotland - that means students can use their teacher-predicted grades instead or resit the exam in autumn if they are not happy.
Were there concerns about this system?
The NUS was not the only body to express concerns about the emergency system. Ex-Ofsted chief Sir Michael Wilshaw said predicted grades could be affected by "unreliable" assessment in "weak" schools. And Baroness Blackstone, in the House of Lords, said she believed cancelling exams was a "mistake" and that teacher assessment does "lead to questions about accuracy and fairness".
Research by the Equality Act Review suggests that black, Asian, or minority ethnic students, and those from working class families are disproportionately affected by the prediction of grades. It said: "The current grade predictions system does not account for learning style, mitigating circumstances or BAME bias."
Those with special educational needs could also be unfairly treated, the Equalities and Human Rights Commission (EHRC) said. "Research suggests there may be patterns of conscious or unconscious race bias when predicting grades. With this in mind, there is a danger that predicted grading may have an adverse impact on some disadvantaged groups."
Students are concerned too: the Student Room carried out a snap poll of more than 750 teenagers on whether they thought they would be "given a fair grade" this summer: 66 per cent said no and only a third said yes. The Equality Act Review also found 80 per cent of students were concerned about predicted grades.
What do I do if I'm unhappy with my grade?
On the day of grade collection some students will be able to go into schools and colleges to collect results. But most students will receive them via email.
If you are unhappy you are allowed to request to view your CAGs, which were submitted to the exam board. This can be done using the Ofqual CAG request form, which you can get from your school. Students must request these, not parents. Most schools plan to release the CAGs (to those who request them) a week or so after results day anyway.
If you are still not satisfied with results, you will not be able to appeal on behalf of yourself but can speak to your school and teachers who can do so if they agree with you.
But students can only appeal a GCSE result if they have a valid mock grade higher than their awarded grade - and it must be done within 15 days.
The government says: "Students can ask their school or college to check whether it made an administrative error when submitting their centre assessment grade or position in the rank order and if it agrees it did, to submit an appeal to the exam board."
Williamson has repeatedly said if students feel they did not get fair predicted grades, there will be a chance to take an exam at a later date to rectify this. In a written statement on 23 March, he said: "There will also be an option, for students who do not feel this grade reflects their performance, to sit an exam."
Ofqual has also repeated this, saying: "If a student does not feel their grade from the summer reflects their ability, then they have the opportunity to take their exam in autumn, or next summer. If they choose to do this, both grades will stand."
What are your options now?
As of 2016, for GCSE students, the government requires pupils in England to get at least a 4 grade in GCSE English and maths. If this does not happen you have to resit your exams. If you get a 1,2 or 3 grade then you also have the chance to resit whether you wish to or not.
If you achieve the required grades at GCSE you have the option to go down the apprenticeship route.
Instead of taking A Levels, students can take BTECS, which give students the skills they need to enter higher education or employment, obtained through practical, work-related activities, allowing the students to apply what they have learned.
If your grades are too low to get into your chosen college or sixth form, it is advisable to contact them immediately to see if they may still offer you a place. It is possible they will allow you to transfer to a similar course or provide information about other colleges.
Join our new commenting forum
Join thought-provoking conversations, follow other Independent readers and see their replies