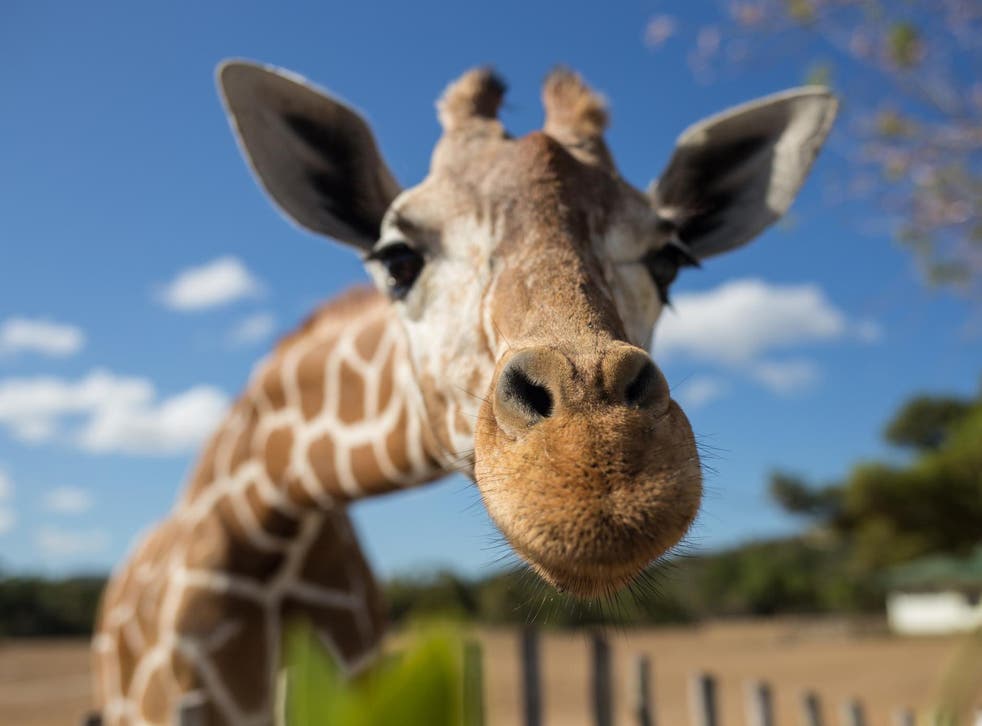 Luxury hotel where guests can dine with giraffes to open in Kent next year already has waiting list of 9,000
New project will provide guests with front row seats to wild animals
A new hotel where guests can dine with giraffes is set to open in Kent – but it already has 9,000 people on the waiting list.
The new project, which is part of Port Lympne Hotel and Reserve, will be the first of its kind in the western hemisphere and will allow visitors to come face-to-face with a herd of giraffes as they wander up to the building's windows.
"Get closer than ever before and make friends with your giraffe neighbours, as the resident herd peer into the lofty ceilinged drawing room, or amble up to the bedroom windows, where you may be lucky enough to feed them," the animal park states online.
Port Lympne is currently restoring a Grade II listed house, which dates back to the 15th and 16th Century, to create the luxury "Giraffe Hall" hotel, which will feature 10 bedrooms and a further five luxury cabins that promise to provide guests with front row seats to the wild animals.
The rooms will be surrounded by landscaped gardens that offer 30 mile views over the Reserve as the giraffes roam freely.
New pathways suitable for both guests and giraffes will also be built and the existing "Lapa" restaurant at the wildlife park will be extended to provide a new decking area and additional bar and restaurant space.
While Giraffe Hall is not expected to be open its doors to guests in the latter part of 2022, there are already 9,000 people have already signed up to the waiting list.
"We are delighted that the application was approved and will now start the detailed work to restore and develop the French House into Giraffe Hall to add to our portfolio of luxury accommodation here at Port Lympne," Tony Kelly, Port Lympne's managing director, told Kent Online.
"It is too early to announce an opening date at this stage as there is much work to do. We expect Giraffe Hall to be exceptionally popular as we already have a wait list of over 9,000 people."
The waiting list first opened in May last year after the project was announced by conservation charity Aspinall Foundation.
"Once opened, Giraffe Hall will not only offer a once in a lifetime holiday destination but will also become a sought after venue for weddings and private parties," the organisation said at the time.
"The gardens are also undergoing improvements which will not only include a route for the giraffe to wander the grounds but also a cabana style retreat, where guests can take in the stunning views, whilst relaxing with a drink.
"Once completed, the hotel will offer a luxury safari feel, whilst incorporating the comforts and décor of an English stately home."
You can find more information about Giraffe Hall and sign up to the waiting list here.
Register for free to continue reading
Registration is a free and easy way to support our truly independent journalism
By registering, you will also enjoy limited access to Premium articles, exclusive newsletters, commenting, and virtual events with our leading journalists
Already have an account? sign in
Register for free to continue reading
Registration is a free and easy way to support our truly independent journalism
By registering, you will also enjoy limited access to Premium articles, exclusive newsletters, commenting, and virtual events with our leading journalists
Already have an account? sign in
Join our new commenting forum
Join thought-provoking conversations, follow other Independent readers and see their replies