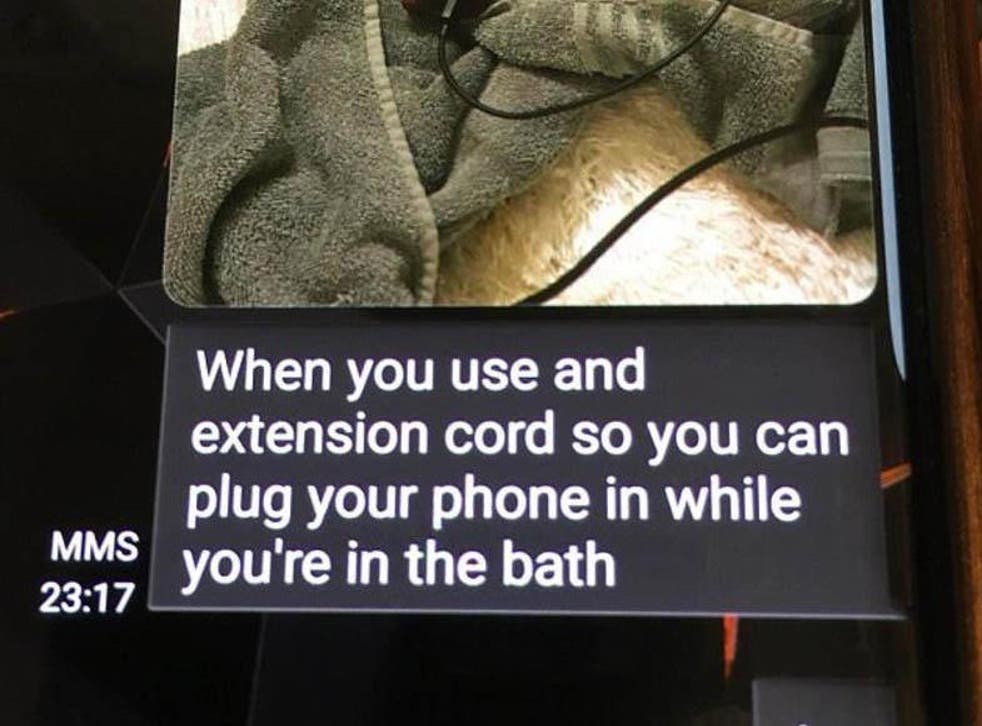 Final photo taken by 14-year-old girl before she was electrocuted in the bath released by police
"Your phones don't belong in the bathroom"
The final photo taken by a 14-year-old girl who was electrocuted while using her mobile in the bath has been released as a warning to others.
Madison Coe, from Lovington, New Mexico, sent a text message to a friend of her phone plugged into an extension cord just moments before she died.
"When you use and (sic) extension cord so you can plug in your phone while you're in the bath," the text read.
While it was originally thought that the teenager had dropped her charging Samsung Edge Plus into the bath, it has now been revealed that the phone was not immersed in the water.
Instead, police believe that Madison died after touching the frayed extension cord she was using to charge the phone and that she was most likely unaware of the damage.
Relatives believe the accident was caused either when the young girl plugged in her phone or as she grabbed the handset while it was being charged.
Her family agreed to release the chilling photo in a bid to raise awareness of the dangers of using electronic devices near water so that others don't make the same mistake.
"The bathroom is a place for showers and personal time and your phones don't belong in the bathroom," step mom Felisha Owens told KRQE.
"Electricity and water do not mix. All it takes is a drop."
Her grandmother Donna O'Guinn revealed that the school girl was left with "burn marks" on her hand from where she touched the device.
"I call her my shining star. She was very smart. Very good student in school. She just loved life," she said.
"She was just sweet to everybody and everybody loved.
"This is such a tragedy that doesn't need to happen to anyone else.
"And we want something good to come out of this as awareness of not using your cell phone in the bathroom as it is plugged in and charging.
"We need to be aware. We need to teach our children that electricity and water do not mix."
District officials also released a statement saying, "It is with heavy hearts that Frenship Independent School District mourns the loss of Madison Coe.
"We wish to share our heartfelt sympathy with her family and friends as we carry the burden of this tragedy together."
Join our new commenting forum
Join thought-provoking conversations, follow other Independent readers and see their replies