The Independent's journalism is supported by our readers. When you purchase through links on our site, we may earn commission.
Gold Nintendo Wii made for Queen Elizabeth is available to purchase for $300,000
Gold-plated Wii was made and delivered to Buckingham Palace in 2009, where it was reportedly rejected by staff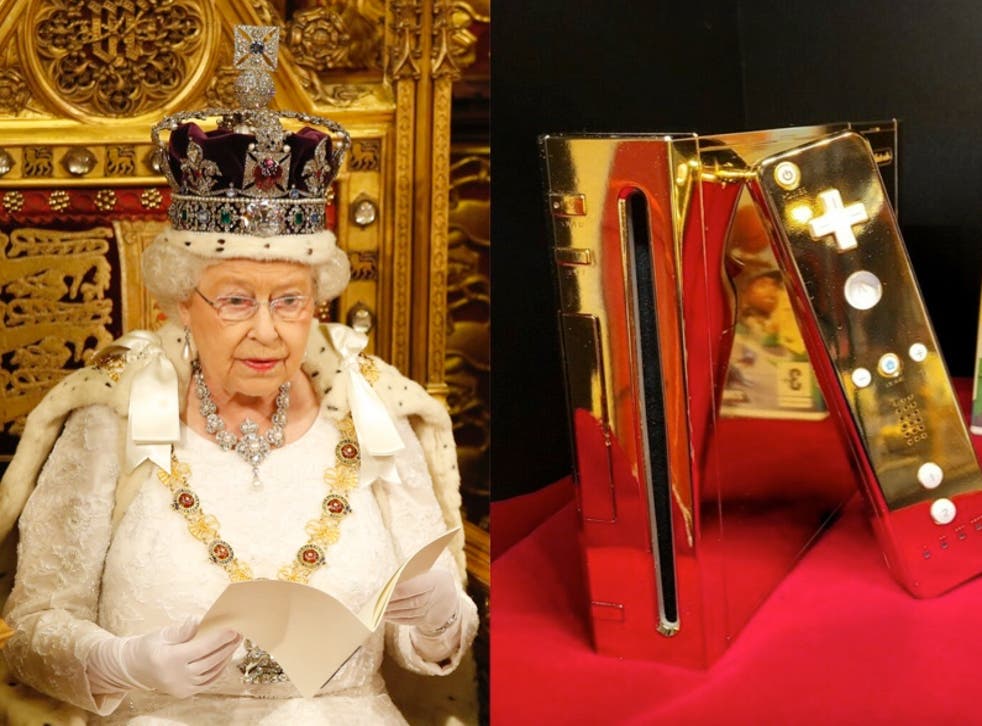 A golden Nintendo Wii made specially for Queen Elizabeth II as a PR stunt is now available to purchase for $300,000.
The gilded video game console was first crafted in 2009 by hardware brand THQ as part of a marketing campaign for Big Family Games. 
At the time, the pricey gift was reportedly delivered to Buckingham Palace, where it was turned away, as many gifts to the royal family are, in accordance with the palace's gift guidelines.
According to CNN, the opulent console was then returned to THQ, which later filed for bankruptcy. After the company went under, its stock was purchased by a private buyer, with Donny Fillerup, the current owner of the Wii, and a founder and board member of consolevariations.com, now selling it for $300,000 on Ebay.
As for why the collector, who lives in the Netherlands, has decided to sell the gaming device, he revealed during an interview with the website he owns, which describes itself as the "ultimate console database," that he is "moving on with life" and that he could use the money to purchase a new home.
"I've been in one place for my whole life, it's time to get my own place. At times it has been difficult for me to have free time or relax. Lately it's all CV and my daily job. When I come home, I don't get to spend a lot of 'me time' so I would like to take the step and move on," he said.
However, he did acknowledge that he never originally planned to sell the Wii, as he had wanted to keep it in case he one day opened a museum, but that his family was "never very healthy financially, so money was always needed".
During the interview, the outlet also alleged that the Wii was once estimated to have a value of $1m during Gamescom 2019 by "some top-end gaming industry people" who could not be named.
When asked why he'd settled on the much-lower price of $300,000, the collector said that he "must be a little bit reasonable" and that he doesn't need more than that to purchase a home.
"Also, this gives more people the opportunity to buy it," he added.
While the console was originally "designed for the Queen," the 32-year-old also noted that he never gave the monarch the option of buying the Wii back, telling the website that he wouldn't even "know where to start" and that it would be "hard to explain to them how I got it".
After the 2009 PR stunt, which failed to actually get the gold-plated Wii into the hands of the Queen but was widely covered by media outlets, CNN reports that its location was largely unknown until a 2019 investigation uncovered Fillerup as the owner.
Although Fillerup would not share with the outlet how much he originally paid for the 24-karat gold console in 2017, he did reveal that he has received several five-digit offers since listing the Wii on Ebay.
Speaking to The Independent, Fillerup said that he has received more than 250 offers, but that only a "handful are serious". However, he noted that it is "only the second day," so he has "time".
As for the condition of the expensive collector's item, which Fillerup surmised in the Ebay listing is now "world famous," and which he told us is the rarest that he owns, he notes that it does have some imperfections, including red fabric slightly covering the serial number and some wear from use.
"The bottom of the serial number is very slightly covered with the red fabric it was displayed on by THQ," he wrote. "This may not be considered a flaw, rather a nostalgic part of the console. However, it should be mentioned."
Fillerup also said that the accompanying Wii-mote, which is also gold, has some wear on the bottom, adding: "My guess is that it was actually used at one point."
You can view the Ebay listing for the Wii here.
The Independent has contacted Buckingham Palace for comment.
Register for free to continue reading
Registration is a free and easy way to support our truly independent journalism
By registering, you will also enjoy limited access to Premium articles, exclusive newsletters, commenting, and virtual events with our leading journalists
Already have an account? sign in
Register for free to continue reading
Registration is a free and easy way to support our truly independent journalism
By registering, you will also enjoy limited access to Premium articles, exclusive newsletters, commenting, and virtual events with our leading journalists
Already have an account? sign in
Join our new commenting forum
Join thought-provoking conversations, follow other Independent readers and see their replies