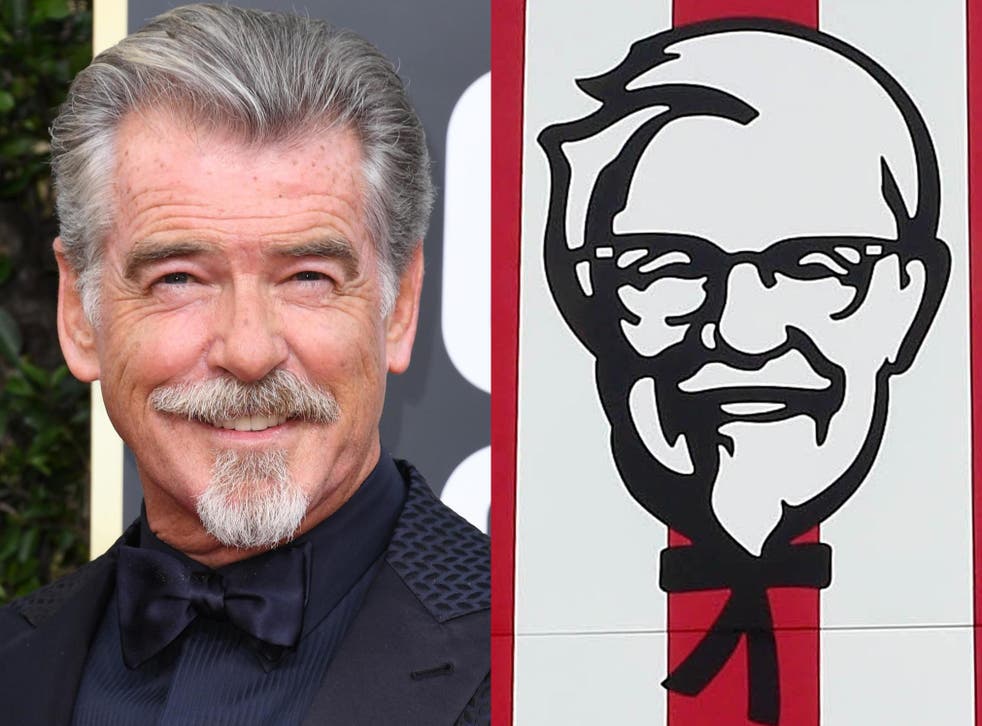 Golden Globes 2020: Pierce Brosnan compared to KFC's Colonel Sanders
'Pierce Brosnan playing Colonel Sanders in upcoming blockbuster Kentucky Fried Bond,' teases Twitter user
Viewers of the Golden Globes have noticed an uncanny – and unlikely – resemblance between Pierce Brosnan and KFC's Colonel Sanders.
On Sunday night, the actor presented the award for the best motion picture, musical or comedy.
But Brosnan's involvement in the ceremony was overshadowed by his facial hair, which fans said made him look strangely like the fast-food chain's famous mascot.
The 66-year-old actor sported a moustache and beard that looked exactly like that of Sanders. Like the mascot, Brosnan was also wearing a bow tie.
"Uhm, that's like the best version of Colonel Sanders. Ever," teased one Twitter user.
Golden Globes 2020: The best-dressed guests

Show all 82
Another added: "Pierce Brosnan is the villain in Goldfinger Lickin' Good."
One person riffed on Brosnan's stint playing James Bond, tweeting: "Coming soon: Pierce Brosnan as Colonel Sanders in 'Dine Another Day'".
Brosnan presented the award alongside actor Will Ferrell, who interrupted him as he was introducing the nominees to say: "My god, you are good looking.
"It's really something," Ferrell continued. "I love everything that's going on here. The hair, the beard. Thank you. It's a real privilege."
See the best-dressed stars at the Golden Globes here.
Register for free to continue reading
Registration is a free and easy way to support our truly independent journalism
By registering, you will also enjoy limited access to Premium articles, exclusive newsletters, commenting, and virtual events with our leading journalists
Already have an account? sign in
Register for free to continue reading
Registration is a free and easy way to support our truly independent journalism
By registering, you will also enjoy limited access to Premium articles, exclusive newsletters, commenting, and virtual events with our leading journalists
Already have an account? sign in
Join our new commenting forum
Join thought-provoking conversations, follow other Independent readers and see their replies