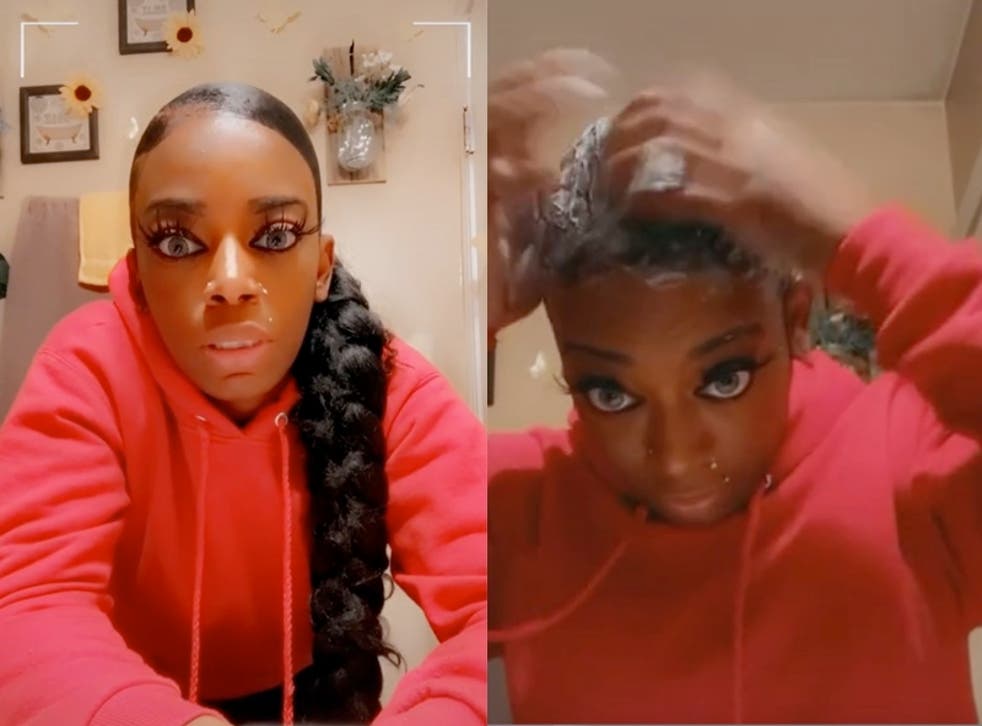 Gorilla Glue 'sorry to hear' woman used its ultra-strong adhesive in her hair
Company says this is a 'unique situation' because its spray adhesive is meant for use on crafts, home, auto or office projects
Chelsea Ritschel
New York
Wednesday 10 February 2021 18:13 Comments
Leer en Español
Gorilla Glue has responded after a woman posted a video about covering her hair in the company's spray glue only to find that she is unable to remove the adhesive.
Last week, Tessica Brown, from Louisiana, uploaded a video to TikTok, in which she can be seen explaining that her braided hairstyle has been like this for about a month now but it's "not by choice".
According to Brown, she used the strong adhesive spray to finish her hairstyle after running out of her usual hairspray.
However, as she explained in the video, she has since washed her hair more than 15 times only to find that the hair will not budge. 
The TikTok, which has been viewed more than 20m times, has gone viral on social media, where countless users have offered their suggestions to Brown for removing the glue. 
Read more: Opinion - We need to talk about why 'The Gorilla Glue Girl' did what she did
Since sharing the first clip, Brown has updated her followers on her attempts, which have included shampooing her hair while dry and soaking her head. 
In her latest videos, Brown revealed that she had sought help from her local hospital.
On Monday, the glue company addressed the viral situation in a statement shared to social media, where called the saga an "unfortunate incident".
"We are very sorry to hear about the unfortunate incident that Ms Brown experienced using our Spray Adhesive on her hair," the company captioned the post. "We are glad to see in her recent video that Miss Brown has received medical treatment from her local medical facility and wish her the best."
In the statement, Gorilla Glue added that this is a "unique situation" because its product "is not indicated for use in or on hair as it is considered permanent".
The company continued: "Our spray adhesive states in the warning label 'do not swallow. Do not get in eyes, on skin or clothing…'
"It is used for crafts, home, auto or office projects to mount things to surfaces such as paper, cardboard, wood, laminate and fabric."
In response to the apology, many accused the brand of not doing enough to help Brown, with some suggesting that the glue company "find some way to help Tessica Brown".
"If you're sorry, go help her out a bit, y'all can spare a bit of money," another person replied.
Brown has since raised more than $13,000 from people wishing to help after creating a GoFundMe on Monday.
As of Tuesday, the GoFundMe has received donations from more than 780 donors, with many also leaving encouraging comments on the page. 
"My heart goes out to you girl, I pray that everything turns out OK. Much love," one person wrote.
The Independent has contacted Gorilla Glue for comment.
Register for free to continue reading
Registration is a free and easy way to support our truly independent journalism
By registering, you will also enjoy limited access to Premium articles, exclusive newsletters, commenting, and virtual events with our leading journalists
Already have an account? sign in
Join our new commenting forum
Join thought-provoking conversations, follow other Independent readers and see their replies