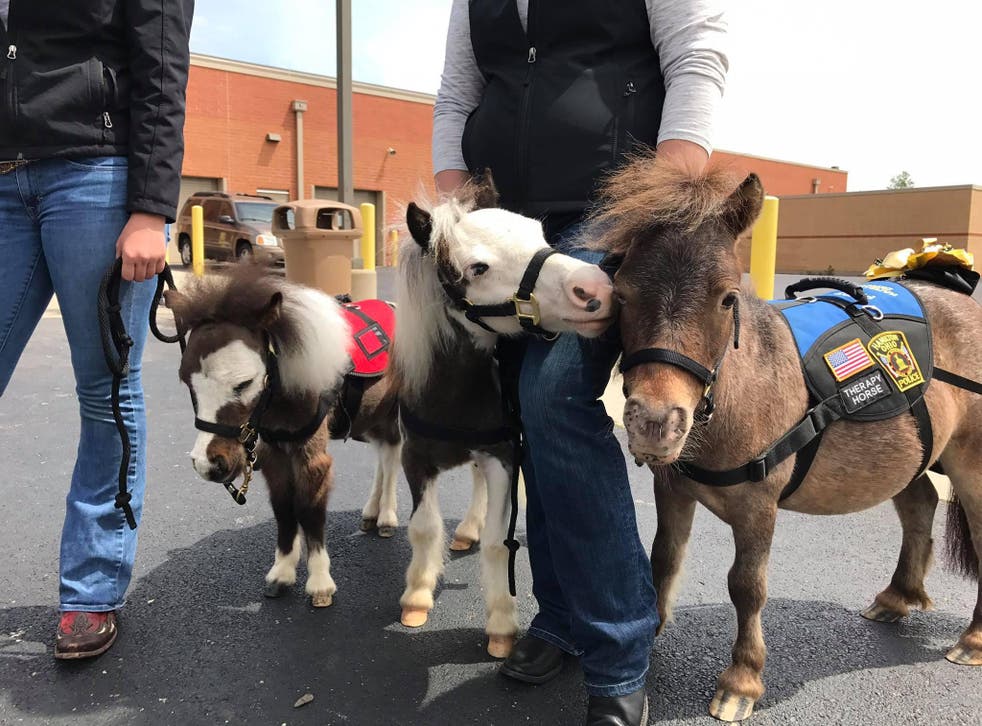 UK to get first guide horses
"They can empty a bag of bread to get a slice out and push it towards the toaster," Ms Smith told The Times.
Standing roughly two foot tall with a strong memory, luscious mane and winning demeanour, the miniature horse will now be following the example set by guide dogs.
Already taking America by storm, miniature horses are being trained to aid those who are visually impaired in the UK with mobility assistance and a range of household tasks.
Katy Smith, based in Northallerton, North Yorkshire, is the owner of Digby, a chestnut-coated American miniature foal who is currently under training.
Ms Smith told The Times that just like a dog, six-week-old Digby can be house trained "up to a point."
For her other horses, visits to care homes that can last two hours are not uncommon.
"They can empty a bag of bread to get a slice out and push it towards the toaster," Ms Smith told The Times.
"They stick their heads in the washing machine and pull clothes out," she added.
Monet, another of Ms Smith's horses, is even able to "get a dishcloth out of the washing-up bowl, put it in his mouth and slosh it around the work surfaces."
"It makes a bit of a mess but he's got the right idea," she says.
In America, the Guide Horse Foundation has already had to close applications because they cannot keep up with demand.
GHF say on their website that horses are arguably more appropriate for guiding work because they live far longer than dogs. American miniature horses have an average life span of 25-30 years, while that of a Labrador is 10-14 years.
Tongue device helps blind soldier 'see'

Show all 1
Dan Shaw, based in Ellsworth, Maine, who received the world's first guide horse, Cuddles, in May 2000 told Los Angeles Times: "I'm an animal lover. To lose a dog after eight to 10 years, and then have another to train, and have to do that three or four times in my lifetime . . . that's painful."
Retired horse trainer Janet Burleson created GHF in 1999 after riding a horse while visiting New York City. Ms Burleson was impressed by the animal's calm behaviour in traffic and decided to teach her mare to lead a visual impaired woman through a mall.
Aside from dogs and horses, pigs are also competent for seizure-assistance and capuchin monkeys aid quadriplegics -training for seven years before beginning their work. They are able to carry out a multitude of tasks, from turning to the next page of a book to preparing food in a microwave.
While six-week-old Digby carries a heavy responsibility on those two-foot tall shoulders, it seems these clever Lilliputian creatures will lead the way, attracting a few surprised glances on route.
Join our new commenting forum
Join thought-provoking conversations, follow other Independent readers and see their replies