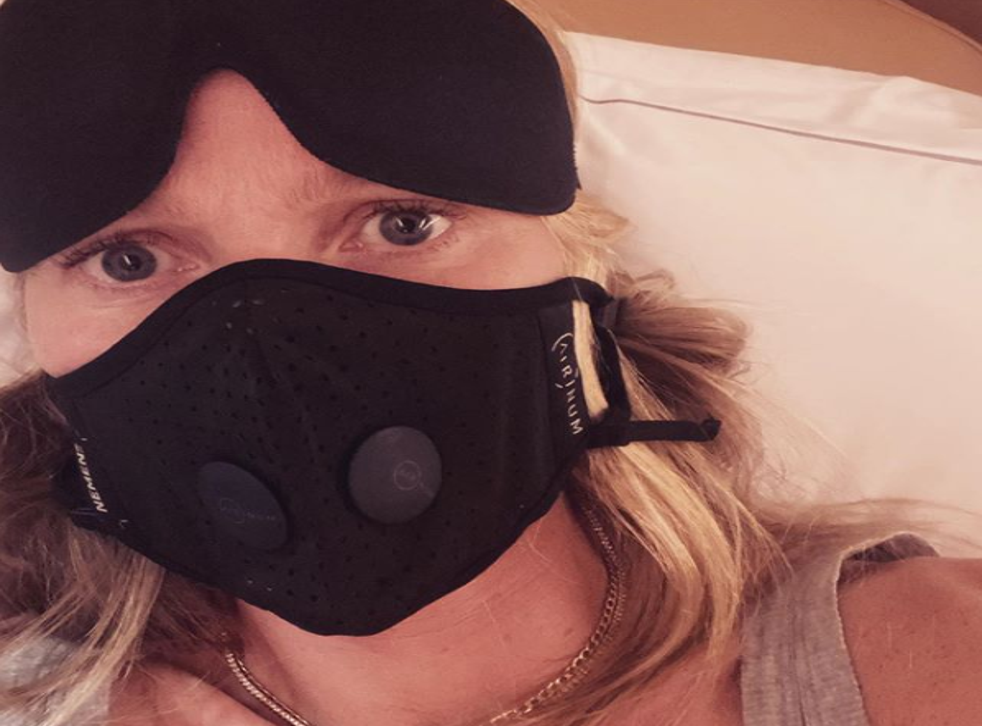 Gwyneth Paltrow jokes about 'Contagion' as she wears face mask on plane to Paris
'Paranoid? Prudent? Panicked? Placid? Pandemic? Propaganda?', says actor
Cathy Adams
Wednesday 26 February 2020 14:13 Comments
As the coronavirus outbreak spreads across Europe, Gwyneth Paltrow has been pictured wearing a heavy-duty face mask as she flies to Paris for fashion week.
Several towns in northern Italy are currently on lockdown, while Germany, Spain, Austria, Switzerland and Croatia have all reported their first cases.
The actor uploaded a selfie to Instagram showing her dressed in a black mask covering her mouth and nose while sitting in her plane seat.
Paltrow starred as patient zero in the 2011 film Contagion, which sees a deadly virus sweep the world.
She captioned the Instagram post: "En route to Paris. Paranoid? Prudent? Panicked? Placid? Pandemic? Propaganda? Paltrow's just going to go ahead and sleep with this thing on the plane. I've already been in this movie. Stay safe. Don't shake hands. Wash hands frequently."
Coronavirus: Streets around world left empty

Show all 10
Across the world, more than 2,000 people have died from the novel coronavirus, official name Covid-19, while it has sickened thousands more.
Aircraft are typically a breeding ground for bacteria, given that a large number of people are enclosed in a small airless space.
In a 2018 study tracking the "behaviours, movements and transmission of droplet-mediated respiratory diseases during transcontinental airline flights", a research team led by Atlanta's Emory University found that those in window seats had far fewer encounters with other passengers than people in other seats.
This remains constant even when taking into account the fact that passengers aren't stationary but move around the cabin during a flight.
Despite Paltrow's efforts to avoid the virus, doubt has been raised over whether face masks can protect against infection.
Dr Jake Dunning, head of emerging infections and zoonoses [infectious disease spread between humans and animals] at Public Health England, told The Independent that there is "very little evidence of a widespread benefit" in members of the public wearing masks.
He added: "Face masks must be worn correctly, changed frequently, removed properly, disposed of safely and used in combination with good universal hygiene behaviour in order for them to be effective."
Register for free to continue reading
Registration is a free and easy way to support our truly independent journalism
By registering, you will also enjoy limited access to Premium articles, exclusive newsletters, commenting, and virtual events with our leading journalists
Already have an account? sign in
Join our new commenting forum
Join thought-provoking conversations, follow other Independent readers and see their replies