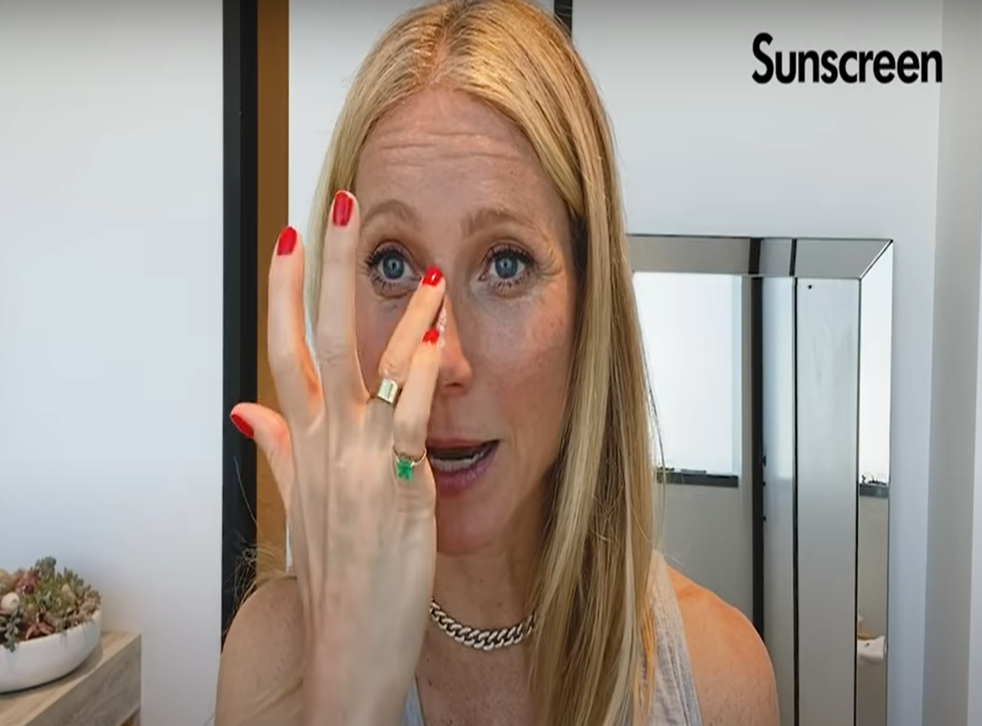 Gwyneth Paltrow criticised for the way she applies sun cream: 'Why apply at all?'
'Don't even bother to apply sunscreen if you're adding that little to your face, it's not gonna do much,' commented one person
Gwyneth Paltrow has been criticised for the way she applies sun cream.
In a new YouTube video for Vogue, the wellness entrepreneur and actor shared her everyday skincare routine.
After taking viewers through her preferred cleansers, exfoliators, serums and moisturisers, the Goop founder revealed that she concludes her daily skin routine by applying SPF.
Paltrow starts applying the UNSUN Mineral Tinted Sunscreen SPF 30 and insists she's not a "head-to-toe latherer of sunscreen, but I like to put some on my nose and the area where the sun really hits".
In the clip, she lightly taps a small amount of the cream around her face.
However, viewers of the video have criticised Paltrow for not applying enough sun cream to protect her skin.
Read more:
"Don't even bother to apply sunscreen if you're adding that little to your face, it's not gonna do much," wrote one person in a comment that has been liked more than 800 times.
Another added: "I think if she were a 'head to toe latherer of sunscreen', her skin would be looking much healthier. It's never too late though!"
Many people argued that Paltrow had spoken incorrectly about the way the sun hits your face.
"I like to put sunscreen where the sun really hits' yeah the sun reallllly hits your whole face [sic]," wrote one person.
Another added: "It is really damaging to be sharing all this information. Sunscreen goes EVERYWHERE and should not be used as a highlighter. 'Non-toxic' means nothing, literally nothing. It should have no bearing in skincare. It is stupid."
When contacted by The Independent, a representative for Paltrow said: "In the Vogue video, Gwyneth applies sunscreen to her entire face, though the video is edited down for timing's sake and does not show the full application.
"Her comment specifically says she does not 'slather it head to toe' over her entire body but she addresses the importance of sun protection and mineral sunscreen, which deflects rays off of your skin, rather than absorbing them, as chemical sunscreens do. We're huge proponents of SPF at goop and always advise that people should consult their dermatologists to find out what is right for them."
Join our new commenting forum
Join thought-provoking conversations, follow other Independent readers and see their replies