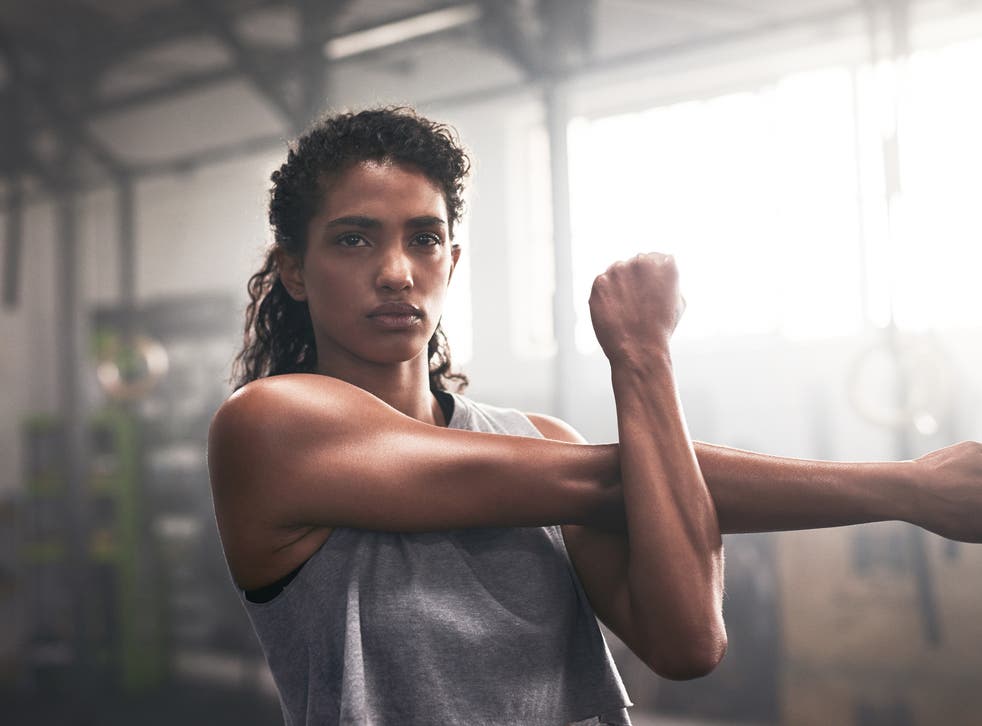 How to ease yourself back into exercising at the gym, according to experts
People in England keen to boost their fitness will be able to return to the gym from 25 July
Sabrina Barr
Saturday 25 July 2020 07:26 Comments
Leer en Español
After months of daily walks, live Instagram workouts and isolated Zoom exercise classes, people in England keen to boost their fitness will soon be able to return to the gym.
From Saturday 25 July, gyms across England are permitted to reopen their doors, albeit with several stringent measures put in place to safeguard against the coronavirus pandemic.
Gyms and leisure centres will need to have been deemed Covid-19 safe before they are allowed to reopen and will outline guidelines such as asking that customers book a gym slot in advance and banning use of changing facilities.
While many fitness enthusiasts may be looking forward to returning to the gym, it is important that they ease themselves back into their workout routine gradually, as opposed to throwing themselves in all guns blazing.
Having spent several exercising months at home – perhaps for shorter periods of time and at a lower intensity – gym-goers are advised to start small when they make their back to the treadmills and weight racks.
Furthermore, if members of the public have not been doing exercise during lockdown, then returning to the gym in full swing without first testing the waters could result in them sustaining avoidable injuries.
Here is how you can ease yourself back into exercising at the gym, according to the experts.
Familiarise yourself with your new environment
When you first return to the gym, various new measures will have been put in place to keep customers and staff members safe amid the ongoing coronavirus pandemic.
The gym may implement a one way system, in addition to introducing hand sanitising stations and asking that clients exercise for a limited amount of time.
Adam and Sam Travis, who are in charge of Triple X Performance Centre in Greater Manchester, explain that familiarising yourself with the "rules and procedures for social distancing at the gym" could help to "reduce anxiety" as you prepare for your return.
"If you're joining somewhere new, ask for a tour/look around before your first session to familiarise yourself with everything," they say.
"If you already have a coach, let them know of any anxieties or questions you have about going back to the gym. They'll then be able to work through these with you, taking things at your pace and making sure you're comfortable."
Ben Hackney-Williams, head of content at Escape Fitness, adds that while asking staff members what the "new normal" is at the gym, it is important to "be receptive to advice and be polite" to people who work at the gym.
Europe emerges from lockdowns across the continent

Show all 19
Plan your workout in advance
Considering you may not be permitted as much time at the gym as you would have typically spent before lockdown was established, it may be wise to plan your workout in advance so you can take advantage of every second you have.
"You won't be able to mooch about and kill time in-between sets like before," Hackney-Williams says.
"A lot of gyms will have strict time limits to be adhered to. Know exactly what you're there for and how long you'll take."
Sean Kazab, fitness programme manager at Fiit, explains that after lockdown, it is likely that your body's capacity "to handle a high volume of training will have decreased".
It may therefore be advisable when planning your workout "to split an hour at the gym across the whole body rather than a target area" when you first return, he advises.
Take it easy when you return
Speaking of planning your workouts, when you do, try not to push your body further than you need to.
During lockdown, some people may have taken a more relaxed approach to their exercise routine, perhaps working out more sporadically or at a lower intensity.
With this in mind, starting slow, and giving your body time to acclimatise, is key.
"Don't go for gold on week one," advises Katie Anderson, head of training at FLY LDN. "I know some people might be excited to throw some heavy weights around again or try to attend every class available to them all at one. Take a step back and enter with ease."
Anderson explains that doing doing too much too quickly could result in you feeling "burnt out", and may even make you feel less motivated to exercise.
Sammy Margo, a physiotherapist for Deep Heat and Deep Freeze, adds that if you "don't start gently, you will be the bearer of injuries from muscular strains and sprains".
Hollie Grant, a pilates instructor and founder of Pilates PT, says that if you are able to afford it, it may be wise to enlist the help of a personal trainer who can "assess your current fitness levels and mobility and advise you on where you should focus your attention first".
PureGym fitness expert Beth Trueman states that it may be advisable to start building your daily activity outside of the gym first to get your body moving, such as by doing simple bodyweight exercises and stretches.
When you first return to the gym, you need to give your body time to adapt by starting small, Trueman explains.
"If you're lifting weights, look to reduce the amount of weight, the number of reps or both when you first come back to the gym, then increase it again gradually as you get back into your routine," she says.
"For cardio, consider reducing both the intensity and length of your workouts and consider adding some gentle active recovery sessions into your weekly regime instead of going flat out.
Jo Watson, founder of Body Society in Fulham, London, adds that it is "important to warm up" before you start exercising, "especially if people have done little exercise during lockdown as muscles will be more susceptible to injury".
"Increased blood flow from pre-workout stretches reduces the chance of getting injured while you work-out," Watson says. "The warm up also makes every workout more effective because it eases the flow of blood throughout the body."
By taking more time than you usually would to warm up and prepare for your workout, this could give you more time to "work on your technique and your mobility", Adam and Sam Travis of Triple X Performance Centre outline.
Rio 2016 Olympics - in pictures

Show all 74
Pick a workout you enjoy
When you go back to the gym after months away, you may find that your motivation is flagging.
One way around this is to pick a form of exercise that you personally find enjoyable, states Dan Lambert, a personal trainer at Maximuscle.
"When heading to the gym again or even for the first time, my top tip is to pick a style of training you enjoy as this is the best way to keep yourself motivated and to boost adherence," he says.
"This will involve spending time experimenting with various forms of exercise so that each day you use the opportunity to make a daily deposit to your health and fitness."
If are you unsure where to start, then trying out strength training could be a beneficial starting block "as it really is the foundation for all sporting endeavours", Lambert explains.
Take note of any injuries you may sustain
As previously mentioned, if you do not ease yourself back into exercise after months away, then you could put yourself at risk of sustaining and injury.
This could in turn set your fitness levels even further back by having to take time off.
Pilates instructor Grant explains that injuries "can take a day or two to present themselves", which is why is it "better to start with sessions that are too easy, than go in hard and be set back with injury straight away".
"Focus your attention on the postural muscles that may have switched off during lockdown – mainly the glutes, the abdominals and the back extensors. Remember they may be lazy, and weak, so need extra care and attention," she says.
Physiotherapist Margo states that "if you twinge or pull a muscle", it is important to treat yourself "early".
"If you do get injured make sure that you treat yourself immediately so that you don't lose any progress made," she states.
Margo advises applying cooling therapy to aches or pains for the first 72 hours, and then applying warming products once any swelling or inflammation has subsided.
"Remember if the injury does not settle or becomes worse please seek medical advice and help without delay," she adds.
Keep hydrated
When you go back to the gym, you may not take into account the fact that your body requires more hydration than usual.
"Because we aren't out and about as much, the urge to grab a drink of water is probably at its lowest," says FLY LDN head of training Anderson.
Copious amounts of tea and coffee working from home and now that pubs have re-opened, cocktails! So when re-entering a fitness routine that will probably be a bit tougher than you're used to at home, hydrate hydrate hydrate."
Anderson explains that staying hydrated "will benefit your performance", in addition to helping with recovery.
Look after yourself outside of the gym
Maintaining a good gym routine isn't just about the exercises you do in the fitness studio.
It is also about how you take care of yourself during downtime, as this can have a significant impact on your exercise regime.
If you feel you need more energy before going to the gym, "don't opt for quick sugar fixes", Anderson says.
"Focus on adding that energy naturally in your diet throughout the day/week," she states.
In addition, if you have been struggling to sleep properly during lockdown, "you might need to be strict with yourself if you're getting up early to hit the gym before work", Anderson adds.
Register for free to continue reading
Registration is a free and easy way to support our truly independent journalism
By registering, you will also enjoy limited access to Premium articles, exclusive newsletters, commenting, and virtual events with our leading journalists
Already have an account? sign in
Join our new commenting forum
Join thought-provoking conversations, follow other Independent readers and see their replies