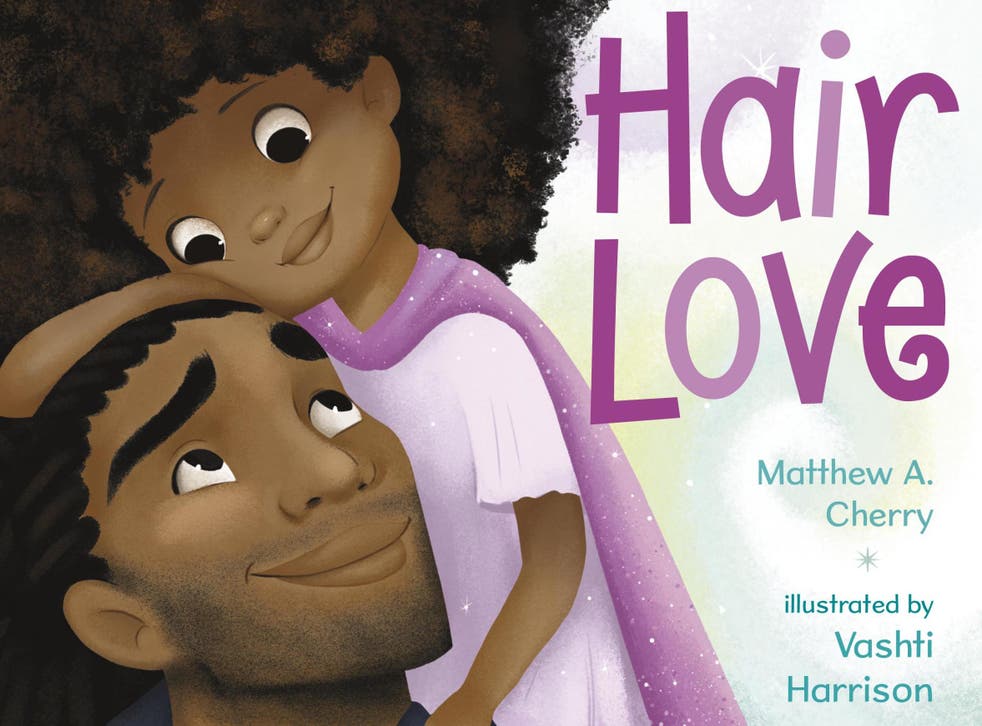 Writer reveals cover of children's book celebrating natural black hair
'It is my hope that we can show a positive image of black fathers and their daughters, while encouraging natural hair and self-love'
The cover of a children's book about celebrating natural Afro-textured hair and the bond between a black daughter and father has been revealed, with many praising it online.
Hair Love was written by Matthew A. Cherry, a former NFL player who now works as a filmmaker, and will be released by Penguin Random House in May 2019.
The book is based on a short animated film that Cherry created after launching a Kickstarter campaign in July 2017.
The five-minute film is about an African American man styling his daughter's hair for the first time.
The idea for the project came to Cherry after coming across a variety of viral videos on the Internet of black fathers spending time with their children.
"Through this project, it is my hope that we can show a positive image of black fathers and their daughters, while encouraging natural hair and self-love throughout the world through the animated space," Cherry wrote on the fundraising page.
Following the widespread attention that the short film and its fundraising page received, it has been transformed into a children's book.
Cherry collaborated with illustrator Vashti Harrison to bring the concept of Hair Love to life, inventing a fictional young girl called Zuri as their main character.
Speaking with Essence magazine, Cherry describes Zuri as being a "young girl who's very confident in who she is already".
However, she requires help from her father Stephen when doing her hair, which "kinks, coils, and curls every which way", as described in the book's press release.
Harrison explains that she wanted the cover art of the book to show Zuri and Stephen sharing a "tender moment" together, mirroring the relationship that she had with her own father when she was younger.
"I remember my dad doing my hair when I was little," she says.
"It's a thing I'm sure lots of people remember and as much as those memories are funny and silly, I look back on them with fondness."
Cherry's tweet unveiling the cover art of Hair Love yesterday has garnered almost 4,500 likes, and many people have been expressing their admiration for the book's concept.
"It's beautiful, Matthew," tweeted Amma Asante, film director of Belle and A United Kingdom.
"It's finally complete!! I saw little sketches for this all over Facebook and in the natural hair communities. I want to get it for my niece!" another person commented.
Cherry also shared a sneak peek from the inside of the book, showing Zuri standing with her hands on her hips and wearing a superhero cape.
"And when my hair is in two puffs, I am above the clouds like a superhero," the excerpt reads.
When coming up with the design for Zuri's father, Cherry and Harrison wanted to ensure that he was representative of a modern father.
"We really went out of our way to make sure the dad looks like any young father that you see today and get away from that stereotype of what a safe black man looks like," he says.
"We created imagery to help combat that. I can't recall any book that depicts a young African American male in a children's book, having an arm sleeve tattoo, having locs; things like that."
Support free-thinking journalism and attend Independent events
Following the launch of Cherry's Kickstarter campaign, the five-minute Hair Love animation became the highest funded short film in the history of the site.
Hair Love is available to pre-order now for $17.99 (£14.22).
Join our new commenting forum
Join thought-provoking conversations, follow other Independent readers and see their replies