The Independent's journalism is supported by our readers. When you purchase through links on our site, we may earn commission.
Harrods ridiculed for selling £36,000 Dolce and Gabbana fridge
'My first house barely cost that'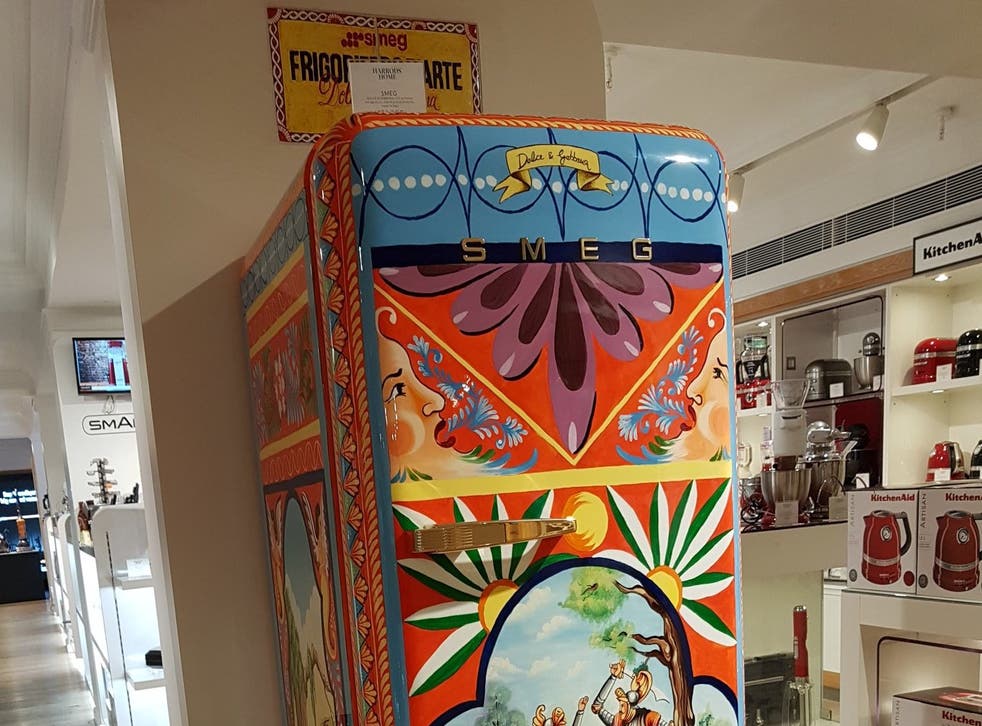 Harrods has been heavily mocked online after shoppers noticed a Dolce and Gabbana fridge being sold in its London store for a cool £36,000.
The hand-painted fridge has been created by the Italian luxury fashion house in collaboration with domestic appliance company Smeg as part of a Sicilian-inspired range of kitchenware.
Other fridges manufactured by Smeg can be bought for a fraction of the price, with the most expensive Smeg fridge available to purchase from Currys costing £1,299.
Numerous people have expressed their disbelief over the extortionate price of the designer fridge, with one person stating that his first house cost less.
A woman called Sarah Arnold posted a photo of the fridge at Harrods on a Facebook group called "Tat posh people buy".
Several people have left comments underneath the photo describing their incredulity over the big-budget kitchen appliance.
"My first house barely cost that," one person wrote.
"Santa's gonna struggle to get that down me chimney," another person jokingly remarked.
Paul O'Connor, a filmmaker and co-founder of mobile cinema company Sol Cinema, tweeted about the fridge after spotting it in Harrods.
"Harrods is selling a fridge for £36,000," he wrote. "You could nearly buy the entire Sol cinema for that! We live in unequal times."
The collaboration between Dolce and Gabbana and Smeg was originally launched last year.
However, the products in the range have been receiving a lot of attention online as of late.
Others items of kitchenware in the collection being sold at Harrods include a toaster for £499.95, a kettle for £499.95, a blender for £699.95 and a juicer for £499.95.
100 unique fridges were created by Dolce and Gabbana in partnership with Smeg, with the brands enlisting several Sicilian artists to handpaint each one.
Dolce and Gabbana recently became embroiled in controversy after the fashion house was accused of releasing a racist advert.
The designer's campaign video depicted an Asian model attempting to eat Italian food with chopsticks, with some claiming that this pandered to "false stereotypes".
Following the backlash, Domenico Dolce and Stefano Gabbana released a statement on Instagram apologising for causing offence.
Register for free to continue reading
Registration is a free and easy way to support our truly independent journalism
By registering, you will also enjoy limited access to Premium articles, exclusive newsletters, commenting, and virtual events with our leading journalists
Already have an account? sign in
Register for free to continue reading
Registration is a free and easy way to support our truly independent journalism
By registering, you will also enjoy limited access to Premium articles, exclusive newsletters, commenting, and virtual events with our leading journalists
Already have an account? sign in
Join our new commenting forum
Join thought-provoking conversations, follow other Independent readers and see their replies