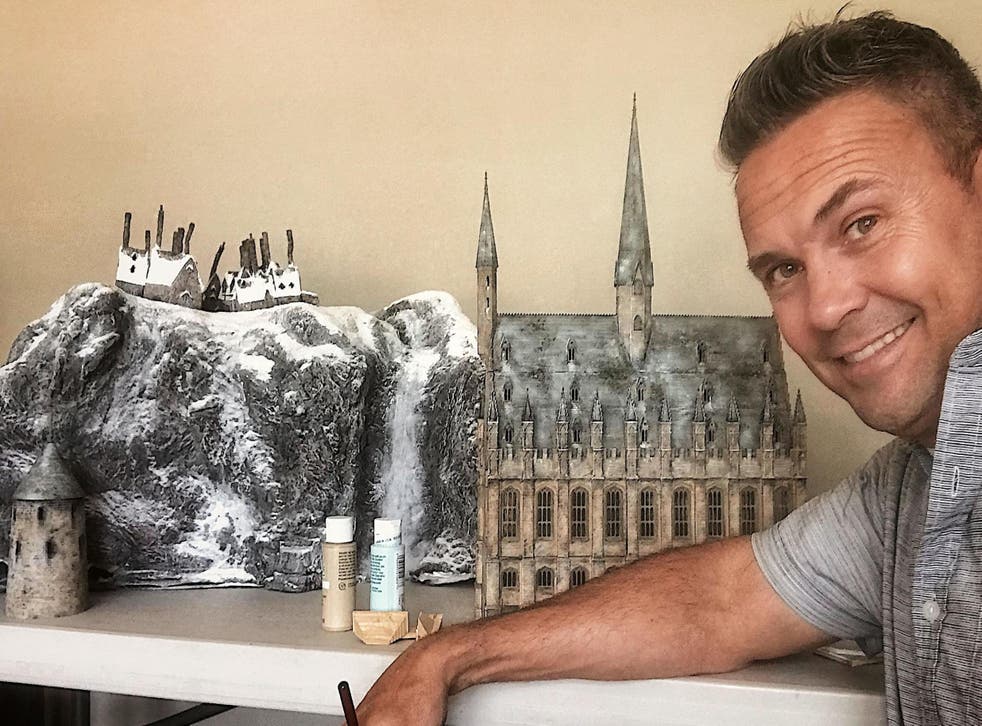 Father creates miniature-scale version of Harry Potter world in living room
He includes details such as Hagrid's pink umbrella 
While a journey to the real Hogwarts castle may be impossible, a father's miniature version of the wizarding world is nearly as magical.
Tony Rigby, a father of four children from Bluffdale, Utah, wanted to recreate the Harry Potter universe, so he did so in his living room.
The end result is a 1/87th scale recreation of some of the most-beloved wizarding world destinations - from Hagrid's hut to Hogsmeade and Diagon Alley.
In the year since he began working on the project, Rigby has also created a quidditch pitch, a replica of the Forbidden Forest, and a miniature version of The Burrow, the home where the Weasley's live, which took "months".
Rigby has also included details such as the Knight Bus, the Whomping Willow and Gringotts Bank into the tiny world, and is currently in the process of finishing Hogwarts - which he is creating with the help of a 3-D printer.
Over the next year, the 47-year-old, who is completely self-taught, plans to create the Dursley's home on 4 Privet Drive and Platform 9 ¾, where Hogwarts students take the train to school.
He also makes sure to include tiny versions of the characters. In addition to Harry, Hermoine and Ron, the father-of-four has crafted miniatures of Dobby and Buckbeak as well.
For the characters, he often uses a readymade figure - such as a Christmas decoration - which he modifies with clay and paint, and cuts to size.
Some of the buildings are made with cardboard skeletons, and he uses air dry clay to add stone and brick detail, with balsa wood for the window frames and wooden features.
Every Harry Potter film, ranked

Show all 9
The materials are mostly created from recycled everyday items, but others he gets from local hobby shops.
And while Rigby admits the hobby may be a bit of a "mid-life crisis," he hopes to one day display his creation at a hospital or retirement home, somewhere it can bring people joy.
"It's a bit of a midlife crisis. That's the only way I get permission to take over the house," Ribgy said. "I think it's one of those things I had to do.
"I have a wonderful family. I was looking for another measure of fulfilment in life. That's not to say that I don't get that from my family because I do. But this is something creative and I was looking for a creative outlet to enhance my enjoyment of life."
According to Rigby, prior to beginning his wizarding world journey, he didn't feel the fulfilment that he felt he should be getting out of life.
"I wasn't as upbeat about life - everyone has good days and bad days. I wouldn't say I was depressed but I wasn't finding as much fulfilment in life as I wanted," he recalled. "Some people buy a Corvette - and some people just make a Harry Potter world in their living room. I'm the latter."
Rigby became inspired to create the miniature world while creating a Christmas village for his family.
"I had a little figure and I could see Hagrid in him," he said. "I got some clay and made him into a Hagrid figure and I couldn't help myself. I thought then 'I have to do everything now.'"
After Hagrid's hut, Rigby created the Forbidden Forest - and then it snowballed from there.
He has since sold his family's living room couch to create room for the world of Harry Potter - and taken over a spare bedroom in the house.
To ensure that he gets everything correct and doesn't miss a detail, Rigby goes back and re-reads the books.
The hidden details have also been fun for his children, who spend time searching the world for details they didn't notice before.
As for the part Rigby is most-proud of, he says it is Diagon Alley - because it took so much effort to make.
"My favourite area to make has been Diagon Alley because it took so much effort, more than anything else," he said. "With great effort usually comes great reward."
Register for free to continue reading
Registration is a free and easy way to support our truly independent journalism
By registering, you will also enjoy limited access to Premium articles, exclusive newsletters, commenting, and virtual events with our leading journalists
Already have an account? sign in
Register for free to continue reading
Registration is a free and easy way to support our truly independent journalism
By registering, you will also enjoy limited access to Premium articles, exclusive newsletters, commenting, and virtual events with our leading journalists
Already have an account? sign in
Join our new commenting forum
Join thought-provoking conversations, follow other Independent readers and see their replies