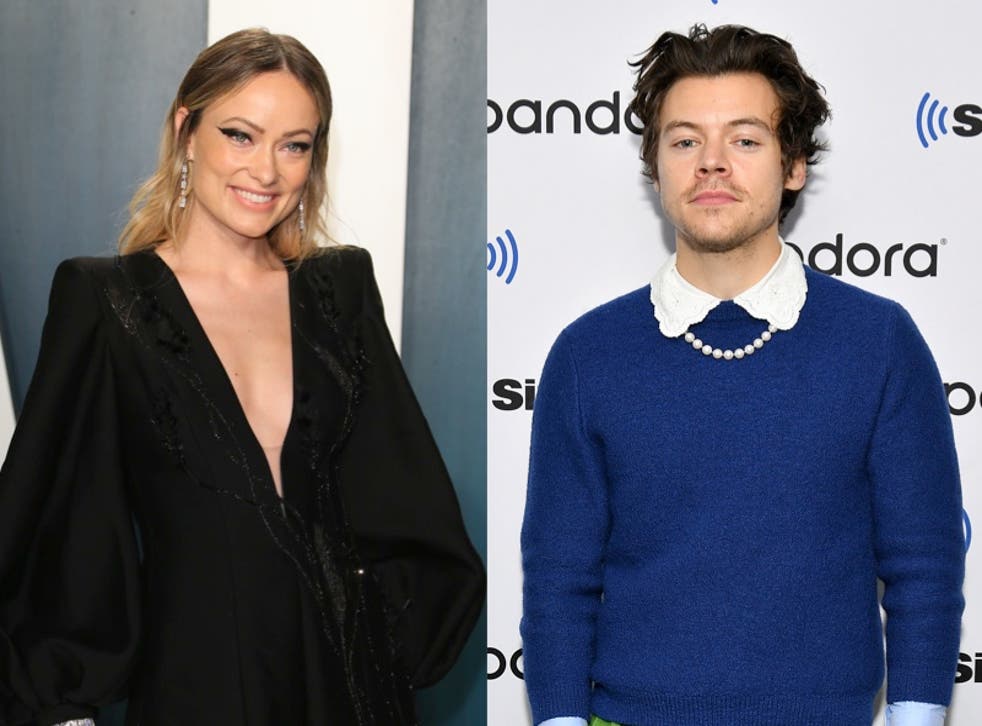 Fans react to reports Harry Styles and Olivia Wilde are dating: 'I'm in love with them being together'
Couple has reportedly been dating 'for a few weeks'
Leer en Español
Fans are sharing their support for potential couple Harry Styles and Olivia Wilde after photos showed the pair holding hands at a friend's wedding.
On Monday, Page Six published photos of Styles, 26 and Wilde, 36, holding hands while attending a wedding in Montecito, California, over the weekend.
In the photos, the House star is wearing a floor-length floral dress with a blue mask and a pink headband, while Styles can be seen wearing a black suit with a matching mask and a white button-up shirt.
Following the pictures, a source seemingly confirmed Styles and Wilde are a couple in a statement to People, telling the outlet: "They were affectionate around their friends, held hands and looked very happy. They have dated for a few weeks."
On social media, the reports have prompted an outpouring of support for the former One Direction singer and Wilde, with many expressing hope that the pair are actually dating.
"Okay if Harry Styles and Olivia Wilde are dating then I am happy for them but also simultaneously absolutely devastated," one person tweeted.
Another said: "Olivia Wilde *allegedly* dating Harry Styles after breaking up with Jason Sudeikis... that's powerful."
"Typically don't care about who celebrities date because if it's not my life, what's the point - but very much here for the potential Olivia Wilde/Harry Styles power couple. Happy for those two unproblematic people," someone else tweeted.
Reports of a relationship between the pair come after Wilde and Styles worked together on the set of her upcoming psychological thriller, Don't Worry Darling.
In Vogue's December issue, which featured Styles, Wilde opened up about her excitement at having the singer star in the movie, telling the outlet she and costume designer Arianne Phillips did a "little victory dance" when Styles signed on because "we knew that he has a real appreciation for fashion and style".
"To me, he's very modern," Wilde continued regarding Styles. "And I hope that this brand of confidence as a male that Harry has - truly devoid of any traces of toxic masculinity - is indicative of his generation and therefore the future of the world.
"I think he is in many ways championing that, spearheading that. It's pretty powerful and kind of extraordinary to see someone in his position redefining what it can mean to be a man with confidence."
Wilde, who shares two children with Jason Sudeikis, ended her seven-year engagement to the actor after nearly 10 years last year.
As of now, neither Wilde nor Styles have commented on their relationship.
Join our new commenting forum
Join thought-provoking conversations, follow other Independent readers and see their replies