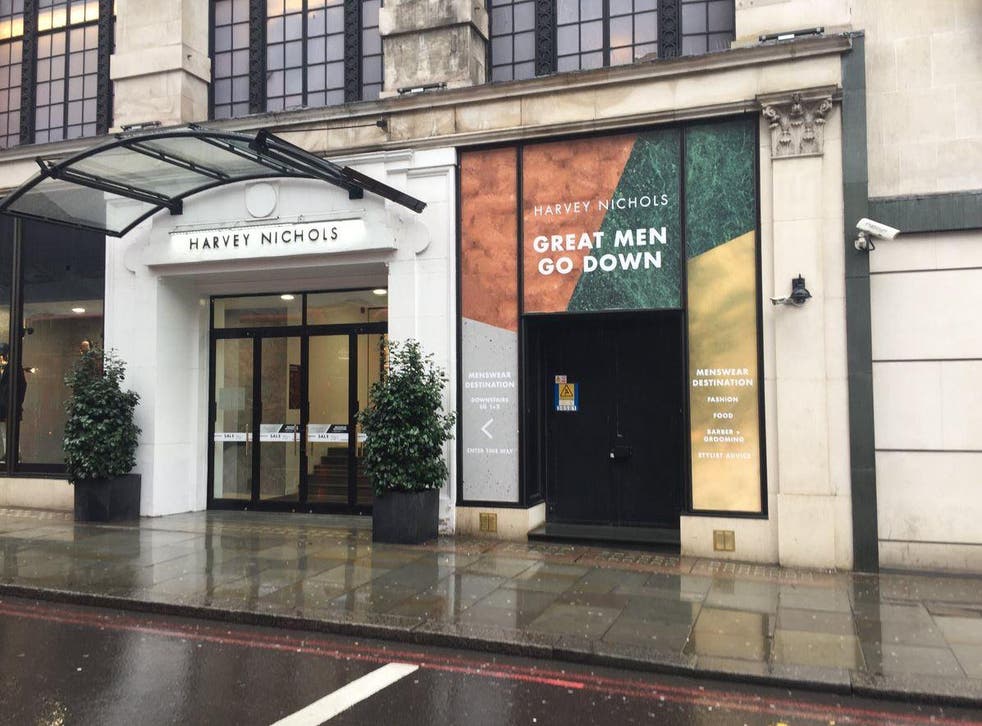 Harvey Nichols in hot water over 'great men go down' sign outside London store
The sign has divided people
Department store Harvey Nichols has landed itself in hot water over a sign to its men's department which reads 'Great men go down.'
The tongue-in-cheek comment was spotted by Rob McGibbon, a London-based writer, who tweeted a picture of the sign outside the store in Knightsbridge.
McGibbon tweeted his outrage at the sign, calling it a "double standard" and "casual hypocrisy."
"I find the degree of political correctness in this country depressing and way out of control," McGibbon added to The Independent. "The fact that this poster even got on my radar is a symbol of that, but there is important point here.
"My central complaint is not the joke - which is simply tacky and ill-judged, and shouldn't be in a shop window - but the double standard and casual hypocrisy.
"There is no way Harvey Nichols would contemplate a similarly cheap and crude gag aimed at women. Would they have put 'Good Girls Get On Their Knees' in the shop window? Of course not.
"There would be an instant question telling them to avoid anything bad taste or derogatory towards women. Why shouldn't the same standards be in place when it comes to men?
"The crass misery of political correctness has to work both ways. To adopt a saying - whatever is demeaning for the goose, is demeaning for the gander."
And while many agreed that had a similar joke been made about women, there would have been uproar, some people thought McGibbon was overreacting.
"Alternatively we could just have a little giggle and not be as sensitive as the screaming permanently offended," one person responded.
Many women replied saying they thought the sign was merely "tongue in cheek fun," but it has certainly proved divisive.
"I agree with you on double standards," one woman wrote. "I guess the question is is this statement demeaning men?
"I think the answer to that is no whereas when similar statements are made about women, it's almost certainly yes. Why? Centuries of sexism."
Whilst many people argue there's no such thing as reverse sexism, others argue that what we need for equality is men and women being treated exactly the same.
A spokesperson for Harvey Nichols told The Independent: "The signage was designed to direct customers down to our menswear department which occupies the lower two floors of our Knightsbridge store.
"The copy used makes light of the location of the department. On the whole, we have received positive reactions from customers, with many people viewing it in the light-hearted manner it was intended.
"However, we recognise that our signature tongue-in-cheek humour may not be to everyone's tastes."
Join our new commenting forum
Join thought-provoking conversations, follow other Independent readers and see their replies