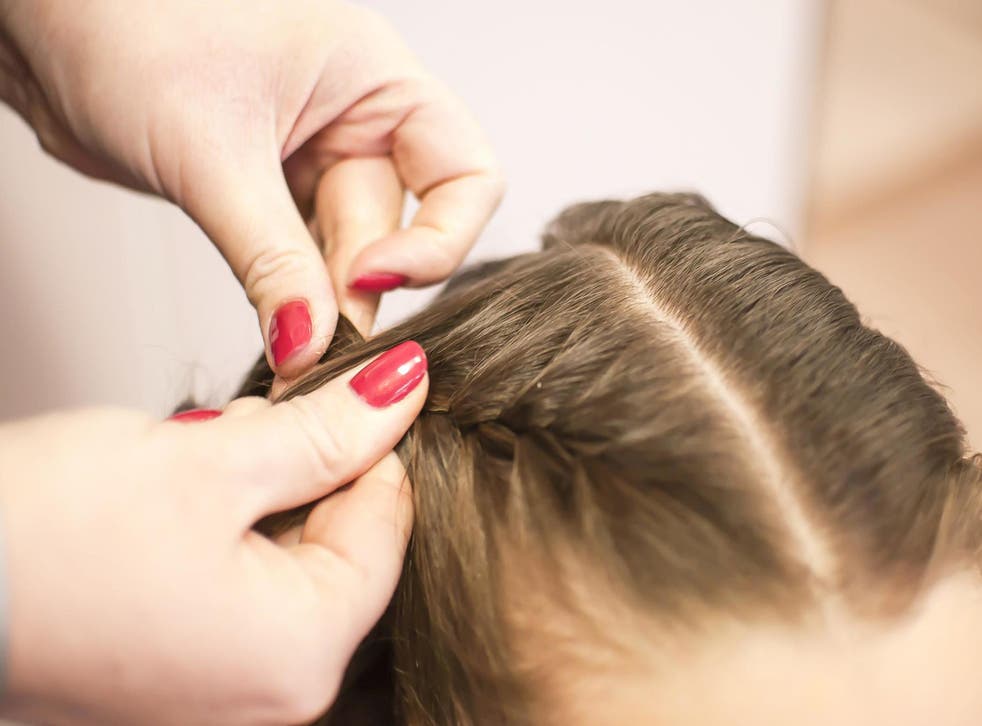 Head & Shoulders accused of cultural appropriation over 'English braid'
The haircare brand has since said it will be reviewing the name of the hairstyle
Olivia Petter
Wednesday 10 April 2019 14:02 Comments
Head & Shoulders has been accused of cultural appropriation for naming a braided hairstyle the "English braid".
The style was comprised of three slim braids and was designed in collaboration with hairstyling brand The Braid Bar in celebration of the upcoming FIFA Women's World Cup, which begins in June.
The braids were intended to represent the three lions, the idea being that English supporters would don the hairstyle, which they could request at The Braid Bar's standalone store in Selfridges, London, to show their support for the team ahead of the tournament.
But journalist Nadine White spotted an advert for the hairstyle in HELLO! magazine and posted it on Twitter on Tuesday, arguing that it was offensive.
"Hi @hellomag Can you explain why you've referred to this hairstyle as an 'English braid', please?" she wrote.
The best hair and makeup looks from the 2019 SAG Awards

Show all 17
"These look like cornrows/canerows – an ancient traditional African style of hair grooming. There's concern that this 'rebranding' is cultural appropriation. CC: @FA @headshouldersuk."
The tweet received more than 144 likes and 59 retweets in addition to a number of comments from people expressing similar concerns.
"Thank you @Nadine_Writes for bringing this to our attention," wrote one person. "It is really tiring that this stuff is happening and we keep having to 'teach' the system. This stuff should be obvious and again no relevant diversity of experience to point this out. Sigh."
Another person added: "They are stealing something that's has been cultural heritage for decades and want to rebrand it and rename it. Think we deserve an apology and they need to find their own hairstyle."
White has since posted an update, claiming that a Head & Shoulders spokesperson responded to her complaint and said it will be reviewing the name of its "English Braid" hairstyle.
White quoted the spokesperson as saying: "It would never be our intention to undermine any existing cultural hair heritage with the naming of this style."
Dawn Butler MP responded to White's update by tweeting a GIF of a woman rolling her eyes.
In a statement provided to The Independent, a spokesperson for Head & Shoulders described the meaning behind the design:
"It has three braids on the scalp to signify the three Lions on the England football shirt, the three braids can be worn in any preferred braid style. Head & Shoulders is encouraging fans to wear the braid to show their support for the English Women's Football Team this summer.
"Head & Shoulders did not intend to undermine any existing cultural hair heritage with the naming of this style, it was designed to enable fans to show their support for the team, we are reviewing the name."
Meanwhile, a spokesperson from The Braid Bar added: "Head & Shoulders briefed The Braid Bar to create a design that can be styled on all hair types to show a healthy scalp which is the core benefit of Head & Shoulders.
"The braid will be used to encourage support for the English Women's Football Team this summer."
Register for free to continue reading
Registration is a free and easy way to support our truly independent journalism
By registering, you will also enjoy limited access to Premium articles, exclusive newsletters, commenting, and virtual events with our leading journalists
Already have an account? sign in
Join our new commenting forum
Join thought-provoking conversations, follow other Independent readers and see their replies