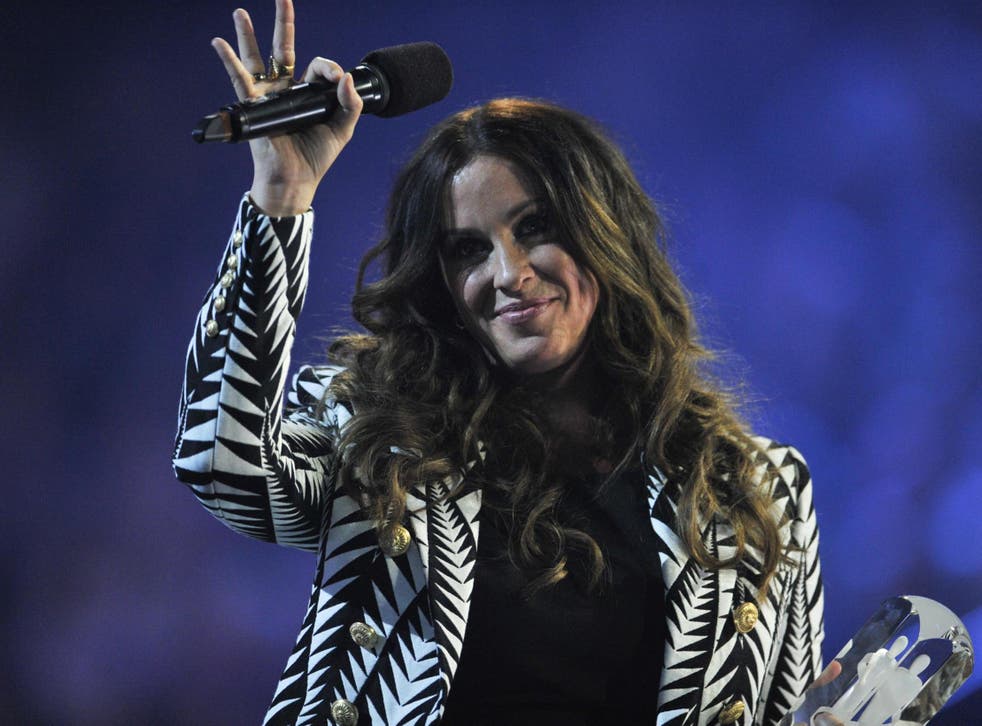 Alanis Morissette speaks about suffering postpartum depression for a third time
'Postpartum depression is still a sneaky monkey with a machete'
Alanis Morissette has opened up about suffering postpartum depression (PPD) for a third time.
Morissette gave birth to her third child, a son called Winter, in August this year.
In her essay, the 45-year-old said that she didn't know whether she would suffer from postpartum depression again after her third pregnancy.
As a result, she experienced "sleep deprivation, fogginess, physical pain, isolation and anxiety".
"I have been here before. I know there is another side. And the other side is greater than my PPD-riddled-temporarily-adjusted-brain could have ever imagined: as a mum. As an artist. As a friend. As a collaborator. As a leader. As a boss. As an activist," Morissette wrote.
"I saw how things got richer after I came through it the last two times. I have my eye on that prize again... even as I drag my ass through the molasses."
The musician added that she has "so much more support" the third time around, explaining that she prepared "as much as she could beforehand" for the eventuality of suffering from PPD.
"Some parts of the care-prep have been a godsend, and well-planned. But for all of this preparation – PPD is still a sneaky monkey with a machete – working its way through my psyche and body and days and thoughts and bloodwork levels," Morissette said.
The singer said how, in her opinion, modern society is "not set up to honour women properly after birth".
"I see it changing, which is so heartening... but the general way is bereft of the honouring and tenderness and attunement and village-ness that postpartum deeply warrants," she said.
"This is where the fabric of our culture, of our world, is crafted. On physical, emotional, neurobiological, chemical, spiritual, mental, existential, practical levels. Wouldn't it be cool if we treated all postpartum mums and families with this awareness and honour[?]"
Morissette concluded her message with the emphatic statement: "We're not alone."
Support free-thinking journalism and attend Independent events
Postnatal depression affects more than one in every 10 women within a year of giving birth, the NHS states.
Symptoms can include a persistent feeling of sadness, lack of enjoyment and interest, fatigue, difficulty bonding with your baby and lack of concentration.
Morissette gave birth to her first child with rapper Mario "Souleye" Treadway in 2010, a son called Ever.
Their second child, a daughter called Onyx, was born in June 2016.
You can contact the Pre and Postnatal Depression Advice and Support (PANDAS) helpline on 0843 28 98 401. The helpline is open from 9am to 8pm, Monday to Sunday.
Join our new commenting forum
Join thought-provoking conversations, follow other Independent readers and see their replies