Woman reveals 'crippling' condition that threatened her wedding
Kirsty McKillop's mental health reached an all time low after losing her job during the Covid pandemic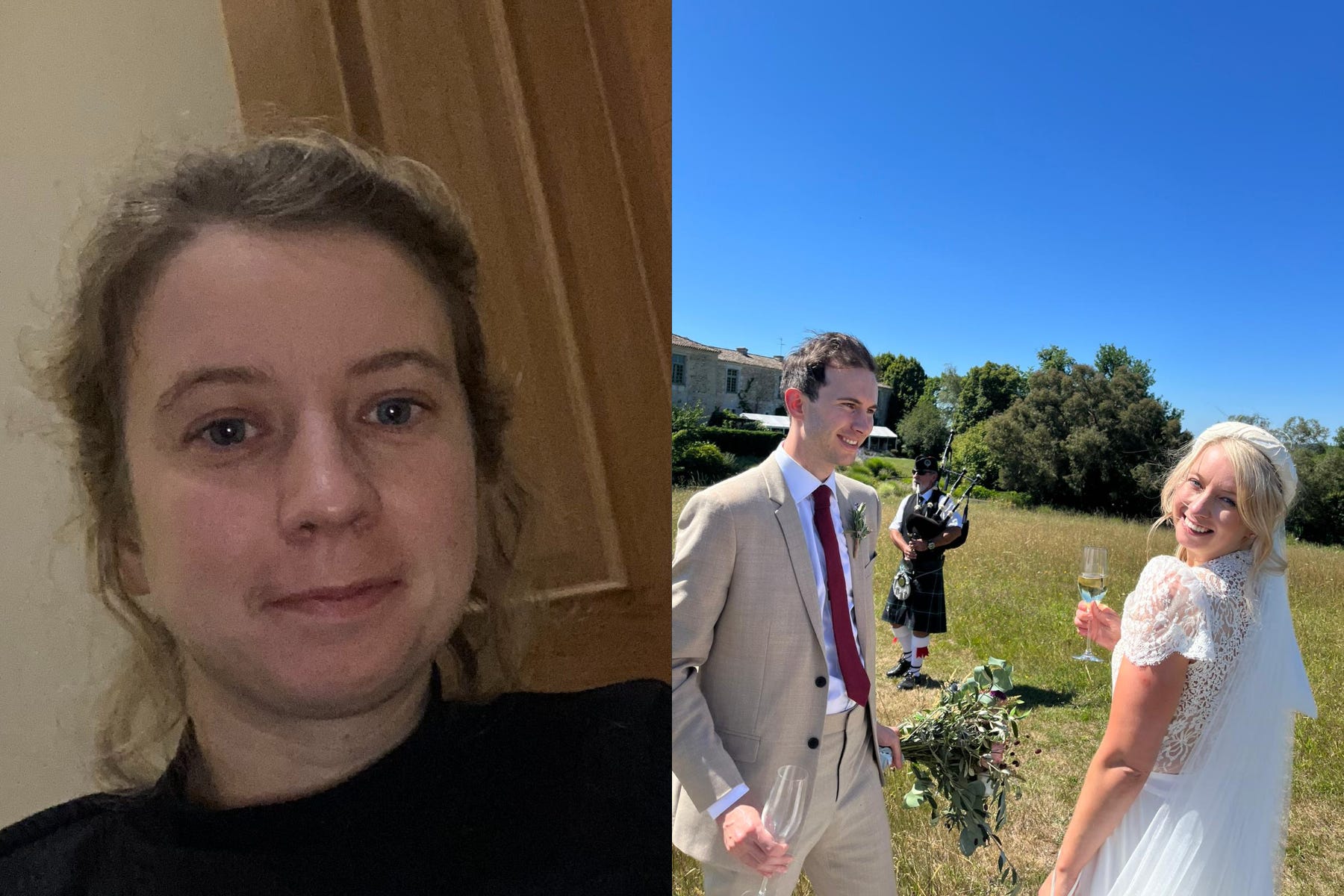 A woman who felt she was "trapped in this really dark world" due to her anxiety, causing her to have panic attacks, cancel her hen do, and feel she was "constantly on the verge of having a heart attack", has said "therapy has allowed (her) to feel like (herself)" again and she has since gone on to marry her best friend who she met at school.
Kirsty McKillop, 34, a strategist who lives in Walthamstow, London, said she had experienced anxiety "on and off" throughout her life, but it became all-consuming during the Covid pandemic – particularly after going through a redundancy process at her previous job in PR, which knocked her confidence and made her question her self-worth.
She said she felt trapped in this "prison" that she had created in her mind and started "catastrophising" – she thought she would "lose everything in (her) life that she cared about".
"I felt like I was basically being crushed by the dark and being suffocated by it and I couldn't get out," she said.
Kirsty decided to quit her job to look after her mental health, but then "everything went from bad to worse" as she started to experience debilitating physical symptoms.
She would cry every day, vomit, experience heart palpitations, have panic attacks, feel agitated and extremely restless, and lie awake in bed until the morning.
At her lowest point, Kirsty said she did not believe that she could get better, and she did not engage in "anything that might help her".
However, with the continued support of her now-husband, Liam, 34, family and friends, she began engaging in therapy from December 2021 – and gradually over time she could "physically feel (her anxiety) lifting".
She has since gone on to get married – something she previously did not think was possible – and go on her honeymoon to South Africa, and she now wishes to give the message that "life without anxiety is possible".
"No matter what level of anxiety you're feeling, it isn't something that you have to accept as part of life," she said.
"Whilst it is a natural human response, it's not something you have to live with, and, going through therapy, it has just completely freed me from those feelings and I'm so much happier."
According to the charity Mind, anxiety is a natural human response when we feel that we are under threat; it can be experienced through our thoughts, feelings, and physical sensations.
Kirsty had experienced anxiety at varying stages in her life, but during lockdown, when her job was at risk, her mind was "swamped" with negative and "obsessive" thoughts, with everyday places and situations becoming "bleak and scary and threatening".
While Kirsty did not lose her job, the redundancy process knocked her confidence, and her heightened emotions quickly spiralled into physical symptoms of anxiety.
She felt she was in "this constant state of panic" and started "overthinking everything".
"I had really irrational thoughts that I was going to lose everything in my life that I cared about because I was not able to function day to day," she said.
"I think, eventually, it did turn into depression, and then I had quite intrusive thoughts around not wanting to wake up if I did get to sleep.
"Not being able to sleep, not being able to eat, being sick, crying, feeling like I was having a heart attack, and feeling terrified of everything was really scary."
Kirsty would lie in bed and try to "disassociate" from her anxiety, but her intrusive thoughts just kept "swirling around in her head".
She then decided to quit her job in September 2021 "to give her the headspace" she felt she needed, but the lack of structure and routine in her life only made her anxiety worse.
"It had taken over my head so much that I could not think rationally – everything was like, I'm worried about holding down a job, therefore, I'm not going to be able to pay the mortgage, therefore, I'm going to lose the house, therefore, I'm going to lose my husband and all my friends, and I'm going to end up with nothing," she explained.
"Despite having incredibly supportive friends who would come and just be with me for hours, I still had that fear."
Kirsty remembers a specific conversation where her parents and her then-fiance were discussing the wedding, and she thought: "This is ridiculous, there's no way I'm going to get married in this state."
By this point, she had started losing consciousness during the day and blacking out, and she had to cancel her hen do.
In November 2021, after moving back to her home town in Yorkshire, Kirsty's family and friends encouraged her to seek professional support, as she was "stuck, trapped, in this completely different place".
Kirsty's loved ones had looked after her throughout this period and previously suggested she seek help, but she was not willing to engage as she thought "it's not going to make a difference".
She then started speaking to a therapist who was right for her in December 2021, and Kirsty said she was "pulled out of this horrible world".
Through having sessions once or twice a week, and with cognitive behavioural therapy (CBT), Kirsty said she felt she was "becoming much more rational" as she started to "challenge" her thoughts.
The CBT focused on thinking about the facts, rather than "the feelings and the catastrophising" she had been experiencing, to try to "break the cycles of negative thinking".
She said: "When that feeling starts to lift, you think, I can get better, and I want to get better.
"It's not about fighting those thoughts, but accepting them and recognising they're not facts."
By February 2022, Kirsty started to feel like herself again – she stopped being sick, no longer had panic attacks, and was able to sleep.
In April, she started a new job as a strategist, which she now loves, and in July she married Liam and had "an amazing day".
Looking back now, Kirsty said she "dreads to think where she would have been" if she did not start having therapy, and she is beyond grateful for the support she has received from her family and friends.
She does not want anyone else to go through the "absolute hell" she has, and wants to encourage more open dialogue and acceptance around mental health and anxiety, as she believes it "shouldn't define you".
"Anxiety is a natural response, but when it gets to the point where you're having intrusive thoughts, or it's affecting you physically, or it's stopping you from doing things, that's when it's not normal and you shouldn't accept it," Kirsty explained.
"It's not a state of well or unwell, it's a state of always making sure you're looking after yourself because life is always going to throw different challenges at you."
She added: "I enjoy life so much more without letting anxious thoughts spoil my day-to-day life… and therapy has just allowed me to feel like myself and enjoy being myself."
Kirsty is one of many who have offered quotes to inform and create a striking collection of AI art to shine a light on anxiety symptoms.
The artwork, from the British Association for Counselling and Psychotherapy (BACP), has been installed outside London Waterloo – for more information, visit www.bacp.co.uk/anxietyis.