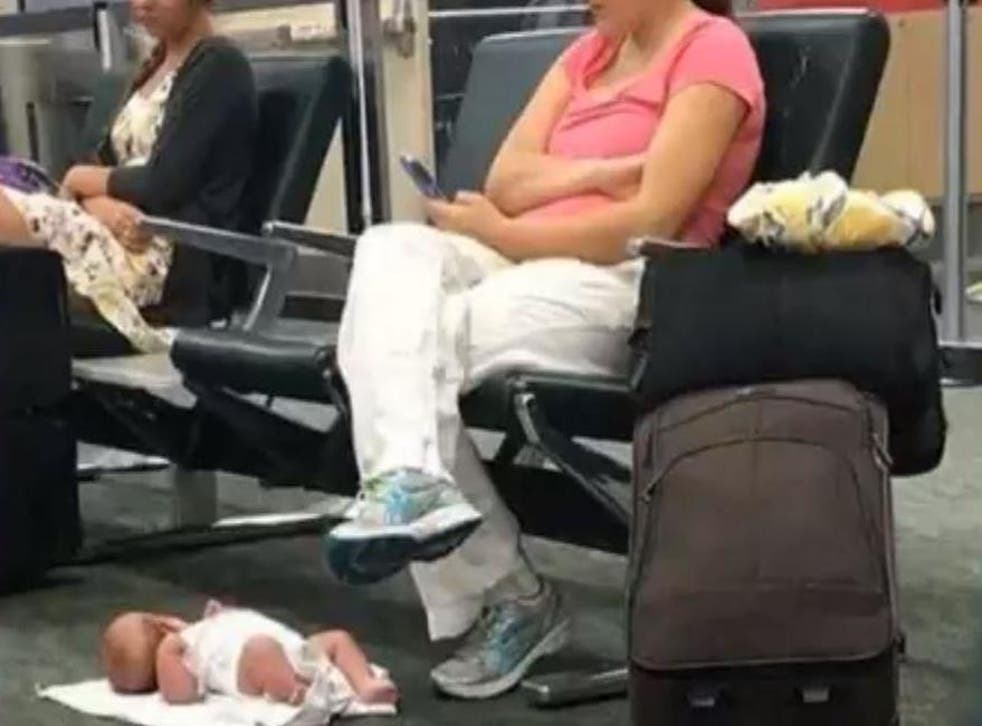 Mother speaks out after viral photo showing her baby on airport floor sparks outrage
An Illinois mother has spoken out after a stranger shared a photo online which showed her looking at her phone in Colorado airport whilst her baby lay unattended on a blanket on the floor.
The image went viral when it was uploaded to Facebook alongside a caption which accused her of being an "idiot."
The post has since been removed from the site. Now, Molly Lensing has explained the circumstances behind the controversial snap.
A technical glitch with Delta had left Lensing stranded in the airport for more than 20 hours with her then two-month-old daughter, Anastasia, she explained to Today.com.
Exhausted and desperate to speak to her family to let them know she would be delayed, she briefly lay Anastasia down on the floor in front of her.
"Anastasia had been held or in her carrier for many hours," Lensing said.
"My arms were tired. She needed to stretch. And I had to communicate with all the family members wondering where the heck we were."
After the photo went viral, Lensing was nervous that a co-worker would see the image and that it would compromise her credibility as a part-time paediatric nurse.
Though she wasn't named in the image, some people managed to find her on Facebook and send her messages calling her a "terrible parent," Today reported.
Lensing has said that her shaming experience should be a lesson to those who deem it acceptable to publicly judge a stranger's parenting techniques online.
She added that the incident felt like an absolute violation of her privacy, given that she wasn't even aware the photo had been taken.
Join our new commenting forum
Join thought-provoking conversations, follow other Independent readers and see their replies